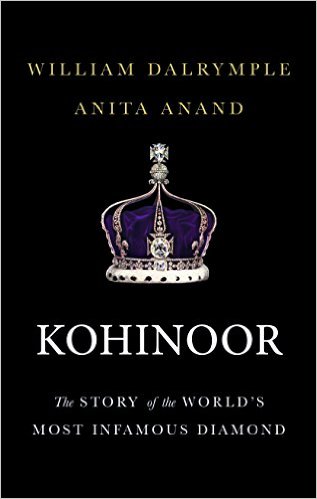 | | |
| --- | --- |
| Book Title | Kohinoor : The Story of World's Most Infamous Diamond |
| Book Author | William Dalrymple, Anita Anand |
| Publisher | Juggernaut |
| ISBN | 9386228084 |
| Language | English |
| Pages | 264 |
| Year Published | 2016 |
Book Review : Kohinoor by William Dalrymple & Anita Anand
Kohinoor by William Dalrymple & Anita Anand unravels the unknown and controversial history of the most hyped diamond – Kohinoor. And thus this book is aptly subtitled as Kohinoor : The Story of World's Most Infamous Diamond. The author duo has researched and resolved a number of legends and theories about Kohinoor.
This incredible book, Kohinoor by William Dalrymple & Anita Anand, look at the many fascinating, disturbing and absorbing aspects of the Kohinoor diamond. Through the chapters of the book, the authors trace the journey of the once-most-wanted diamond from being embedded in the Mughal's'fabulous Peacock Throne to the months it spent hidden in a prison cell in a remote Afghan fort; from the years it languished unrecognised on a mullah's desk, used as a paperweight, through to the torture chamber where a Persian prince was crowned in molten lead in an attempt to extract the truth about the gem's hiding place. All these events are curated chronologically in the book ending at the final destination of Kohinoor in the London Tower.
Comprehensive research, studies and the collaboration with historians, diamond experts have made the book about Kohinoor became a reality. No doubt this book, Kohinoor by William Dalrymple & Anita Anand, has filled a huge gap between popular perception and the history of the diamond
Vowelor Review
No doubt this book bridges a huge gap between popular perception and the history of the Kohinoor
About the Author : William Dalrymple & Anita Anand
William Dalrymple is renowned Scottish Historian and a bestselling Author of more than half a dozen books. His works include City of Djinns, White Mughals, The Last Mughal, Nine Lives and Return of a King. All of William's books have won different Literary Awards. His historical interests include arts, culture, and history of India, Pakistan, Afghanistan and the Muslim world. William is also the co-founder of the coveted Jaipur Literature Festival.
Anita Anand, on the other hand, is an international TV presenter and journalist born in London to a Punjabi family. She has worked at BBC Radio and has anchored the Heaven and Earth show. Anita has also written for India Today, Asian Age and The Guardian. Her first book about the Sikh Maharani,Sophia: Princess, Suffragette, Revolutionary, was released in 2015.