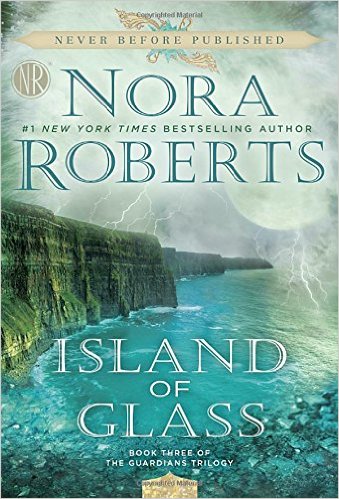 Book Review : Island of Glass by Nora Roberts
Island of Glass by Nora Roberts is the third and  final book that concludes The Guardians Trilogy. Nora Roberts has once again set the magical and mystical place for the six heroes who join forces to stop the rancorous goddess. Island of Glass by Nora Roberts takes all these six guardians – seer, magician, werewolf, traveler, mermaid and immortal – to the wild and beautiful coast of County Clare in Ireland. Island of Glass, an urban fantasy, is a lovely mystical and romantic tale that draws one into a world which is magical but believably real.
As the evil Nerezza uses whatever tools she can find to destroy members of the cohesive group, the unique powers of the six  are needed more than ever.
As the story of Island of Glass by Nora Roberts unfolds, Doyle – soldier and reluctant immortal – reaches Ireland in search of the final star. He is also fighting his growing attraction to archaeologist Riley. His warrior spirit is drawn to the wild – and there's no one more familiar with the wild than Riley. As the six guardians face their final challenge, Riley and Doyle are prepared to risk their lives in battle. The triumph of good over evil will require tenacity, courage, intellect, and, of course, a fair amount of magic.
Storyline

Characters

Writing Style
Vowelor Review
Island of Glass by Nora Roberts is a celebration of magic and kinship and love, and provides a wonderful and sensual interlude to relax with.
About the Author : Nora Roberts
Nora Roberts is a NY Times bestselling author of 215 romance novels. She has written under a number of pseudonyms like JD Robb, Jill March and Sarah Hardesty.  Born in 1950, Nora got married early and started writing in 1979 after being a mother of two boys.
Today, Nora Roberts has more than two hundred novels and most of them listed on various bestseller lists. She is also one of the most philanthropic celebrities in the USA. She also the founding member of Romance Writers of America.