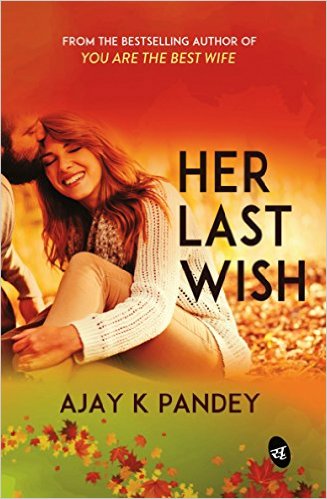 | | |
| --- | --- |
| Book Title | Her Last Wish |
| Book Author | Ajay K Pandey |
| Publisher | Srishti Publishers |
| ISBN | 9382665870 |
| Language | English |
| Pages | 208 |
| Year Published | 2016 |
Book Review : Her Last Wish by Ajay Pandey
Her Last Wish is Ajay K Pandey's second novel. His previous book You are the Best Wife: A True Love Story has received much love and good reviews from the readers. The next novel, Her Last Wish by Ajay Pandey is an inspiring story of love, relationships and sacrifice, which proves once again how a good wife makes the best husband.
Vijay, the protagonist of the novel Her Last Wish, is a hopeless man. Whose  father's over expectations only ruined his self-confidence further with each failure. But when he gets married to Astha, a confident girl life changes for him. Vijay comes to know that his wife Astha is affected by HIV and she may not survive long. Instead of weeping like other couples are doubting his wife, he wanted to keep her happy.
The Story of Her Last Wish by Ajay K Pandey revolves around the character of Vijay and how he stands against the fate with the power of love. In his second book, Her Last Wish, Ajay K Pandey will make you believe how a good wife makes the best husband.
Storyline

Characters

Writing Style
Vowelor Review
Another interesting love story by Ajak K Pandey to make you believe in the power of love.
About the Author: Ajay K Pandey
Ajay K Pandey is an employee of Cognizant, Pune. He grew up with a dream of becoming a teacher, traveler and  story teller, but unfortunately he ends up In IT field. His hobbies are travelling, trekking and reading. Travelling attracts him too much as he always wanted to explore different cultures, traditions and beliefs. On the other hand trekking motivates him to fight against the challenges of life.
Apart from his reading and writing, he is a follower of Mother Teresa and wanted to contribute to the society. His debut novel You Are The Best Wife was based on his life events and went on to become a bestseller soon after its release. It charmed many hearts and inspired several others to live every moment with love, peace and happiness.