'Grief, Growth and Gratitude' is a self-experience story written by Caitlin Burr. With this book, the author shares her grief when she lost her mother and how this 'loss' made her grow over the past few years.
Caitlin Burr's book was published in September 2021. The book takes you through various stages of the author's journey, starting with grief followed by growth and concluding with gratitude. The book is heartwarming and at the same time gives a positive approach with its words.
Here's a snippet from the book:
Who Am I? At that time, I was unsure. I knew who I was once before, but I did not know who I was anymore. Traumatic events change you to the point where you do not recognize yourself. You stand in the mirror and see a reflection, but it is just an empty shadow. I was empty, lost, and did not know this person.

I was constantly reminded by people close to me that the pain I felt would not last, but all I felt was pain. Happy moments were short-lived, and the pain came back, sat next to me, and grew deeper into my heart. I was slowly fading into this dark space that no one could save me from. I was drowning in the dark and did not know how to rescue myself.
Book Review: Grief, Growth and Gratitude by Caitlin Burr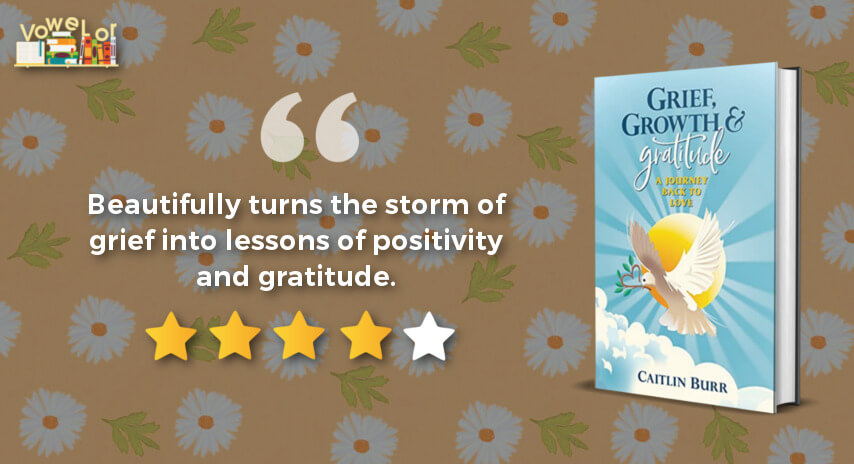 Caitlin Burr, the author, shares her experience when she faced a personal loss, her mother had just passed away. She shares her journey in Grief, Growth and Gratitude, simultaneously.
The three phases are broken into several chapters describing the feelings she had at the moment. In the first phase of grief, she conveyed how it felt to see a strong woman, getting admitted into the hospital, she could not face her. Eventually, an absence had been created in the family after she passed away.
She started feeling guilty, she started accusing herself of all that had happened. With all the dark emotions for quite a long time, the author finally started to heal slowly, she could feel a wave of happiness and peace. She began a transition into a better version of herself. Caitlin further confronted her inner wounds and discovered more wisdom.
In the last perspective of Gratitude, she delivered a thankful note to grief, stating how the storm had changed her completely, her views, the courage it gave to heal her heart, how confident she had become. She says her mom always wanted her to heal from the past and be at peace. The dark space that had occurred in the past gave her light and a reason for self-love to set her free from the pain.
The author also explains how to start the journey by taking smaller steps; every step taken results in positivity. Being patient throughout the path, there can be ups and downs, it can be scary, frustrating at times and challenging as well. But all a person could think about is staying strong, being confident, keeping oneself in a bigger place than the negativity around us.
Never be discouraged, the journey you are supposed to achieve may look far away, but letting go of the timelines, putting a step forward could lead us to a better place, maybe at a slower pace, but a person should never choose to stop themselves; Obstacles may arrive, but staying strong to fight whatever may arrive in between could lead us to Growth.
Storyline
⭐⭐⭐⭐
Characters
⭐⭐⭐⭐
Writing Style
⭐⭐⭐⭐
Vowelor Review


Beautifully turns the storm of grief into lessons of positivity and gratitude.

4.0
✅ Get your copy of Grief Growth and Gratitude by Caitlin Burr on
Amazon now
!
My thoughts on the book
One can feel a storm of grief and positivity while reading the book. A feeling that no one could ever describe in words, where beautifully framed line by line.
The best part about it is it does not just stick to the grief, it gradually transforms into an optimistic side. The journey also teaches morals and ethics one must follow for themselves and for others.
Apart from the story, the cover art deserves applause for brilliantly showcasing the emotional message with dove, sunshine, heart, and peace. And, on the back cover, the phoenix denotes rising back from rock bottom and being victorious.
About the Author: Caitlin Burr
Caitlin Burr is an author from Maryland, USA. She has a deep passion for writing as well as poetry. Her debut book 'Grief, Growth, and Gratitude' was released in 2021.
She loves R&B and Hip Hop music and enjoys spending time with family and friends. Besides being a proud author, Caitlin is also a proud plant mom. She also loves gardening and reading.
To know more about the author, stay connected for the exclusive interview of Caitlin Burr with Vowelor that will be published soon.