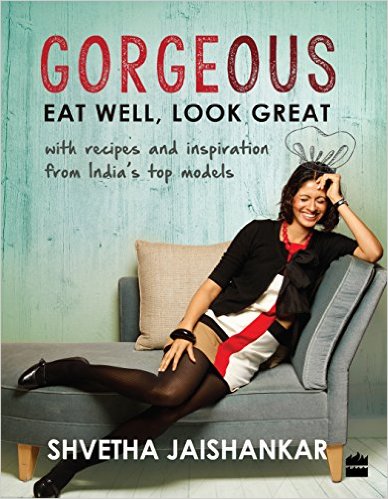 | | |
| --- | --- |
| Book Title | Gorgeous : Eat Well, Look Great |
| Book Author | Shvetha Jaishankar |
| Publisher | Harper Collins |
| ISBN | 9352641086 |
| Language | English |
| Pages | 176 |
| Year Published | 2016 |
Book Review : Gorgeous Eat Well Look Great by Shvetha Jaishankar
Gorgeous ; Eat Well Look Great by Shvetha Jaishankar is a book that has all one needs to actually eat well and look great. Shvetha Jaishankar, the winner of Miss India International '98, has opened up on her own experiences with weight loss, healthy diet and a collection of healthy yet savory recipes.
This book, Gorgeous by Shvetha, is a must-have collection of tips, recipes and a special meal plan that are curated from a number of top models including Priyanka Chopra, Milind Soman, Malaika Arora Khan, Gul Panag and Madhu Sapre. She connected with a range of models across generations and was pleasantly surprised by their different approaches to the puzzle we all try to solve- how to eat well and look and feel our best. The book proclaims that there is no need to follow fads, diets or count calorie. In her debut book, Shvetha Jaishankar gives an achievable mantra to all those who crave for gorgeous looks and delicious food.
Gorgeous : Eat Well Look Great by Shvetha Jaishankar is all about how the models create a perfect balance between busy life, fitness and healthy diet. This book is an inspiring and myth-busting piece that teaches every woman to achieve the same.
Vowelor Review
An achievable mantra to actually eat well and look great too. Myth-busting.
About the Author : Shvetha Jaishankar
Shvetha Jaishankar is a former model. Her biggest achievement being the winner of Miss India Internation Pageant in 1998. She is an MBA from Indian School of Business. Shvetha's life is all about fitness, food and. of course. looking gorgeous.
She was married to Mahesh Bhupati, a tennis legend, for seven years before splitting up. Her first writing stint started as an editor to the 20/20 – a sports magazine – which covers the most celebrated sport event in India, the IPL. Shvetha Jaishankar releases her first book, Gorgeous, in 2016.