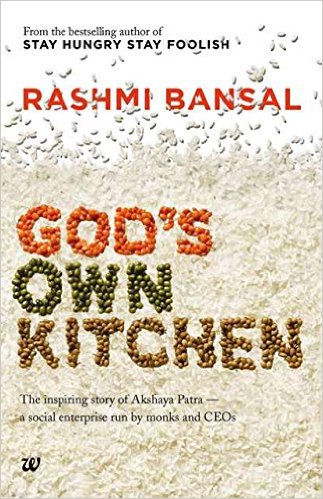 Book Review : God's Own Kitchen by Rashmi Bansal
God's Own Kitchen by Rashmi Bansal is an inspiring story of the world's largest Mid-day Meal Program run by an NGO – The Akshayapatra. Rashmi Bansal rediscovers the journey of Akshyapatra in her book. God's Own Kitchen, which is run by a unique collaboration of Monks and Corporate leaders.  God's Own Kitchen is Rashmi Bansal's latest book after the release of Arise Awake in 2015.
While finding the roots of Akshyapatra which she calls God's Own Kitchen, Rashmi Bansal traced back to the moment when Madhu Pandit left IIT to become a monk with the inspiration from Guru A C Bhaktivedanta Srila Prabhupada. Guruji determined to let no child be deprived of education because of hunger. God's Own Kitchen by Rashmi Bansal tells the story of Madhu Pandit who decided to use the potential of ISKCON kitchen to fulfill Guruji's dream after meeting Mohandas Pai.
The book, God's Own Kitchen, captures the inspiring story of this social enterprise which saw humble beginnings and today serves Mid-day meals across 11 states serving more than 1.5 million lunches to government school students daily. Rashmi Bansal, with a powerful and motivating writing style, describes how social entrepreneurship and a moral cause could come together to solve problems that most developing nations are tackling today.
Inspiration

Interesting

Writing Style
Vowelor Review
Yet another success story told brilliantly! Inspirational.
Get your copy of God's Own Kitchen by Rashmi Bansal on Amazon now! – Click Here
About the Author : Rashmi Bansal
Rashmi Bansal is an Indian non-fiction author of several bestselling books on Entrepreneurship. Rashmi graduated from IIM Ahmedabad in 1993 and started working with Times of India. She started her own magazine, Just Another Magazine, with her husband. In 2008, Rashmi Bansal wrote her first book, Stay Hungry, Stay Foolish, which is a collection of 25 success stories of entrepreneurs from IIM, Ahmedabad. Her first became so successful that 1 million copies were sold in 10 months.
Afterward, Rashmi never looked back and continued to motivate young readers with her inspiring writing style and wrote half a dozen more books. In 2015, her most recent book, Arise Awake, was published and received a great response. Rashmi's next novel, God's Own Kitchen, is set to release in March 2017.