Fifteen Minutes Fifteen Seconds is an interesting book written by Puneet Pundir. The story takes you on a spiritual journey to the holy mountains through the dream realm. Puneet published this book in Sep 2020 with Notionpress.
Although the story touches spiritualism, it is a work of fiction with a touch of mystery till the very last page. The story follows Arya, a young working guy, who sets out for a trip to Badrinath and Kedarnath with his family. But, this family trip turns into a surreal journey that makes him meet his inner self and learn the true reality of life and beyond.
Being a debut author, Puneet Pundir easily grabs all your attention into the character's world and you wouldn't stop until you finish all the 80 pages (most likely in one go!).
Here's a snippet from the book:
Well, living in the 21st century when everyone is a part of the rat race Arya was detached from most of the material possessions. Unlike the youngsters who found their happiness or associated their happiness with some or the other materialistic things, Arya would never lure for a big house or a big car or branded clothes or shoes.

Even at his workplace he would finish the given task but never tried to impress his boss like his other colleagues would do. Somehow he was not attracted to money so any monetary work never gained his attention. He always thought that he was not made to do this job or as matter of fact any job.

He used to run away from any difficult situation like an ostrich who would bury its head in the sand believing that an unseen danger is no danger at all.
Book Review: Fifteen Minutes Fifteen Seconds by Puneet Pundir
The story of Fifteen Minutes Fifteen Seconds begins when Arya's family has finally planned a trip to the holy mountains of Badrinath and Kedarnath which his mother has been willing to visit for the past few years.
The protagonist, Arya, is a young man who is spiritually inclined since childhood. He meditates regularly, worships Lord Hanuman and Shiva but he also has a habit of drinking alcohol.
The family starts the journey from their home in Faridabad to Badrinath having a stop in Haridwar where they visit some temples and meet Motidas Baba to take his blessing.
As the journey continues, Arya learns about different rivers, holy places on the way, and the mythological stories of each. Enjoying the events, they reach Badrinath and take the blessing of Lord Shiva.
Everything takes an unexpected turn when they continue their journey to Kedarnath. On the same day, in an unfortunate landslide, he loses his family and is left alone in mid of the jungle, covered in mud and debris.
That's where Arya has an emotional breakdown and eventually decides to leave everything behind and go into the vast wilderness of the mountains in search of the true purpose in life. The author has written his pain and emotions in such a way that it touches your heart and you are bound to feel for Arya.
Soon, he meets a young girl 'Gauri' who seemed no less than a goddess. Arya finds a strange peace with her and continues the journey. They even decide to marry once they reach their true destinations. But, Gauri couldn't survive the difficulties of forest and extreme climate. Once again, Arya loses all his hopes and goes on blindly even higher in the mountains.
He finds himself in a cave of an old sage who heals him and guides him spiritually. During this whole journey, he keeps having unexplainable dreams that he believes are an indication of his spiritual purpose and awakening. Ultimately, the sage shows him the path to the ultimate destination he must go accompanied by 64 monks.
With the help of the sage, monks, and his awakened spiritual self, Arya reaches the gates of the final destination. He is once again given guidance, physical and mental, to be ready to open the gates and see the utmost reality.
Once the gates are open, Arya meets Tara, a godly young girl whom he feels like calling mother inherently. She enlightens him to attain the 'samadhi' of 9 years which felt to him like just a few minutes.
The final chapter is just two sentences that unveil why the book is titled Fifteen Minutes and Fifteen Seconds by Puneet.
Storyline
⭐⭐⭐⭐
Characters
⭐⭐⭐⭐
Writing Style
⭐⭐⭐⭐
Vowelor Review
A brilliant blend of ancient spirituality and modern fiction.

4.0
✅ Get your copy of Fifteen Minutes Fifteen Seconds by Puneet Pundir on
Amazon now
!
My Thoughts on the book
Puneet Pundir deserves applause firstly just for delivering such an impactful subject of spiritualism with such precisely imagined fiction.
The concept of the dream realm, humane as well as mysteriously divine characters, and setting the whole story in the mountains of Kedarnath altogether packs into this book splendidly.
Talking about the story, it is short and fast-paced; one can easily read it in one or two sittings.
Arya's character transformation is worth the read. He starts off as a somewhat careless and alcoholic youngster. But, by the end, his inner spiritual self grows takes him to the path of enlightenment.
It felt like the author wants to highlight that no matter where you are in life if you choose the right path, you can become your best self for sure!
Puneet Pundir has brilliantly displayed his imagination and knowledge about spirituality. He keeps sharing various facts about Hindu Gods, culture, and mythology throughout the book.
The details he provides for different Vedic practices Arya does during his journey make the story more interesting and believable. It seemed that the author has experienced somewhat similar parts in his own life.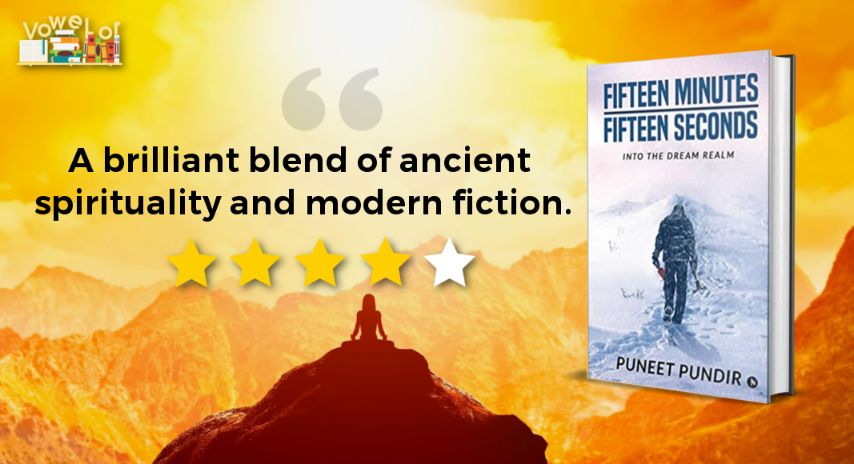 Few Flips of this novella
The story keeps too much focus on Arya from the beginning. It could have been better to read more about Arya's family members in the first half to be able to feel attached to them.
Arya's dreams are really fascinating and mysterious but an explanation for these dreams is missing. The author could have explained the meaning of these dreams for Arya to make it more interesting and relatable to read.
The end of the story may take some readers by surprise (which I believe is intended by the author).
About the Author: Puneet Pundir
Puneet Pundir is the author of the book 'Fifteen Minutes Fifteen Seconds' which was published in 2020. Not only a writer, but Puneet is also a successful businessman, an avid reader, and a travel enthusiast.
Born in Meerut, Uttar Pradesh, Puneet moved to Faridabad at the age of 17 with his family. Puneet holds an MBA degree in Marketing and M.Phil in Industrial Psychology. He is married and a father of two sons. His wife was a news anchor but now she takes care of the family.
Puneet's debut book Fifteen Minutes Fifteen Seconds has received praise from many readers. His upcoming book is going to be spiritual crime fiction.
Read the exclusive interview of Puneet Pundir to know more about his life, beliefs, and upcoming works.