Family Heirloom is a horror podcast narrated by Roderick Morrison and released by Afraidio Radio. Released on November 28, 2022, it is available on Amazon Music, Spotify, and other major podcast platforms.
The story follows the life of a young boy named Ben Adams and his family. In many cultures and traditions, inheriting a family heirloom is a common practice. We can receive heirlooms in multiple forms; it can be a car, a piece of jewelry, a house, or some other form of property.
But this family has an heirloom like none other. An heirloom, you wouldn't want to inherit, but unfortunately, you will get stuck with it if you become a part of this family.
Review: Family Heirloom by Roderick Morrison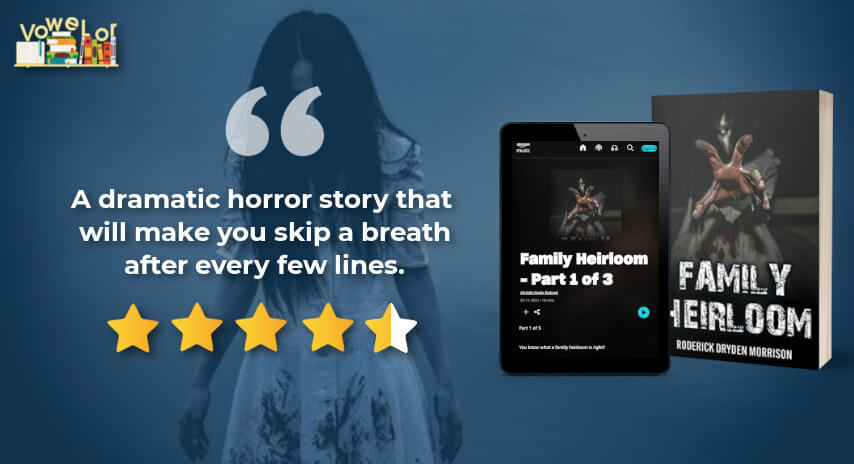 The Adams family has an heirloom passed down to them from generations and is not a typical piece of jewelry, house, or car as one would think. It is an inheritance no one would want to receive.
The Heirloom is a curse that has followed this family for generations and is now upon the young boy Ben Adams, the youngest member of the family. So, what is this curse, and why did this family get stuck with it in the first place? Tune into Spotify to listen to the whole story.
Setting ⭐⭐⭐⭐
The story is set at the Adams' family house, situated in the middle of a town. Ben Adams, a young boy lived there in the house with his twin sister Jean Adams and their single mother. The family lived in the house as it was impregnated with enchantments and spells that were able to subside or delay the impact of the curse, if not get rid of it completely.
Plot ⭐⭐⭐⭐⭐
The Adams family's bloodline is plagued with a curse that has been passed on in the family like an heirloom for centuries and is now upon the young boy Ben Adams who is terrified of the curse but still tries hard to fight it and manages to get over his fears to some extent.
Ben is a shy, introverted, average-looking young boy who is brilliant at studies but lacks confidence. His twin sister Jean is older than him by 72 seconds, she is bold and beautiful, strong and hard-working and unlike Ben, she is confident and has great features.
This made Ben feel sad and envious, he started feeling worse when he realized that the curse has chosen him as a vessel instead of Jean who is technically older than him.
The family was always followed by a woman who looked like a dead and rotting corpse. In the night the family was haunted by a shadow-like figure whom they called the pain eater. The family tried every possible way to get rid of the curse for generations but all their efforts were in vain.
They even tried to stop their family from growing but somehow the woman of the family got pregnant despite all the efforts. Now, Ben, the current receiver of the curse, decided to fight his fears and find a way to get rid of the curse. Tune into the podcast to find out what he founds out about the curse he has inherited and what he does to get rid of it.
Theme ⭐⭐⭐⭐⭐
The story of Family Heirloom revolves around a curse that has been passed on to this native African family for ages and has haunted their lives for as long as they could remember on a day-to-day basis. The mysterious cursed spirit haunts and tortures the family and follows the family of the eldest child of the family from generation to generation. The story is all about horror and mystery and it successfully inflicts those feelings into its listeners with its amazing sound effects and storyline.
Writing Style
⭐⭐⭐⭐⭐
Plot
⭐⭐⭐⭐⭐
Setting
⭐⭐⭐⭐⭐
Vowelor Review: A dramatic horror story that will make
you skip a breath after every few lines.
4.5
Reasons to tune into this Podcast/Audio Story
Native African curses and stories are quite a popular theme among horror movies. This is one such story but it shows the curses within a Native African family which have been passed on for generations and was apparently good spirit before becoming an evil one.
I enjoyed listening to the story as it introduced me to a new storyline, different from the typical ghost stories. The sound effects and the dramatic plot development add to the thrilling experience.
The story will leave you wondering about how being in a certain family and having a certain ancestry can shape one's whole existence. The story guarantees goosebumps and will keep you pondering around it.
About the Author: Roderick Morrison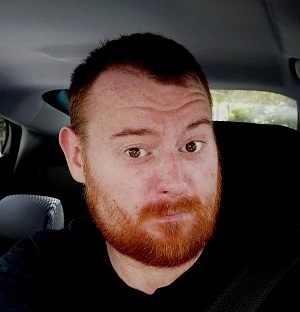 Roderick Dryden Morrison has been interested in the Film Industry since he was twelve years old. Roderick has created his own production company "RDM Productions" and proceeded to work in some of the biggest Hollywood films for the last 12 years as an Assistant Director.
He has now shown the lights on himself and is pursuing his acting career and can not wait to see where life will take him.