Entwined Within the Darkness is a fantasy fiction novel by author Charley Black, published in the year 2022. The story follows Patience, a super-powerful witch who is oblivious to her true identity which she has been looking for past fifty years. And no, she's not old and wrinkly, maybe because witches age way slower than regular humans. She is best friends with Michael, a demon, and the two have been on their own adventures together for the past thirty years.
One night of sneaking into Moarte, a neighborhood vampire club turned the duo's lives upside-down, and there enters Lucien, the infamous vampire cum witch hunter Ragana Zidikas himself. What will happen when the witch's and the vampire's paths will cross, especially when they have a centuries-long history that they don't even remember anymore? Will the never-ending animosity between the witches and vampires be able to soothe the unexpected infatuation between these two?
The first thing that caught my interest was the book cover with the blue and black contrast with silver details. As a regular reader, it was easy for me to guess the genre just by the cover aesthetics however the story is very different from what I kind of thought.
Book Review: Entwined Within the Darkness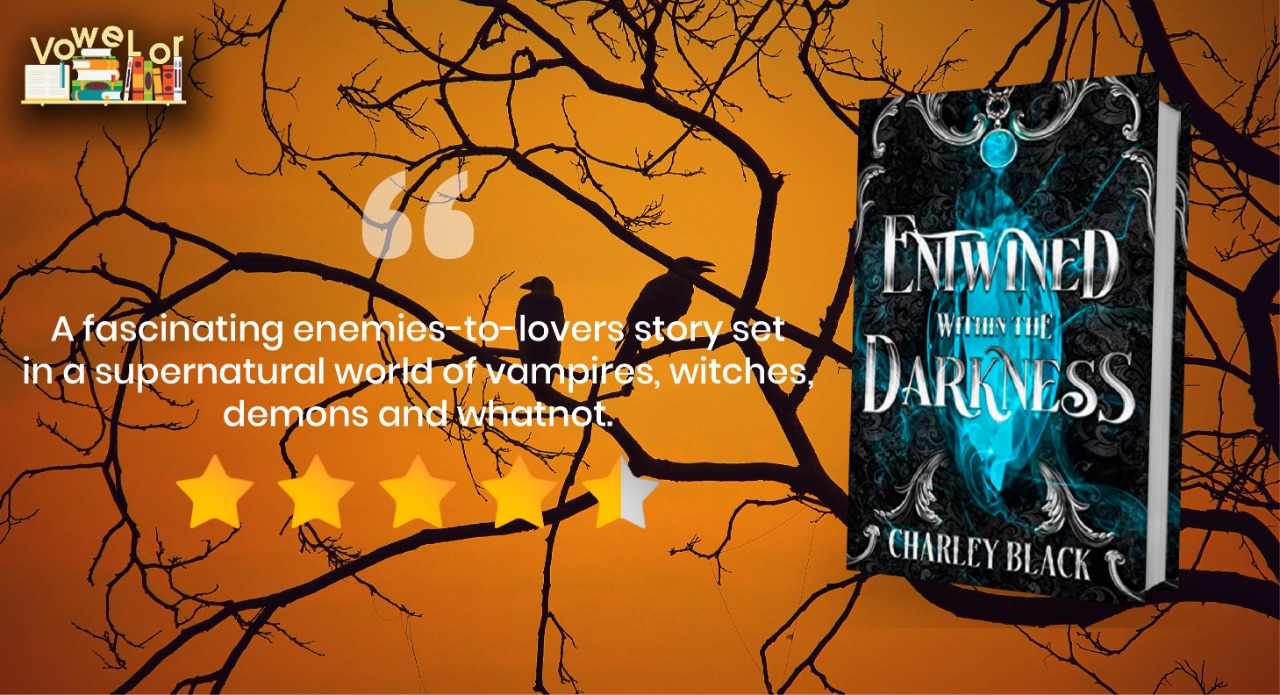 Plot ⭐⭐⭐⭐⭐
The story follows Patience, a really powerful witch who's trying to figure out her real identity for a very long time along with his demon best friend, Michael. Because of her constant dilemma, she forgets the fact that life is meant to be lived and cherished. To remind her of the said fact, Michael takes her out every now and then. But this time, it was Patience's idea after another regular nightmare of hers.
The duo somehow landed at a club for vampires where the entry for witches was prohibited. Unexpectedly Michael starts transitioning into a full demon and had to be tethered to another vampire, Ian. The aforementioned vampire is discovered to be the brother of Lucien or the infamous witch-hunter, the Ragana Zidikas. In order to stop Michael from consuming Ian's soul through their bond, Patience has to find a soul gem to untether the two. Will she be able to find it and save everyone while keeping a safe distance from Lucien? Or will she succumb to the unconventional infatuation the two mortal enemies have started feeling for each other?
The overall plot is quite interesting with the supernatural elements set in modern times, you know, kinda like The Vampire Diaries with some tweaks in the story. The story behind the making of Ragana Zidikas from Lucien could have been elaborated more but the overall writing made up for it.
Characters ⭐⭐⭐⭐⭐
Patience: She is an extremely powerful witch, in search of her identity after she's found on the steps of the Kilborn Academy for the witches fifty years ago. As per the story, she seems to be kind, mature and caring about things and people that matter to her. She rescued Michael, a demon three decades ago and since then has been best friends with him despite the opinions of others. After Michael gets tethered to Ian, she did her absolute best in order to save him and even kept her life on the line a couple of times.
Lucien: He is a multiple hundred years old vampire who owns a club exclusive for his kind. His path crossed Patience's when she sneaked into his club and he felt himself getting pulled towards her. Discovering that she's a witch, he lost his temper for a while but the infatuation never went away. It was like mental torture for him especially when he once was the infamous witch-hunter, Ragana Zidikas.
As per what I felt, the character lacked a certain depth that I expected from the start. Though he did everything he could in order to save his brother and always took his happiness into consideration, the portrayal of a diverse spectrum of emotions from Lucien's side as a character would have been appreciated.
Themes ⭐⭐⭐⭐
The story revolves around the enemies-to-lovers trope in a supernatural setting. It also has major aspects of friendships, trust, and understanding between people of different 'species', ideologies, and beliefs. Also, there are certain sections in the book that are for the 18+ readership, so keep that in mind while deciding to pick it up.
Verdict: 4.5/5, A fascinating enemies-to-lovers story set in a supernatural world of vampires, witches, demons, and whatnot.
Reasons To Push It Up Your TBR
Entwined Within the Darkness is the first installment of the Within the Darkness saga, and is a must-read for all fantasy readers. If you're someone with love for supernatural or paranormal romance, then this is just the right pick for you. As the first book in the series, it puts down a strong foundation for the entire story.
Though thorough proofreading would have been better as there are grammatical issues at multiple places, the story's pace is just perfect. The character development is quite visible throughout the story and it would be interesting to look at how it will progress with the upcoming installments.
✅ Get your copy of Entwined Within the Darkness
by Charley BLack
on
Amazon now
!
About the Author: Charley Black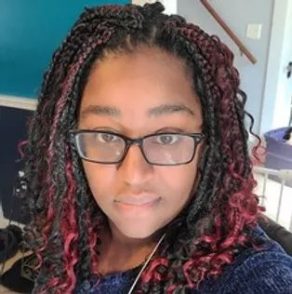 Charley Black is an up-and-coming writer and author, and she has recently published her first paranormal romance, Entwined Within the Darkness. It follows the enemies-to-lovers saga of a powerful witch, Patience, and a vampire cum witch-hunter, Lucien.
She is a resident of the State of Rhode Island, United States, where she lives with her family and works at the local university. Charley's knack for writing has been developing since she was a child and used to write stories spanning all genres. However, her focus consistently stayed on supernatural fiction which gave birth to the Within the Darkness trilogy, the first installation of which has been recently published and the next two will follow soon.