Empower your leadership is a nonfiction book published in the year 2023 by Dr. Amin Sanaia. The book follows some really powerful yet simple steps toward being a good leader. This book will make you understand that the Leader doesn't choose his audience, in fact the audience chooses his leader.
A leader is not someone who has learned everything but he is someone who is learning every day to make himself and his team ahead of everyone and to be a better individual.
The book cover beautifully represents the role of a leader in inspiring others to move upward and use their full potential. A leader who also understands the silence of his team and encourages them to participate fully. It is a book that can transform anyone into a good leader if she or he is willing to be.
Book Review: Empower Your Leadership by Dr. Sanania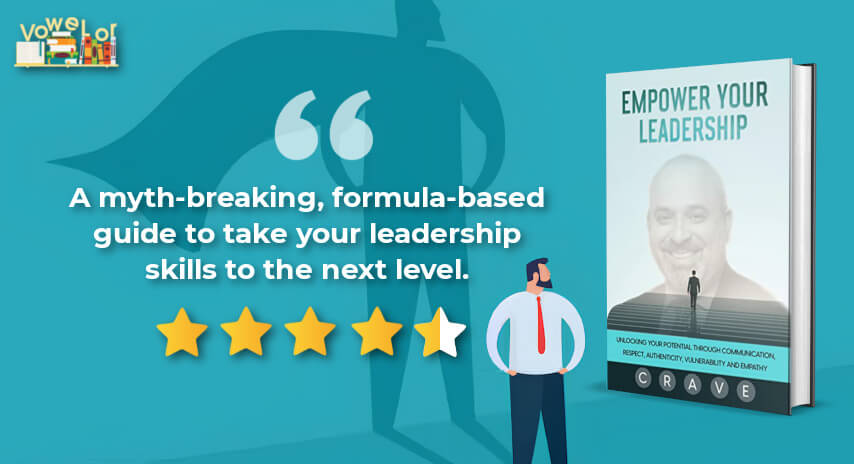 Empower Your Leadership by Dr. Amin Sanaia broadly explained the art of being a good leader with the help of the simple acronym CRAVE which means Communication, Respect, Authenticity, Vulnerability, and Empathy.
These are really important elements of a good leader. Communication can create wonders if we communicate keeping every tactic in mind.
As the author stated "It is often said that a little respect goes a long way", when we respect our co teammates they take us and themselves seriously and give their full productivity resulting in the progress of the company.
The more you are authentic, the more they respect and follow you. For being authentic you just have to be yourself and nothing else. The more you don't pretend to do something in a certain way the more you seem yourself.
Vulnerability is last but not the least to make sure you are a good leader and it is often misinterpreted as not being strong enough but in reality, it is the quality of being patient and smart enough to be a great listener, and when you do not agree with someone you deny with maintaining their dignity.
A leader is also human, they also tend to feel vulnerable at times but it is really necessary to share their obstacles with everyone when they are talking about anything they achieved.
Many people are often confused between a leader and a manager. A manager just divides the tasks between the team but the leader leads every individual and pulls the best out of everyone. When the team loses its direction, a leader is someone who navigates them with a clear direction and goal.
Writing Style
⭐⭐⭐⭐
Practicality
⭐⭐⭐⭐⭐
Inspiration
⭐⭐⭐⭐⭐
Vowelor Review: A myth-breaking, formula-based guide to
take your leadership skills to the next level.
4.5
✅ Grab your copy of Empower your Leadership by Amin Sanaia on
Amazon now
!
My Thoughts About The Book
After reading this book, I felt like everyone needs this book who is struggling to be a good leader or anyone who thinks only intelligent people make good leaders. This book breaks so many myths about being the best leader. The formula CRAVE was so on point and I can't deny after reading that so many of my presumptions broke and it made the picture crystal clear.
I read this book in just one sitting. It was a really engaging book. If you're a book lover who loves to read non-fiction you can trust this book blindly and if you are not into this stuff a lot trust me you can give it a try, you won't regret it.
About the Author: Amin Sanaia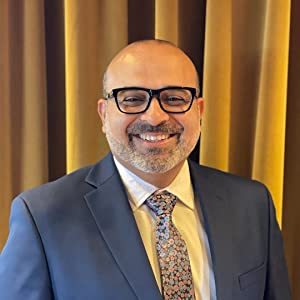 Dr. Amin Sanaia is an eminent author, a successful entrepreneur, a professor, and a servant leader. He is also a consultant and helps others to improve their leadership skills. He set himself a goal to empower the diverse group and bring the most potential out of everyone.
In January 2023, Dr. Amin Sanaia published his debut book 'Leadership Attributes: C.R.A.V.E.' followed by his second book 'Empower Your Leadership' a few months later. Both books give practical insights on improving leadership skills and becoming a better leader.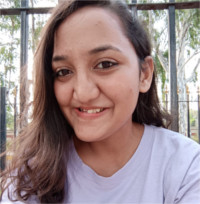 This review was written by one of the Vowelor's book review team members – Shruti Kapoor. She is a content writer and an aspiring journalist.
Shruti is a generous person who always has a special space for plants and animals in her life. In her free time, she loves to read philosophy and stuff that stimulates her intellectually.