Divided Mountain, a book by Annette Stephenson, is about a young girl named Kate Parker who dealt with multiple past wounds of heartbreak, loneliness, and poverty. She falls into such a mysterious circumstance where she is about to test her loyalty in the relationship or choose happiness for her life.
The book is published in July 2021 by this self-taught romance novelist. Divided Mountain keeps you engaged throughout because of the character's determination to make things right for herself, her family, and her friends. Annette is also planning to write a sequel for the book.
Here's the snippet from the book:
Once a rebel with the frustrations of an angry teenage girl, Kate thought how amazing it was to look back and not see the angry girl she used to be. She became better, wiser, older. The reflection was good for her, it made her smile. She made difficult changes. The healing process was good for her. In her old age she reflects on how drastic changes touched her life for the better. Feeling nostalgic, she remembers, "Letting go is the hardest part," but was it really? Or was it the fear that was the hardest to leave out of the complete picture?
Book Review: Divided Mountain by Annette Stephenson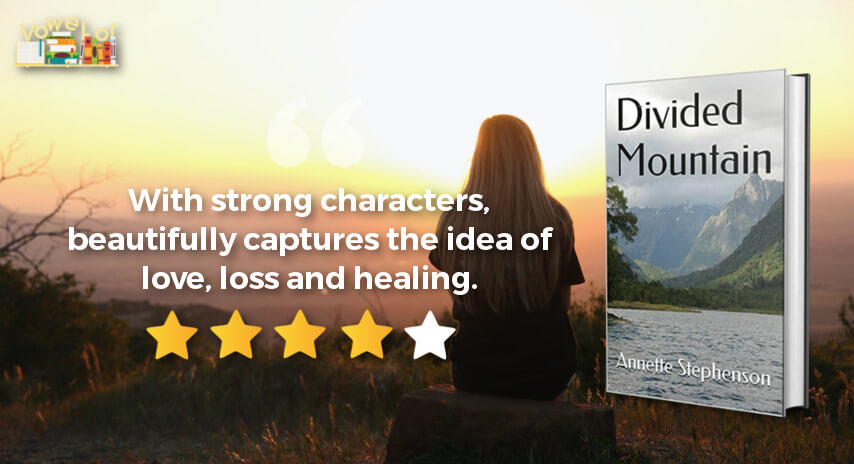 The story of Divided Mountain revolves around the character of a young girl, Kate living in New York with her mother, Maddy, and two brothers Cody (ten) and Chase (eight). Her father lost his job right after Chase was born, it made him feel like he had failed and could not take care of his children, and decided to leave the family and never return.
Maddy received a letter from Karen, her sister, who happens to be in California asking them to move out with her permanently. California was beautiful and different from New York. Everyone settled in the new place, Kate found a new job at the diner.
It had been a few months in California and the family was invited to a garden party by a friend whom Maddy had met in a florist shop. Kate was introduced to the Carrington Family who had just moved from Florida. There, she met Callen Carrington and his elder brother Garrett.
Callen was handsome, his hair was dark brown and curly. He was interested in talking to Kate, so they began their conversation at the party. That's when she saw Garrett with a sketch pad sitting quietly in the garden with his art supplies so she went over to talk to him. Garrett is a self-taught gardener.
Callen and Kate started dating, but, later as Callen moved out to Florida for a month they developed a communication gap. Garrett was her only friend in town with whom she could spend her quality time with. Kate shared that Callen had stopped writing to her and she missed her. Garrett warned her about Callen's messed up behavior of being selfish and he did not want her to get hurt. She was confused about his words towards Callen and wanted to know the reason behind saying all this to her.
Garrett confessed his feelings to her, that's when Kate felt, what she had been looking for in a partner was right in front of her. Kate could not believe it and replied with a positive answer. All they could now think about was how to tell it to Callen when he returned.
Meanwhile, Karen's health was deteriorating, her cancer had reached stage four and she lost weight because of her chemotherapy.
Callen returned after two weeks after the incident between Garrett and Kate. She met him the other day and decided to tell him whatever happened. He could not control his anger, and he returned back home. When his brother mentioned the same. He felt betrayed and left the home with his motorbike. He met with an accident by the edge of the road. Callen was taken to the nearby hospital where the doctors mentioned his broken leg and bruises on his face which would take a month to recover.
When everyone from the family came to meet Callen, he answered about his long-term anger issues with his elder brother. He said that Garrett was prioritized more in the family, Callen wanted to make his father proud by going to a college. But, all he could think and do about was for his brother. And, even Sam, their youngest brother, was keener towards Garrett.
It took a month to get back from the hospital and during the time Karen passed away peacefully in her sleep.
Garrett had his own studio prepared and wanted to move out. Callen was later admitted to rehab as he could not take the trauma of Kate leaving him for Garrett neither his father's behavior towards him. And, after recovering from the condition he left the house in the middle of the night without letting anyone know about it.
Garrett and Kate later got married and moved to the new place where Garrett had his studio, Maddy was still living in Karen's house.
My Thoughts on the Book
Continuous effort to stay loyal to herself, her family, and friends even after missing out on her father's love. Author Annette Stephenson serves her readers beautifully with the character.
The constant fear of losing their loved ones is within every single individual. Some stay alone since childhood, some lose them gradually but there's always a constant need to be loved.
In her book, Divided Mountain, the author wrote each and every scene including the surrounding of the main character in such details that a reader could visualize the scene like a movie.
The character described in her story is very strong, she always had an urge to win in spite of being from a poor family. She made mistakes in her life in choosing the wrong person for herself but in the end, when she vibed about the correct decision she made sure to keep it and not let go.
The overall message of the story, "to fight for yourself and not look out what others are up to" explains the day-to-day life teaching for every human being. The author did a wonderful job in mixing a scene from the real life of a person and also mixing up with an exaggeration to bring out an imaginative story.
Unlike most of the novel, here the book ends with a moral i.e., being happy with what you have is a matter of focusing on the good things in your life, letting go of unrealistic burdens and expectations, and doing your best to make yourself feel good in the here and now.
Storyline
⭐⭐⭐⭐
Characters
⭐⭐⭐⭐
Writing Style
⭐⭐⭐⭐
Vowelor Review
With strong characters, beautifully captures the idea of love, loss, and healing.

4.0
✅ Get your copy of Divided Mountain by Annette Stephenson on
Amazon now
!
Few Flip sides to this novel
At some point, a reader could find it a little bit stretched. With the other important characters in the story, some may want to skip few parts from it but there will always be an urge to know about what might happen next.
About the Author: Annette Stephenson
Annette Stephenson is an author from California, USA. Since the very young age of 10, Annette has been writing short stories and poems. She published her debut book 'Divided Mountain' in 2021 although the idea of the story came to her back in 2008.
Annette is married for 39 years now, having 3 children and 6 grandchildren. She finds inspiration for her books from her husband. Her stories have a common theme of love, relationships, family drama, and healing.
She is working full-time on more short stories as well as a sequel to the Divided Mountains.