Dear Manusha is a story of love and heartbreak, written by Anupama Ravindran Menon, and released in 2019. The story is a memoir written in the form of a journal a.k.a. a letter that will never reach that special someone.
The book is a compilation of poetic letters which narrate the painfully strong, beautiful, and never-ending love of the narrator's life. Her dedication to Manusha, her longing for Manusha, and her way of dealing with the devastation of her soul, in such a beautiful manner. It is a very relatable story that guarantees to keep you engrossed in it.
Book Review: Dear Manusha by Anupama Ravindran Menon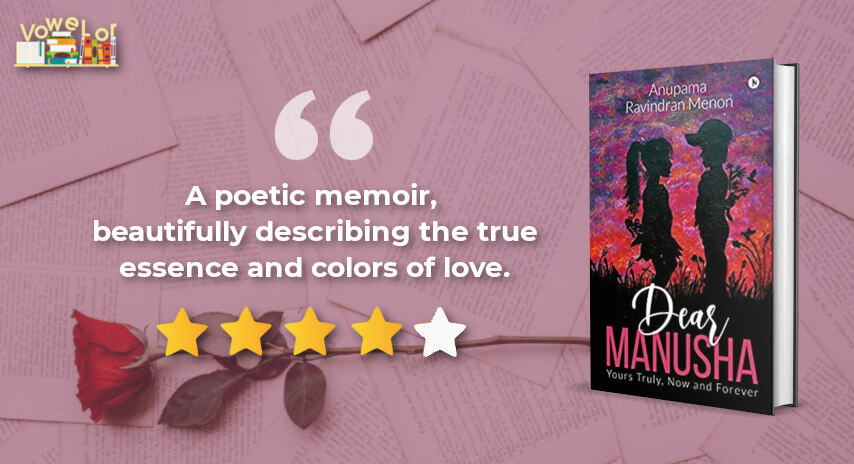 We sometimes tend to forget that love is such a powerful entity, that it ends up having a powerful hold on a person's heart even after separation; in fact, it won't be wrong to say that, love is the strongest when the lovers separate.
The emotions it inflicts on a human mind can take one to a different tangent of life. Hence, it is well said that longing is an art. And we can rightfully say that this story is an art piece by an artist who mastered that art.
Dear Manusha makes us realize that love, emotions, poetry, art, and longing are elements that actually make us human, and different from other creatures dwelling on the surface of the earth.
Loving and longing, as painful as they are, they are the true definition of 'beauty', the beauty called life. Dear Manusha is a beautifully intriguing story that will take you down the most beautiful memory lane of your life.
Setting ⭐⭐⭐⭐
The narrator is a doctor, working in a busy military clinic, situated in a camp in a rural area. The story is set in the complex life of the narrator, from a wedding function to her room's balcony the story completely revolves around her.
Plot ⭐⭐⭐⭐
The narrator writes poetic letters dedicated to the love of her life whom she calls Manusha. In a series of 13 beautiful poetic stories, the narrator tells the story of how and when she realized her love, to their separation, her longing for him, her dilemma and difficulties of separation, her ways of coping with the pain and beautifully using it to her strength and growth.
The book is a beautiful memoir of the narrator's day-to-day life, every inch of which represents her love and the immense importance of Manusha in her life. The story guarantees to take you down those forgotten but unforgettable memory lanes.
Writing ⭐⭐⭐⭐
Dear Manusha is a beautifully written memoir consisting of a collection of short stories. The author uses beautiful, creative vocabulary to pen down an incredibly rhythmic and poetic story which makes it so much more engrossing and deeply touching.
Though it might sometimes feel like a bit of a drag, the story is beautifully written to communicate with one's heart and soul while keeping the brain a secondary participant.
Theme ⭐⭐⭐⭐
The story is a memoir of the narrator's life which revolves around her love and longing for Manusha, the tale of their separation, and her ways of coping with the pain. The story is a reflection of the truest and purest form of love.
It is an incredible journey down that part of one's memory lane which is only and only reserved for pure love.
Writing Style
⭐⭐⭐⭐
Theme
⭐⭐⭐⭐
Inspiration
⭐⭐⭐⭐
Vowelor Review: A Poetic memoir, describing the true
essence and colors of love.
4.0
✅ Grab your copy of Dear Manusha by Anupama Menon on
Amazon now
!
Reasons to add this book to your TBR
Love has the capability to humble anyone in front of its grandness. This story reminds us that love is the most primal part of our existence and that it is acceptable to cherish and pay tributes to lost love.
The book will take you down the memory grooves of those beautiful moments that spent loving someone, be it painful or not, it is the purest emotion inflicted by this story. It will somehow get you a sense of closure, helping you to process your thoughts and feelings in so many ways.
Anu's book 'Dear Manusha' will connect deeply with your soul and give you a feeling of contentment, you never knew you wanted. Grab your copy now to read this beautiful story of love and longing.
About the Author: Anupama Ravindran Menon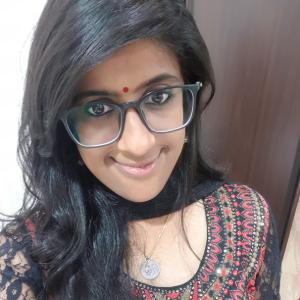 Born and brought up in the humble suburbs of old Seremban town, Anupama Ravindran Menon is your regular girl next door. As much as Anu is a passionate young doctor blooming in her field, she awes art in its every form – be it music, dance, writing, painting, or creative work.
Her debut book, Dear Manusha, is a memoir dedicated in honor of love and beloved. Daily episodes highlight a bird's eye view of what love means to many who stay and love in silence, despite diverging destinies.
Her craftwork also includes many short stories. After winning her first prize in the International Notion Press Short Stories Competition 2017, she published. She had also successfully finished her first solo painting exhibition entitled Hridhaya: Language of Heartbeats.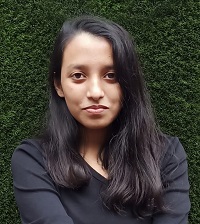 This review was written by one of the Vowelor's book review team members – Shubhangi Shreya. She is a multipotentialite. She is a curious head who is always eager to learn new things.
Shubhangi is a graphic designer and an aspiring journalist. In her free time, she loves to discover new books and stories to add to her collection.