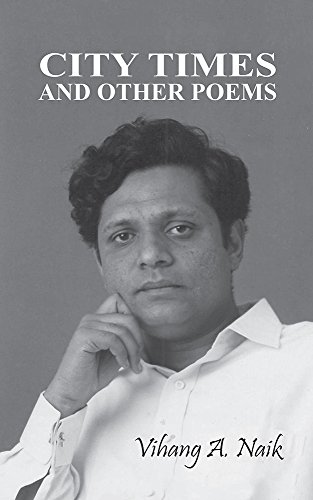 Book Review :  City Times and Other Poems by Vihang A. Naik
City Times and Other Poems by Vihang A. Naik is a collection of thirty-six strikingly thoughtful and mature poems in six sections. Vihang A. Naik does a justice to modern poetry and uses incredible poetic devices to throw light on the city life and journey involved.
It is not an exaggeration to say that City Times and Other Poems by Vihang A. Naik is an utter work of literature. The poems are written in deft and lucid free verse. This anthology, City Times and Other Poems, starts with the section Love Song of a Journey Man and ends with the lengthiest poem, City Times.
The first section is more like a comprehensible travel diary of a journey through different stages and situations of modern life. The next section, Mirrored Men, is the result of author's commendable observations how human deceives each other today. Vihang A. Naik compares today's men with chameleon and crab in terms of deceitfulness. The Path to Wisdom is another section dealing with various difficult parts of life like patience, love, perseverance and silence.
Other sections of City Times and Other Poems by Vihang A. Naik include Self Portrait, At The Shore and City Times. At the Shore digs deep into emotions and resurfaces a number of memories. The way the author has related everything to the sea is truly a feast for the soul. City Times is the major part of this anthology and remarkably canvases the life in city and everything in between.
Self Portrait is one of the special sections of City Times and Other Poems because for the first time that an artist appeals the artist inside every individual to envision themselves in the blank pages.  This thought made City Times and Other Poems enter the Limca Book of Records. Although the essence of poetry in City Times and Other Poems by Vihang A. Naik is incomparable but cover could have been better than just the portrait of the author.
Poetry

Uniqueness

Writing Style
Vowelor Review
Thought provoking and relatable collection of poems. Recommended even if you're not a poetry lover.
About the Author : Vihang A. Naik
Born in 1969, Vihang A Naik belongs to a Gujarati family from Surat, India. He completed his Master's degree in English Literature & Philosophy from Maharaja Sayajirao University, Baroda. He has lived in various cities in and out of Gujrat that has helped him observe the peculiarities of human life which he renders in his poetry.
Mr Vihang has four poetry books to his credit and a number of his poems are also featured in different anthologies. His first poetry collection Jeevangeet has been translated into various languages. His other books include Making A Poem, Poetry Manifesto and the latest release City Times and  Other Poems.