The Chennai Killings, written by Chital Mehta, is all about discovering dangerous secrets lurking inside human minds, set against a backdrop of Chennai, India's megalopolis. The book was published by QUIGNOG in the year 2019.
The Chennai Killings is a novel from the crime and mystery genre. Inspector Vikram Rathi is battling with memories of his only sister's brutal murder that had rendered him sleepless nights.
But it is the recent murder of a young woman in Chennai that takes Vikram on a journey of blurred secrets complicating his already messed up life.
Here is a snippet from the book:
Sandhya felt something sharp sting her. It was only a few seconds later that she noticed a large knife slicing through her throat. The pain didn't come right away. Rather, it was the sight of blood bubbling out of her that made her scream. When she turned, the knife was out of her body, but she could feel the cut as if somebody had just chopped her like a fruit. As if she were a red, juicy watermelon.

She saw him take a step closer and pierce the knife through her chest, targeting the area between her breast. Sandhya screamed in pain as her body tilted with a slight slant. This time, he attacked her again, slashing her neck and face. By now, she was covered in the blood that splattered from her body.
Book Review: The Chennai Killings by Chital Mehta
The Chennai Killings is written in chapters. Each chapter has a heading that accurately summarizes the content of that chapter.
In the prologue, a girl was waiting for someone and then she got murdered abruptly.
In the next chapter, a girl named Sandhya, who was doing her M.A. in English Literature, was described in detail. She was a girl living in a city away from her family with lots of hopes and dreams. Suddenly, one morning she too got murdered.
Her parents were in absolute shock and depression experiencing their daughter's untimely death.
Vikram, an officer in CID, was appointed for the investigation of this case, this case and his life got intertwined with a sad but true simile. Vikram's sister Priya also got killed in a brutal murder and that case never received closure.
Vikram started investigating with his team to solve this case. In his course of the investigation, the name that came to the surface prominently was Ravi. It was assumed that Ravi and Sandhya might be involved in a relationship that led Sandhya to get murdered.
Mother of Sandhya could not take all of this and passed away. This made Sandhya's father agitated and he tried to take the law in his hand leading a vicious event. This could have taken the readers to the climax.
But the story took another turn.
This made Vikram's life more miserable than before. Eventually, he could expose the secret that both the murders had the cause and effect relationship.
Finally, he could reveal the identity of the killer behind the murder of his only sister as well as the murder mystery of Sandhya. But he had to pay a great price for that.
Storyline
⭐⭐⭐⭐
Characters
⭐⭐⭐⭐
Writing Style
⭐⭐⭐⭐
Vowelor Review
A crime & mystery novel presented in detail. The twisted climax made it more interesting.

4.0
✅ Get your copy of The Chennai Killings by Chital Mehta on
Amazon now
!
My Thoughts:
The Chennai Killings by Chital Mehta is a well-plotted novel from the crime and mystery genre. Descriptions of the intertwined murders and the process of revealing the truth behind those murders were very interesting.
The story had made its mark at the very first step by starting with a gripping prologue. The segregation of different chapters was done efficiently to provide a clear view of the course of action behind the mystery. This gave the novel a dramatic touch.
Hence, it can be said that the novel has a cinematic appeal.
The detailing of the characters is the main attraction of this novel. Even the characters which were dead were described with fine features. It made the background of the characters and the murder story more convincing.
The etching of the characters and the situations were done in such a way that the reader could easily visualize the characters and the situations.
The flow of the narration was done carefully and smartly, and it never felt confusing though there were several flashbacks intermittently. This novel has a nice flow which makes the reader to be engrossed in the book.
In one murder mystery, another mystery was woven beautifully, and this gave the novel a new dimension.
The style of writing is catchy and captivating which makes this novel one sitting read.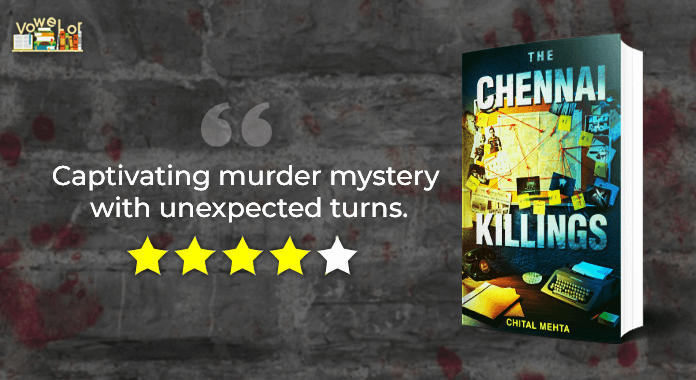 Few flip sides of this novel: As compared to any crime and mystery novel, this book is a bit slower in terms of the thrilling element. Sometimes, it felt that there was too much detailing done out of context. The story was not that fast-paced.
About the author: Chital Mehta
Chital Mehta resides in Massachusetts, USA with her husband and children. She holds an MFA in creative writing (Fiction) from Lindenwood University, Missouri, USA.
She is deeply passionate about human life and is constantly on the lookout for good stories. Chital Mehta has authored four fiction novels apart from The Chennai Killings.
One of her books, The Promise went on to sell more than 6000 copies and was a national bestseller. She is constantly writing about her life and experiences in her blogs.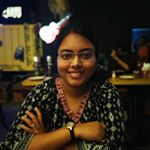 This review was written by one of the Vowelor Facebook community members – Paulami Dey. She is an avid bibliophile, a software consultant in a world-famous IT company, and a proud daughter.
When she is not working, you may find Paulami reviewing books, writing blog posts or attending literary events. She can read anything and everything that she can get a hold. She has a small personal library at her house.