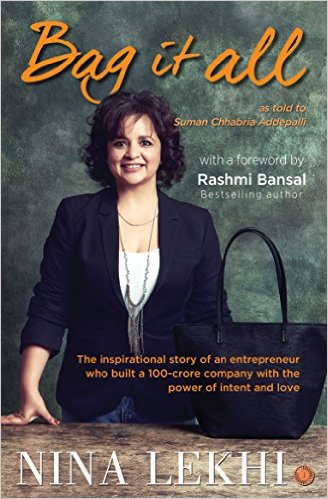 | | |
| --- | --- |
| Book Title | Bag It All |
| Book Author | Nina Lekhi |
| Publisher | Jaico Publishing |
| ISBN | 8184959818 |
| Language | English |
| Pages | 204 |
| Year Published | 2017 |
Book Review : Bag It All by Nina Lekhi
Bag It All by Nina Lekhi is her biography in which she has passed on her 'secret to success' in clean and simple words. The book, Bag It All, is truly honest and inspiring tale of how a woman entrepreneur created a business empire worth 100 crores. As told in her biography, Bag It All, Nina Lekhi sets an example that with the right approach, biggest failures can be turned into success stories.
The book begins with an impressive foreword by Rashmi Bansal followed by the 15-chapter story of a young ambitious girl who started selling as a part time when she got detained in class XI. A very unique thing about Bag it All by Nina Lekhi is that every chapter has learning at the end and one can easily connect the dots. 18-year-old Nina had learned everything about retail and found a need of 'cool bags' the market. Without any business plan or anything, Nina started her own brand Baggit in her own house and never looked back. Today, Baggit is a 100 crore company and Nina Lekhi is the proud Managing Director.
Nina Lekhi has expressed her heart out in her book, Bag it All, describing all the challenges she faced and how her parents, her husband Manjo, her in-laws and even her daughter has supported her to become what she is today. Suman Chhabaria Addepalli, the author of Nina's inspiring story, has made the chapters flow flawlessly one after the other.  Also, Nina Lekhi, through her book Bag It All, also opens up about her family life and the perfect balance she has achieved between the family and work.
Bag it All by Nina Lekhi has something for everyone from students to parents; housewives to entrepreneurs (obviously). Filled with a lot of inspiring learnings, spiritual advice and light moments, Bag it All has it all.
Storyline

Writing Style

Inspiration
Vowelor Review
Filled with a lot of inspiring learnings, spiritual advice and light moments, Bag it All has it all.
About the Author : Nina Lekhi, Suman Chhabaria Addepalli
Nina Lekhi is an Indian Woman Entrepreneur and the Founder of fashionable bags brand 'Baggit'. She has won several prestigious awards from the Govt. of India as well as Media for her contributions and achievements.
After 25 years in business, Baggit India has become a 100 crore company and also recognized from PETA for being a cruelty-free, vegan brand. Nina is an ardent follower of Siddha Samadhi Yoga (SSY) and maintains a work-life balance. Along with her husband, She has also adopted Katarkhadak village to ensure rural employment and overall welfare. Nina's biography, Bag It All, was published on 20 Jan 2017 describing her journey till date.
Suman Chhabaria Addepalli is the founder of Urban Firefly – a unique portal for gardening enthusiasts. But, She is a writer at heart with a 16-year career in Communications. Suman also possesses an MBA in Social Entrepreneurship making her an absolute multi-faceted talent.