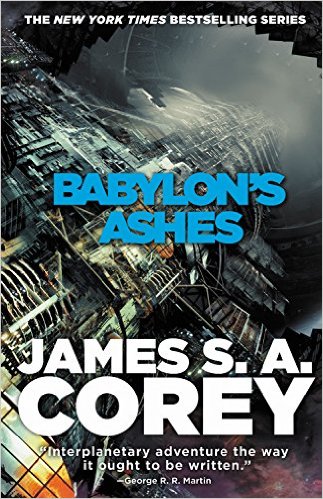 Book Review : Babylon's Ashes by James S.A. Corey
Babylon's Ashes by James SA Corey is the sixth novel in The Expanse series which is now a major TV series. Babylon's Ashes continues the brilliantly imagined futuristic space world that is the main theme of The Expanse series. The author duo behind the pen name James SA Corey is Daniel Abraham and Ty Franck. The latest addition to the series gives an enthralling turn to the story of Captain Jim Holden and the crew of Rocinante.
The  story of Babylon's Ashes is about the war in the solar system that continues with Earth and the militant forces of the Free Navy, an organization that claims to act on behalf of the Belters. The Belters are the inhabitants and miners of the industrial outer planets and the asteroid belt.
The new fragile colonies rely on supply ships from the solar system for survival – these ships have become the target for Marco Inaros, the leader of the Free Navy. Mars and Earth forms an uneasy alliance in the effort to fight back in the leadership of the infamous Captain Jim Holden, regarded as the hero by many and traitor by others. As the conditions worsen, the choices of a few damaged and desperate people may determine the fate of more than just humanity.
Storyline

Characters

Writing Style
Vowelor Review
One of the most enthralling space opera novel you would read in the years to come!
About the Author : James S.A. Corey
James S.A. Corey is the pen name of Daniel Abraham and Ty Franck who teamed up to write the science fiction series – The Expanse. In 2011, James S.A. Corey released their first novel in Expanse series, Leviathan Wakes, which was nominated for HUGO Award 2012.
Since then James S.A. Corey has written six novels in the series. They have also a Star Wars novel, Honor Among Thieves, published in 2014. Apart from the Expanse Series, the author duo has written a short story, A Man Without Honor which was included in George R.R. Martin's anthology – Old War.