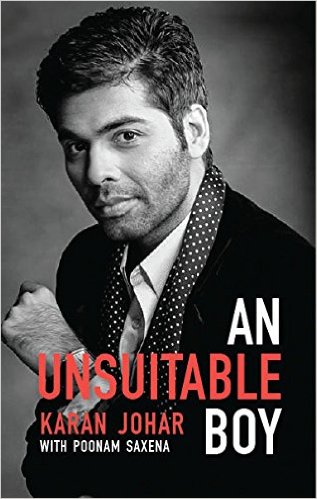 Book Review : An Unsuitable Boy by Karan Johar
An Unsuitable Boy by Karan Johar is the biographical chronicle of Karan's life. Karan Johar himself along with Poonam Saxena have penned down this revealing biography of Karan Johar titled An Unsuitable Boy.  Talking about the title, it goes affirmatively in sync with the life of Karan Johar – a renowned director, a producer and an actor of the recent times in Indian cinema and Television.
Karan Johar has been utterly jovial and open as a person as one would see him. But, there's a lot more hidden behind the curtains of past. An Unsuitable Boy, his biography, unveils all that has been presumed and rumored about him. The book has a number of emotional moments from his childhood where he would cry from being bullied; his odd nature, the period of being an overweight; all the struggles he has been through. He mentioned how his parents played the most important support system. Karan Johar's biography gives a clear and honest insight to his life and eventual growth of an incredibly talented personality.
His Bollywood journey has also been chronicled in his book, An Unsuitable Boy. From his debut film Kuch Kuch Hota Hai which became quite successful to his latest release as a director, Ae Dil Hai Mushkil, Karan has written lengths about his career.  An Unsuitable Boy by Karan Johar is going to change the perspectives of many.
Writing Style

Interesting
Vowelor Review
Tearful at times yet inspiring read. Karan Johar at his best
About the Author : Karan Johar & Poonam Saxena
Born in 1972, Karan Johar is the son of Yash Johar, an acclaimed producer in Indian Film industry. Karan Johar, popularly known as KJo, attended HR College of Commerce and Economics and also attained Masters Degree in French.
Karan Johar's directorial debut was Kuch Kuch Hota Hai which released in 1998 and fetched the Filmfare Award for the Best Director. He has worked as a director, producer, screenwriter, actor in numerous Bollywood films.
Poonam Saxena is a senior journalist of Hindustan Times and Editor of the weekly magazine, Brunch.  She also does a TV review show, Small Screen.