A Smouldering Path is the debut novel written by Saad Goungaf. This interesting fiction novel was published by Nocturne Light Publishing in 2019.
It is the story of Vincent Peregrine, a retired Major from British armed forces who returns to his hometown after years. While he was just settling down with some young teenagers of the town, his past starts to resurface in the present.
The author has created many well-balanced characters and his impressive storytelling does not read like a debutant.
Here's a snippet from the book 'A Smouldering Path'.
A finely written plaque inscribed "Paterson" was beautifully decorating the entrance of the abode. Various trees were lining up with some of them having fruits ripe for the picking: A clear hint to the hobby of the late Bobby.

Vincent knocked lightly on the door, but no response. He repeated the action. As he was about to finish knocking, the door opened up abruptly. A beautiful figure of a young woman, clad in a short black sleeved shirt and blue jeans, was standing in front of him.
Vincent nodded his head slightly as a greeting.
"Amanda Paterson, I assume?"
Book Review: A Smouldering Path by Saad Goungaf
The Storyline
The book begins with the homecoming of Major Vincent to his native town. He is a brave and handsome old man. Before he could meet his only sister Mathilda and other old friends, a group of brats gives him a welcome that he wasn't expecting.
One of those brats, Jack, is the son of Vincent's friend from the army.
As the story progresses, Vincent meets his childhood sweetheart Rosaline who has waited for him and didn't marry. He also finds out that his best friend Bobby Paterson has passed away, so, he takes it as his duty to take care of Bobby's granddaughter Amanda.
Amanda is a fearless young girl who lives by her own rules and did not want anyone to dictate what to do.
Jack, Amanda and their friends find Vincent quite intriguing and did not like him at first. But, even after all the differences, eventually, Vincent and these teenagers blend.
Vincent becomes their school's football team coach, recollects the teammates and trains them for the national qualifier.
Soon, weird events start to take place that put Vincent's and all young squad's lives in danger. Vincent figures out that it is his past enemies who are up for revenge.
Vincent chooses to keep these kids safe and battle the danger himself. But, they've developed such a bond that everyone jumps to Vincent's help. United, they eliminate the enemy forever.
But, Vincent's life takes a turn that none of them would have expected! The story ultimately ends on a good note with all the teenagers succeeding in their lives.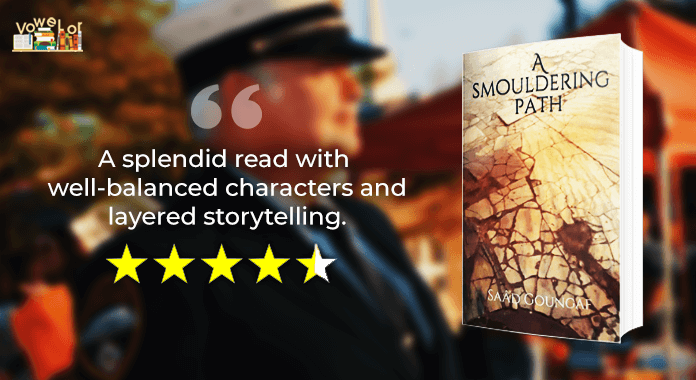 Our Thoughts
As a first time author, Saad Goungaf has pulled it off really well. His words and style are captivating and elaborate at the same time.
The author has impeccably portrayed the behavior of younger characters in contrast to the older generation. It gives a clear perspective of the generation gap that the author wanted to highlight.
Every character has its own layers. The reader gets to know a lot about even the secondary characters like Jack's maid Anna or Amanda's friend Damien. This makes the reader feel more connected with them also.
The author seamlessly juggles between Vincent's past and present which gives the reader a sense of suspense as well as anticipation.
The story is paced very well; except for some places being too slow when the author goes into details which many would find unnecessary such as the chess match.
Overall, this book, A Smouldering Path, will keep you guessing about Vincent's past most of the time. And, if you read between the lines, you might find a lesson or two from Vincent's life.
Storyline
⭐⭐⭐⭐⭐
Characters
⭐⭐⭐⭐
Writing Style
⭐⭐⭐⭐
Vowelor Review
A splendid read with well-balanced characters
and layered storytelling.

4.5
About the Author: Saad Goungaf
Saad Goungaf is an author from Morocco, a beautiful country in North Africa. He used to work as an IT professional in 2016 when the idea for his first novel struck him.
With support from his family and dear ones, Saad Goungaf published his first book 'A Smouldering Path' in September 2019.
He has quit his job and now working full time on his books. His next book is expected to be an epic fantasy. Saad gave more interesting details about his life and upcoming works in a candid conversation with Vowelor. Read the complete interview of Author Saad Goungaf now!