A 12 Story Asylum is a short story collection by the author Carl V. Dupre, published in the year 2021. It has elements of fantasy, science fiction, and horror and can be called downright insane (in the best way possible).
If you're someone who's looking for something unexpected and crazy yet doesn't wish to commit to long stories or big books, then this one is just the right pick for you.
Here's a snippet from the book:
Momma is at the door. Three fast knocks and two slow knocks. That's how he knows it's Momma. She must be back from the five-and-dime early. She doesn't like taking her key when she leaves him alone. In case something happens to her, no stranger would get her house key. The boy goes to the hallway door. He always checks the peephole just in case. He drags his step stool to the door and stands on it. He looks out the peephole and sees momma waiting there. Momma doesn't look right though. She's scared. She glances over her shoulder, behind her.

"Andy!" she yells from the other side of the door, "Let me in right away, please. There's something-"

Another even louder knock comes from the kitchen door at the back of the house. Three fast knocks two slow also… what? The boy looks over at the kitchen door. It's got a window and curtains, but the boy can see someone peering in between the curtains. It's… also Momma! "Andy!!" her voice is shaking with terror, "Do not open that door! Get over here as fast as you can and let me in!" What the devil?

He looks out the living room door peephole again. There's First Momma pounding on the door looking just as scared. "Andy for the love of God do not let that monster in here! It wants to kill you!" Pounding now from the kitchen door. "Don't listen to it, son, it's not even human!" That Momma sounds downright desperate. "Please let me in!" He looks from peephole to window. Peephole. Window. Peephole. Window. The faces are identical. Both Mommas wear the same scarf in the same brown hair. Both wear the exact same plaid shirt. One's Momma. The other a stranger. And strangers are bad.
Book Review: A 12 Story Asylum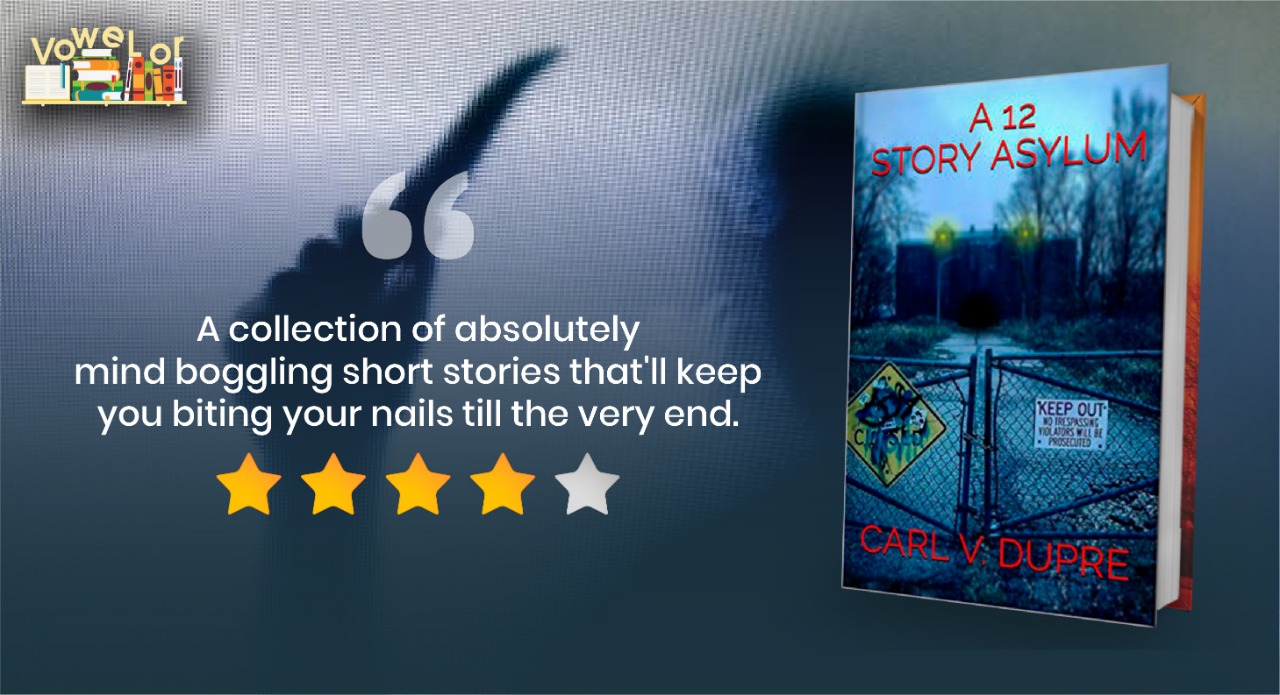 Are you someone who's into reading but can't commit to long stories and sagas to get the kick you need? Then short stories can always save the day. And if they are something like the ones in Carl V. Dupre's A 12 Story Asylum, then trust us when we say that you're going to be absolutely mindblown.
Shapeshifting aliens who wish to erase humanity, charming serial killers whom you can unsuspectingly fall for, highly vindictive ghosts and spirits, or a dystopia where a certain anomaly changed the world into something we can only imagine in our worst of nightmares, A 12 Story Asylum has it all.
Not giving any spoilers for this is one book that will keep you on the edge of your bed, biting your nails and most probably, unable to sleep at night, but it's all worth it.
| | |
| --- | --- |
| Storylines | ⭐⭐⭐⭐ |
| Characters | ⭐⭐⭐⭐ |
| Writing Style | ⭐⭐⭐⭐ |
| Vowelor Review: A collection of absolutely mind-boggling short stories that'll keep you biting your nails till the very end. | 4 |
✅ Get your copy of A 12 Story Asylum by Carl V. Dupre on
Amazon now
!
My Thoughts about the Book
The diversity in the plots of all the stories has been one highlight for me throughout as well as the length of each one of them. With the attention span of a full-time student with a seemingly full-time job, these stories fulfilled my regular need for reading between any two jobs or errands of the day, and always felt somehow complete.
Some stories ended with my mouth left open with surprise and some with 'I told you so' comment in my head, but the overall experience while reading this book has been phenomenal and extraordinary. I'd recommend it to all the regular thriller and mystery readers as well as those who are looking for something to start with.
About the Author: Carl V. Dupre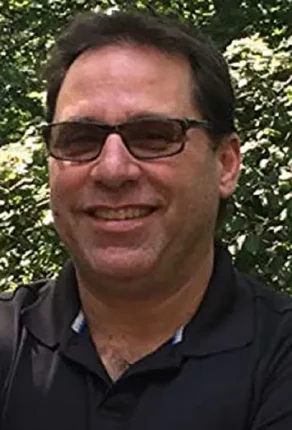 Carl V. Dupre is an author, screenwriter, and video editor from Rhode Island where he resides with his family. He has recently published his collection of short stories by the name of A 12 Story Asylum which is an anthology of horror, science fiction, and fantasy capable of keeping you up all night.
Carl has been working as a screenwriter for quite some time and has a few jewels in his crown including the 1999 film Detroit Rock City, two Hellraiser movies Hellseeker and Hellworld, also The Prophecy 3 with Christopher Walken, and the independent horror film Inkubus with Robert Englund. He also enjoys music and songwriting and loves playing guitar and keyboard.