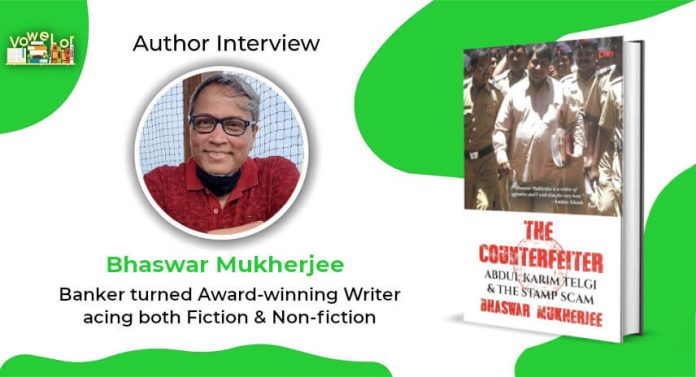 It takes a lifelong to ace the art of writing in particular genres. There are only a handful of authors who write equally amazing stories in multiple genres. Author Bhaswar Mukherjee is one of them. He has a dozen famous anthologies under his name and a bestselling non-fiction book 'The Counterfeiter'.
At Vowelor, we got a chance to have a candid conversation with author Bhaswar Mukherjee about his latest book 'The Counterfeiter', his writing journey, and much more. Before we dive into his interesting answers, let us first know a little more about the author.
About the Author: Bhaswar Mukherjee
Bhaswar Mukherjee is the author of the book, The Counterfeiter: Abdul Karim Telgi & the stamp scam. He has a degree in Mechanical Engineering and an MBA from IIM Bangalore. He worked with several international banks for seventeen years. After that, Bhaswar started his own firm that provides consulting and training solutions in the banking domain.
Bhaswar calls himself an accidental writer. Authors like Sudha Murty, and Ravinder Singh have picked up his short stories for their curated anthologies and many authors such as Amitav Ghosh, Ashwin Sanghi, and Upamanyu Chatterjee have also shortlisted his submissions for the TOI Write India contest.
Bhaswar has contributed to 12 anthologies and his solo anthology, It Happens: Stories of Human Relationships was published in May 2020. The Navi Mumbai Chambers of Business and Industries recognized him as the 'Best Storyteller 2021' at the Indian Authors Conference and Awards (Nov '21) for this book.
Further, author Bhaswar Mukherjee shared about his childhood, writing journey, inspirations, and more interesting things about himself. Let's get into all of his interesting answers.
When and where were you born and bought up? Tell us about your parents, kids, and family.
I hail from the steel city of Jamshedpur (Tatanagar) where I spent my formative years (till class 10). My father was with Tata Steel and my mother was a homemaker. After dad passed away, she began working with Tata Steel and became the bread earner for the family. I have an elder sister, who resides in Hyderabad. My wife and I currently reside as empty nesters in Chennai. Our only daughter is in the US.
What were you like at school? Any childhood memory you would like to share.
I studied at a Jesuit school, Loyola till class 10 and moved to Kolkata for my plus 2 at La Martiniere. As a child, I was overweight and studious and the subject of much ridicule, though was able to hold my own.
The childhood tape they say is the strongest, so memories are many. However, I am thankful to the Jesuits for inculcating the love for the English language, which lay dormant except for a bit of indulgence in public speaking, theatre, and some desultory poetry.
What are your educational/professional qualifications?
After my plus 2, I pursued a degree in Mechanical Engineering after which I completed my MBA from IIM Bangalore.
What is your biggest achievement till today?
I think that was when I took a leap of faith into entrepreneurship in 2005 to set up my own company after an ensconced career of over 17 years with international banks.
Which writers inspire you?
There have been many writers who have had a profound impact on me, perhaps on my writing too. Unfair to mention a few of the names, but Daniel Keyes, Collen McCollough, Ayn Rand, P G Wodehouse, Amitav Ghosh, Harper Lee, Arthur Hailey, Michael Crichton, and the classics of Leo Tolstoy, Charles Dickens in the long form.
In the short form, O Henry, Ruskin Bond, Ernest Hemingway, and Anton Chekhov are my favorites.
Writing is stressful at times. How do you relax your mind?
Watching OTT, reading a good book (including my past efforts), and working out.
What is your favorite motivational phrase?
"Every morning in Africa, a gazelle wakes up. It knows it must outrun the fastest lion or it will be killed. Every morning in Africa, a lion wakes up. It knows it must run faster than the slowest gazelle, or it will starve. It doesn't matter whether you're the lion or a gazelle-when the sun comes up, you'd better be running."

~ Christopher McDougall, Born to Run
What advice would you give to your younger self?
"Do and live your best today, tomorrow will take care of itself."
What books do you like to read personally? What are you reading currently?
I like to read books of almost all genres, except perhaps horror and mythological fiction. As authors, I think it is imperative that we support each other's writings. I am currently reading books written by members of my author group. Also, I completed 'The Silent Patient' recently and will get to 'When Breath Becomes Air' soon.
If you could have been the original author of any book, what would it have been and why?
There are so many brilliant books that I wish I had been the author of! However, the one which stands out is 'Flowers for Algernon' by Daniel Keyes for the captivating story and the sheer exemplary writing.
What made you decide to sit down and start writing?
I call myself an accidental writer. My first short story 'The God of a Lesser Child' was submitted as a lark and was selected for an anthology. A friend read it on my laptop and said that I should. Had that story remained in some forgotten digital folder, perhaps my writing would never have happened.
Do you have a special time to write or how is your day structured?
Regrettably no, though all stalwarts advocate and practice this. Perhaps conditioned by years in the corporate world I seem to write better when there is a deadline looming.
Writing, like life, to me is a ketchup bottle. At times, you keep shaking and thumping and nothing emerges, and then suddenly there is a deluge. I try to catch the crest, though work pressures often deny me this.
Writing also is a lonely pursuit, requiring lots of discipline, which I need to improve upon.
What is the reason you write for; is it for the readers or your own self or some other thing?
My writing is an expression, an extension of my beliefs, experiences, thoughts, and emotions. They bleed on paper regardless of the genre they are classified in or whether they will find favour with the readers. It is difficult to fashion creativity on someone else's preferences.
What does happen though is that the editor/publisher may seek changes aware of what the market desires. So, the short answer is that I honestly try and put out what's within, hoping many will like it…
About the Book: The Counterfeiter
The Counterfeiter: Abdul Karim Telgi & The Stamp Scam follows the notorious and one of the most well-known counterfeiters in the history of India, Abdul Karim Telgi. Coming from a background where there weren't many opportunities for one to grow, Abdul Karim successfully pulled a scam that was worth more than INR 25000 Crores, back in the day.
If you are someone who finds true crime and historical scams an interesting topic to dive into, Bhaswar Mukherjee's The Counterfeiter is just the right pick for you. This book will take you on a roller coaster ride of crime, money, corruption, counterfeiting, and yes, murder.
Read Full Review of The Counterfeiter
What genre is your book? What draws you to this genre?
This is non-fiction, true crime. Although a fiction writer by heart, my research into the subject and the discovery process surprised and engaged me. Truth is indeed stranger than fiction!
The Stamp Scam happened over 25 years ago. What was the inspiration behind writing this book now?
Yes, the stamp scam masterminded by Abdul Karim Telgi had captured the imagination of the nation in the late 90s but the modus operandi and the abuse of the judiciary, political, and police system was similar to many of the modern-day scams.
There were many other reasons why this subject interested me. First, the complete story from the womb to the grave of this scamster has never been told before. Yes, there has been a book in the Hindi vernacular by a journalist but that was published in 2004, while Telgi died in 2017 with many significant events betwixt.
Second was the level of intrigue as the copious investigations by the authorities seemed to come up with more questions than answers. Third, the task presented the challenge of cutting through all the media clutter and sensationalism to try and present a balanced view for the reader.
What makes 'The Counterfeiter' stand out in this genre? What should a reader expect from 'The Counterfeiter'?
This work, despite being one of nonfiction, has all the trappings of a Bollywood pot-boiler, replete with chases, corrupt government officials and police officers, political blessings, bar dancers and yes, a murder too!
The intrigue in this true crime lies in the many unanswered questions that remain to this day. What was the size of the scam? How were the scam proceeds co-mingled with Telgi's other business? How was it possible for a lazy and failed employee to establish a pan-India "business" and reach such dizzying heights of power and pelf and yet have an altruistic streak within?
I expect the reader to be bedazzled by the trajectory of this scamster's life, as much as I was in discovering and researching it! Since there is a fair degree of technicalities in stamping and its legalese, to assist the reader, an appendix on Stamping in India, including e-stamping has been provided in the appendix.
True crime stories are difficult when it comes to balancing facts and entertainment. What was the hardest & the easiest thing to write this book?
The biggest challenge was in creating a credible framework to mount the canvas of this story. I had to cut through a fair amount of media clutter and sensationalism that was associated with Telgi's 'colorful' persona.
This work of nonfiction has been re-constructed from multiple case filings and judgments, news articles, and papers to give the reader the complete story of the sheer innovation of an underdog.
Since the law is not my forte, I took the assistance of an advocate friend of mine to help me navigate the cases. There was nothing really easy except that my background in finance perhaps made it easier to understand the various modus operandi of the scamster.
Future Plans
What are your ambitions for your writing career?
Well, I have been blessed to have my writing appreciated by many stalwarts of the literary firmament. This mantle wears heavy and I pray that I am able to live up to the kind words they have bestowed.
Every author seeks love and recognition from his/her reader and that goes for me too. I would like sincerity, honesty, truth, creativity, and sensitivity to be the touchstone for my future endeavors.
Are you working on your new project? What will be your next book about?
Well, there is already a completed work of fiction (literary fiction) which I hope will see the light of day soon. I have begun work on another dated story of a true crime in India.
What does success mean to you as an Author?
This can be as broad or as narrow a definition as one wants. Simply, I want my writing to be loved by my readers. Commercial success, in its wake, if that happens will be a bonus.
How was your experience having your writing picked by the likes of Sudha Murthy and Ravinder Singh?
I have been blessed to have my short stories picked up selected by Sudha Murty and Ravininder Singh for their curated anthologies and for the Write India contest entries by Amitav Ghosh, Ashwin Sanghi, Upamanyu Chatterjee, Vivek Shanbhag, Nayantara Sahgal and Tuhin Sinha. These have been much more than encouraging pats on the back; they have enabled me to try harder and write better.
What are your views on the publishing process and its nuances?
Publishing has always been an arduous process for authors; the pandemic just made it a lot worse, especially for fiction. Writers need to have tremendous patience, though the avenues of self-publishing have really opened up and gained traction over the years.
That remains a quicker option to have your writing in the public domain if the writer is able to wean himself/herself away from the attraction of being published traditionally. There is also the option of vanity publishing which the writer could explore by sharing production/marketing costs with the publisher.
Learnings that you'd like to pass on to young debut authors.
Be a voracious reader; imbibe everything as a sponge without getting judgmental. You can always discard it later. Make writing a daily habit, regardless of whether you love and retain or hate and discard the output (I of course need much improvement on this one!).
If there is a story within you, it must be told. Take feedback actively from a broad spectrum of readers, who you believe will be your target audience. Every feedback is constructive whether you like it or not. Use the feedback to improve the quality of your effort.
You will need tons of discipline, optimism, and positivity in your writer's journey. Cultivate them.
 Are you also an author? Get your book featured on Vowelor now!