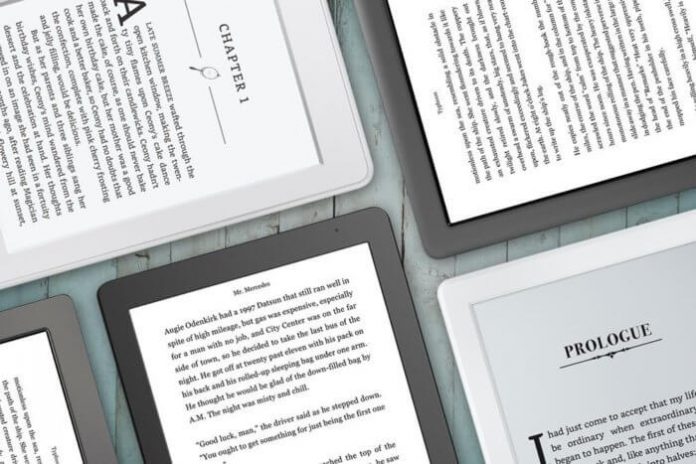 With the changing times and updated technology, now, reading can be done anywhere and everywhere, thanks to the reading tablets and eReaders!
If you're are also looking to buy an e-reader, you cannot afford to skip this post as it took me 16 hours to test and list out these best tablets for reading books in 2019.
Sure, physical books have an undeniable charm, but, having a good ebook reading device (like a Kindle) is a dream of all bibliophiles today.
Before we get to the list best e-readers/tablets, here are a few things you must consider before buying a reading tablet.
What to look for in a reading tablet?
If you are there for only and only reading books, choose something paper-like display technology.
I suggest going for a tablet with at least a full day or probably a couple of days.
In case are inclined equally towards reading and watching movies, go for an Android tablet instead of a pure e-reader.
Today, internet connectivity is a must. So, make sure there's WiFi connectivity.
Now, let's get straight to my handpicked list of best reading tablets.
The Top 10 Tablets for Reading Books
| Product Name | Display | WiFi | Battery Life |
| --- | --- | --- | --- |
| Kindle Oasis | 7″ E-Ink Carta HD | Yes | 6 Weeks |
| Kindle Paperwhite | 6″ Carta e-Paper | Yes | 6 Weeks |
| All New Amazon Kindle | 6″ | Yes | 6-7 Days |
| Amazon Fire HD 10 | 10″ | Yes | 10 hours |
| Kobo Aura One | 7.8″ | Yes | 1 week |
| Nook Glowlight Plus | 6″ | Yes | 6 weeks |
| Apple iPad Mini 4 | 7.9″ | Yes | 10 hours |
| Samsung Galaxy Tab S3 | 7″ | Yes | 11 hours |
| Onyx Book Max 2 | 13.3″ | Yes | 11 hours |
| Lenovo Yoga Book 10.1 | 10.1″ | Yes | 15 hours |
Check out some exciting deals on ebook readers on Amazon –
Click Here
1. Kindle Oasis
Kindle Oasis is the latest addition in the Amazon Kindle series and the new Rolls-Royce for e-readers. Amazon Kindle launched the Oasis on the occasion of completing its 10 years.
Its distinctive features are what makes it worth the price. As a book lover, the most exciting feature of Kindle Oasis is the support for audiobooks.
Just in case when you want a break from reading ebooks, you can enjoy your favorite audible books on it with Bluetooth headphones.
Also, it is the first ever waterproof kindle which ideally means that you can read books in almost any weather.
This luxurious device for readers comes with 7-inch E-Ink Carta HD display with 300ppi pixel density and 12 LED backlights. For storing a plethora of books, there's 8 GB of storage with 1GB RAM sufficient enough for a smooth reading experience.
Holding the Kindle Oasis is a very different experience. An ergonomically designed contour at one side of the metal body helps in a firmer and comfortable grip.
The battery of this device lasts up to six weeks after half an hour of reading daily with wireless and Bluetooth off and lower light settings.
Two buttons on the side will help you in turning the page. So this touch screen device hardly requires any touch while reading until and unless you tap on words to use a dictionary.
Also, It is light-weighted, that is, weighs around 200gm, making it feasible to carry and read.
Highlights
Wi-Fi and Bluetooth connection.
Ergonomic Grip
Dust Resistant and Waterproof
Auto-light adjuster and Nightlight.
So, if you can afford to spend over $200 for the pleasurable ebook reading experience, then Kindle Oasis won't disappoint you.
---
2. Kindle Paperwhite
When it comes to e-readers, Amazon knows how to satisfy its users. After the Kindle Oasis, this latest version of Kindle Paperwhite will give you some exciting set of features at affordable prices.
The second best reading tablet on my list supports the content in many formats like Kindle Format 8 (AZW3), Kindle (AZW), TXT, PDF, unprotected MOBI, PRC natively; HTML, DOC, DOCX, JPEG, GIF, PNG, BMP through conversion and Audible audio format (AAX).
Kindle Paperwhite boasts 6 inches display with Carta e-paper technology having 300ppi resolution and an adaptive front light that adjusts automatically.
It has on-device storage of 4GB that means thousands of books in a single device. I find the plastic back is a bit of an issue as it gives uninvited fingerprints as soon as you hold it.
Unlike Kindle Oasis, there are no buttons on the side, so you will be using the touch screen feature more often while reading to turn the pages. PagePress allows turning the page without lifting your finger.
Like to read on beaches or by the poolside, you can put the device in 2 meters of water level for up to 60 minutes without any fuss.
Highlights
WiFi and 4G connection
Battery lasts for up to six weeks and gets fully charged in 3 hours approx.
Waterproof Design
Affordable
Kindle Paperwhite is nowhere close in luxury as compared to Kindle Oasis. Yet it is unique in its own way and affordable as well.
For added comfort and protection, You can also get leather covers for your Paperwhite but they may make it look bulky.
---
3. Amazon Kindle (All-New Edition)
Amazon Kindle is one of the most affordable tablets for reading ebooks. It is available in two colors, black and white. Like all other upgraded devices, it also has Amazon cloud storage to download books.
Amazon Kindle has an anti-glare display of 6 inches but the resolution of 167ppi is comparatively lower than other Kindle family devices.
There are 4 LED lights in front though they do not help much while reading at night. It has a storage capacity of 4GB which is just enough for an avid reader.
Highlights
4-LED Front lights
WiFi connectivity
Battery lives up to six or seven days.
Durable and tough plastic exterior.
With no luxury feature, the All-new Amazon Kindle fulfills its sole purpose of being a good e-book reader. This device is still satisfying its customer in fewer features and affordable prices.
---
4. Amazon Fire HD 10
Amazon Fire HD 10 is specially designed tablet for reading books as well as watching movies on a vivid display. It runs on a custom android called Fire IOS – an easy-to-use operating system for casual users.
This reading tablet features a widescreen, 1920 x 1200 high definition display with 224 ppi for bright and vivid pictures. So, you can read those beautifully illustrated graphic novels in their full glory.
But it does not have an anti-glare screen which means it is nowhere a replacement for Kindle.
Not only reading, but you can also use multiple android apps, games and videos as well, making it a complete entertainment package. The fast quad-core processor consists of two high-performance 1.5 GHz cores and two 1.2 GHz cores running simultaneously for great overall performance.
It also has a 5 megapixels rear camera with 1080p video shooting quality. The front-facing camera of 720p is not so good for selfies but is perfect for Skype calls.
You can enjoy unlimited storage for the Amazon content on Amazon cloud storage and up to 200GB expandable storage.
Alexa is enabled in the device for quick access to the entertainment you want.
Review Points
Widescreen display with vivid colors.
Quad-core Processor
Battery life of 10hrs
Alexa-enabled
Though all the Amazon apps are in-built on the device, google apps are not available. So if you are more of a google user then this might not be a suitable product for you.
---
5. Kobo Aura ONE
Giving a tough competition to Amazon's Kindle, Kobo Aura ONE is another best-selling ebook reader. It costs as much as Kindle Oasis and few more bucks for the premium members with 32GB of memory.
Personally, I found this is a good ebook reader for the graphic novels having a display of 7.8 inches. The adaptive backlight and anti-glare screen helped me to read in daylight as well as in darkness.
You can simply drag your EPUB files from computer to the Kobo Aura One and read seamlessly. Kobo claims the Limited Edition is capable of storing around 28,000 ebooks or 700 graphic novels.
Like Kindle Oasis, it is also a waterproof device which means it can survive in up to 6.5 feet of water for up to an hour at a time.
Highlights
EPUB format support
Waterproof Design
OverDrive Library Integrated
The best feature of Kobo Aura ONE is that it comes with popular libraries rental. Those who don't wish to borrow books from libraries anymore can buy this and enjoy the OverDrive features. This website connects the user with the nearby libraries and gives access to read ebooks available in the library.
---
6. Barnes and Nobles Nook Glowlight Plus
This ebook reader from one of the world's best publishing company provides all the features to users which are required for an avid reader.
The 6″ HD display with 300dpi comes with a built-in anti-glare screen. For a paper-like reading experience, there's a fingerprint and scratch resistant lens.
The outer body of Glowlight Plus reading tablet is made of durable aluminum and it is waterproof as well as dustproof.
Highlights
Waterproof and Dustproof
Battery lasts up to six weeks after a single charge.
It is a lightweight, that is approximately 317g.
Color changing front light.
Supports ePub files
Barnes and Nobles Nook Glowlight Plus gives its readers a warm experience of reading with color-changing lights. Yet, it has a long way to cover in order to compete with Kindle Oasis.
---
7. Apple iPad Mini 4
The compact size of Apple iPad mini 4 is what makes it a suitable tablet for reading ebooks. It is one of the most popular devices in the series of Apple's iPad products.
You can be productive on this device when you are not reading with the additional features like Siri, iMessage, internet, and much more.
As a reader myself, I found the 7.9-inch retina display very comfortable for prolonged reading sessions. And, it has 2048×1536 resolution too.
Being a full-fledged tablet, Apple iPad Mini 4 comes with 128GB of storage along with full internet connectivity via WiFi as well as cellular connection.
Like other Apple products, the tablet comes with the fingerprint touch id to unlock the iPad. So, all your books are 100% secure! Also, the device is powered by a Dual-Core A8 Chip with Quad-Core Graphics paired with 2GB of RAM.
Highlights
In-built stereo system and an 8MP camera.
Fingerprint touch Unlock
Deliver over 10 hours of continuous usage.
Apple iPad mini 4 is the best tablet for reading books for iOS lovers. Its lightweight and handy size make it perfect for ebook readers.
---
8. Samsung Galaxy Tab S3
The Galaxy Tab S3 is a sub-$500 tablet which can double up as a nice ebook reader. It has a 9.7 inch Super AMOLED display (one of the most advanced display technology) that renders crisp text which is readable in broad daylight.
You get the Samsung's proprietary S Pen stylus which gives you the freedom to do so many creative things with your books like taking notes, drawing or doodling stuff.
OLED displays use less battery which means you can use it for days without charging the device.
It has Google play store and Samsung apps for your entertainment. So you can rely upon this gadget for the infotainment purpose also for your kids.
Highlights
Galaxy S Pen
Quad-core 2.15GHz processor
Expandable Storage up to 400GB
Fingerprint Sensor
Bluetooth 4.2
Samsung galaxy tab S3 is among the top-end tablets and that's why comes at a cost which not everybody would want to spend. In case, you have pockets deep enough, you can get an additional keyboard cover to transform it into a full desktop mode.
9. Onyx Boox Max 2
Getting my hands on the Onyx Boox Max 2 was a newer experience as this 10-year-old brand provides stylus with this ebook reader.
With the stylus, you can write notes and edit PDF files by directly writing on the display itself.
Talking about the display, the Onyx Max 2 e-reader has a flexible display of 13.3 inch E Ink Carta and Mobius screen with 2220×1650 resolution and 207 PPI.
Unlike other ebook readers in the same price range, it has a processor of 1.3Ghz Quad Core CPU while the storage capacity is 64 GB accompanied by 4GB RAM.
The internet connectivity of the device is wireless and the Bluetooth 4.1 allows the users to connect it with wireless headphones or mono speakers to listen to the audiobooks.
Review Points
Full Stylus Support
Gestures Support
WiFi and Bluetooth 4.1
Battery lasts for up to 11 hours of its usage.
This device is one of the best tablets for reading books and is popular for its ease of reading. It can also be connected to the PC and can act as a secondary monitor and also allows access to the Google play store. Onyx Max 2 supports almost all content format used to read ebooks.
10. Lenovo Yoga Book 10.1
Lenovo Yoga Book 10.1 is a perfect combination of a tablet for reading and watching movies. It is said that this device is the world's slimmest, thinner and lightest tablet.
It is accompanied by a Halo Keyboard which allows its users to take notes, sketching, and highlighting text while reading.
Its 10.1 inches bright HD display with a resolution of 1920×1200 pixels makes it really comfortable for reading.
Running on Android 6.0-marshmallow and a massive 4GB of RAM paired with a 2.4 GHz Intel Atom processor makes it quite a performance-oriented tablet.
It comes with a standard 64 GB of storage capacity which is plenty of storage for a reader.
Highlights
Lightweight and easy to carry
Battery can last up to 15 hours in one charge
WiFi connection
Halo Keyboard
The best part about Lenovo Yoga Book 10.1 is that its crystal clear screen gives you the experience of theatre while watching movies. And, It's widescreen will also be loved by ebook readers which gives them a comfortable reading experience.
Is a Reading tablet worth buying?
Now that you have gone through my reading tablet/ebook reader recommendations, you must be thinking, is it worth spending $100-200 just to get a better ebook reading experience. And, why one would use tablets for reading books over paperbacks?
My opinion on a reading tablet is that you don't have to carry a book all the time like a nerd. Just a slim tablet with the best of virtual experience is all you need for binge-reading.
During your lunch break, in-between of your travels, at some boring seminar, these reading tablets can pave your way to the fantasy land of your book.
After purchasing my first tablet for reading books, it was tough for me to put down paperbacks. No doubt they give the real feel for reading a book but gradually I spend more reading time on my tablet than on paperbacks.
Final Words
By now I guess you have decided on which tablet to buy for binge-reading.
Now onwards, you will travel with your entire library and you will never lose a book. Read books with no notifications and distractions on these devices which will give you a whole new experience of ebook reading.
Like me, you might also end up liking these reading tablets more than paperbacks.
Hit us with new devices and technology for e-reading in the comment section below.