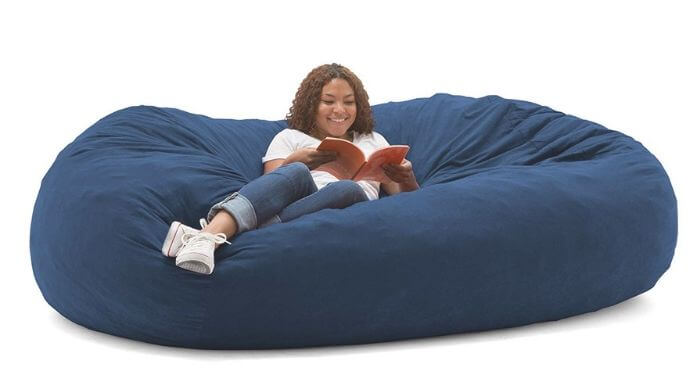 Reading a book becomes a task when you are not in a comfortable posture. Book nerds could read for many hours at stretch but what constraints them in doing so, is their companion in reading: A Reading Chair. For binge-reading, you need to have the best reading chair and eventually the best reading experience.
It hardly matters in what ambiance you are reading a book. Whether you are up in the air in an airplane, or in the middle of the sea in a ship, or moving with the speed 300 km/hr in a train, the outer world is the last thing you would care about while reading a book. But the first thing that will strike to your mind is, which can be the best chair to sit on and peek into this fantasy land.
Reading Chairs. Yes! Reading chairs can be the escape for every book reader to their dreamland.
Our Top Picks for the Best Reading Chair
The comfortable chair is the one which gives you the pleasures of reading. The one on which you can sit for hours and hours turning the pages of your book without straining your muscles. Its sole purpose is to provide you the comfort while reading.
Here is the list of the best comfortable reading chairs, all book nerds might need.
Are you a classic book lover? How about reading those evergreen books in this vintage designed chair? This timeless beauty of the chair will add the classic element in your reading experience as well as to your home.
This high-end back chair is the most comfortable reading chair. It's dark teal colored fabric is a blend of linen and polyester fabric with durable wooden legs in contrasting color.
The spacious seating area gives you the liberty to curl your legs and read comfortably. It's elegant structure and design will allow you to mix match with your furniture and will give your home a classic look in a traditional way. Soon this reading chair will become your favorite spot.
Cons
It can be sometimes stiff for your back.
No armrest
Pros
It will fit in any ambiance
It will give an exquisite look to the home.
2. Marta Barrel Chair – Best Oversized Reading Chair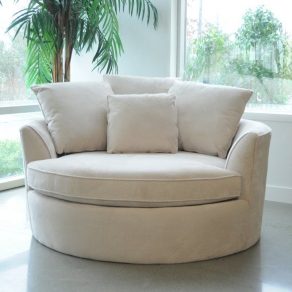 Reading is always considered as a lone activity. But now you can read a book with your loved ones on this Oversized reading chair. Experience those fantasy lands with someone and multiply the fun of reading manifolds.
Whether you want to read alone or with your loved ones, this oversize reading chair is the best option to choose. It is built on two layers; hardwood plywood and solid wood. It has an upholstered material of polyester with the seating material made up of foam makes it a cozy chair to sit in and read. The flared arms on the sides are just another reason to buy this comfy chair.
Cons
Pros
It comes with removable cushions that mean more comfort.
It is suitable for both outdoor and indoor reading.
Stain and tear resistant.
3. Suede Bean Bag – Reading Chair For Bedroom
Bean bags are not just chairs, they are a big sack of memories. They become part of all the fun activities we do, not compromising with comfort. So, what else can be more comfortable than a bean bag for reading books? They can fit into any corner of your home and you can discover a new reading nook every day.
The soft leather of the bean bag is filled with the Megahh beans which will give you even comfort form all sides. It is secured with the double locking zip for the safety matters and is one of the best affordable reading chairs. It's lightweight can really be helpful in carrying around.
Cons
Sometimes it can be clumsy
Compresses after using for a certain period of time
Might not give a perfect sitting posture
Pros
Easy to carry around
Can be refilled
Durable
Secured with safety locks
This recliner leather reading chair is made up of high-quality PU Leather which is skin friendly and easily cleaned. It has a push-back recliner which can be adjusted to 3 angles and adjustable footrest.
Reading a book on this recliner can be so relaxing for the ones who have back problems and its wider armrests can also add on to the comfort. Even if you are tired of reading, the chair is perfect to take a nap.
Cons
Leather may not be suitable to some skin-types
Assembling of parts required
Tall people might have a problem in resting their head
Pros
Wider cushioning area
High-density thicker Sponge for comfort
When we read a book we are always in a quest of having a good position to read in. For this, we would even go up on the mountains or down into the sea. But this time your search ends here. Now you can just immerse yourself into your story and your reading chair will take care of your comfort.
No more adjusting according to your reading chair, now it can be adjusted to your feasibility of reading. This foam floor reading chair is designed with high quality chopped memory foam and soft plush fabric to give a comfortable seat on any floor. It can be used in any way read a book, meditate on it, sleep comfortably, play board games, or watch tv.
Cons
Pros
Affordable
Adjustable in 14 different positions
Can be used as a mattress for a couch or bed
Easy Storage
Have you ever think of reading a book in nature? Birds chirping, the breeze flowing right onto your face, everything is so green, fresh and calm. In the midst of the wonders of nature are sitting with your favorite book. But those rusty and uncomfortable benches never let your dream to turn into reality.
Flowerhouse Hanging Chair is one of the best reading chairs for outdoors. You can set up it at any place, either outside or inside the home. This chair is 66″ tall and 50″ wide opening which makes it a reading chair for two people. This pumpkin-shaped chair comes with a cushion and weaved with a strong fabric which can endure the weight of about 400lbs. This durable all weather-conditioned chair is all you need for your reading addiction and home decor.
Cons
Assembly Required
Can be a bit uncomfortable if you have any back problems
Pros
Perfect for patio or balcony
Consumes less space
Perfect reading nook
If you are a minimalist, the one who wants everything in a very simple way. No lavishness but still a classic way of living. Minimalist generally chooses things with simple ideas and gestures.
Here is the perfect chair for all minimalists. This chair is something between a lounge and a chaise. Its perfect curve will give your back comfort and it is big enough that you can stretch your legs and read in the most comfortable reading chair for your bedroom. It has three layers of a high density of conforming foam makes it durable and high-performance.
Cons
Without cover, the foam can be distorted
Sharp objects can also harm the chair
Not suitable for outdoors
Pros
Gives a lavish and elegant look
Easy to clean
Unique comfort curved shape
A room filled with the large stacks of books of all kinds and all genres, be it romance, horror, mystery, fantasy, standing tall by the heights of walls. If you could spend your whole life in this paradise then you need to have a decent reading chair.
This reading chair with an ottoman is a complete package for the reading comforts one could ever wish for. It is hand-stitched with the Retrospeck Twill fabric in a cotton blend. The high-density of the foam used in the chair helps it to retain the appearance for a long time. It is constructed around the high-quality fiberglass shell.
Cons
Pros
Removable cushions of the ottoman and the chair
Allows you to curl up and rest in comfort
The designed curve is good for back
Whenever we think of a chair to sit on and relax, the first chair that comes in our mind is rocking chair. The slight swing and perfect armrests are suitable for comforting your body and mind. The rocking chair can also be the perfect reading chair which can be used in the outside or inside the home.
Merax Cushioned Rocking Armchair is double padded spacious cushion chair on the seat as well as back. Its seat is angled in a specialized way that you don't have to push the chair for a swing, this signature deep rocking feature optimizes the comfort level. The chair is big enough for different heights of the people to relax in it.
Cons
Assembly of parts is needed
Pros
Rust-resistant steel
Water Resistant
Plush cushioning for long reading sessions
Sturdy and decent reading chair for outdoors
Saucer Chairs are best for people who like to read while traveling. You don't have to look for a perfect chair for reading whenever you are away from home. Just fold this chair, put into the car and read wherever you go.
This saucer chair is the best reading chair for less space under the affordable budget. Its soft and fluffy fur makes it more comfortable. The curve is good for the back and avoids the stiffness in the back. The folding legs of the chair help to carry it easily. It can be stored in less space if not in use making it best suitable for dorms or any other small spaces.
Cons
Long reading sessions can be uncomfortable
Not for tall people
No headrest
Spot clean only
Pros
Easy Storage
Occupies less space
Affordable
---
Reading Chair Buying Guide
After going through the list of best reading chairs, now you need to know the criteria for choosing the perfect reading chair for you. Here are some of the points you need to keep in mind while buying it.
Comfortability
The first and foremost thing to put in the checkbox for your reading chair buying guide is comfortability. You cannot neglect this factor at any cost. You need to know what kind of chair is suitable for your body type and the one which relaxes you. You cannot read for long hours if your chair is not comfortable.
Space
The wider the sitting area and back support are, the more spacious the chair is. That is the reason people prefer buying oversized reading chairs. They give more room to sit in different ways. Spacious chairs are more suitable for the ones who spend long reading hours in one chair. You can easily curl up your legs or sprawl out.
Plushness
Plushness means the comfort from the fabric and the foam used in the chair. The material plays a vital role in the comfortness of the reading chair. There should not be too much plush as it will not be skin friendly for some people and less plushness would result in those hard structured reading chairs. So choose wisely according to your taste and suitability.
Design
Does the chair have armrests? Does it allow your head to rest? Is it too long or too short? All these things you need to look for while purchasing the reading chair. Also, notice that does this chair will suit your home decor? Will it match with other furniture sets? These are the questions you need to answer before finalizing the design of your reading chair.
Budget
When you are spending money on the reading chair then it is not only about your comfort but also about your reading experience. You need to be aware of what you are investing your money on and what will give more value to invested money.
Final Words
We, bibliophiles, understand how important it is for us to be comfortable in our reading spot. For me, the best reading chair is the oversized one, which allows me to sit in different ways and lets me wander in my fantasy lands of the book.
Ask anything in particular you want to know about reading chairs before you make your final purchase in the comment section.