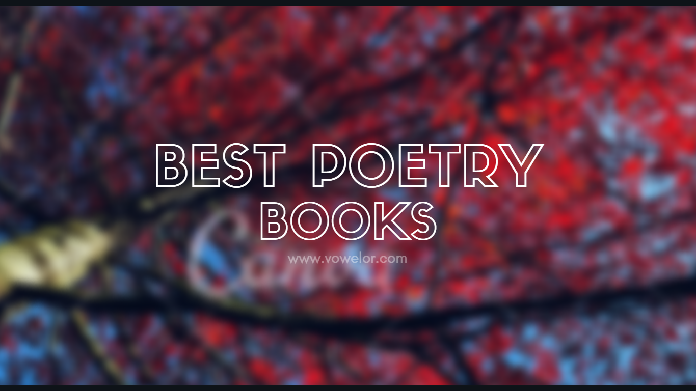 When I read poems either classic or modern poetry, one thing I love the most is every time I read it, it becomes more sensible and meaningful to me.
While reading a novel, we look for the words that would resonate to our emotions. However, in poetry, every single word feels like extraction from our own lives.
That's the beauty of poems!
Here, we will embrace the existence of best poetry books and let's be grateful to poets who actually made us feel a little less lonely on this planet.
Best Poetry Books of All Time
Poetry is not restrained to the physical borders or the time period. It is like music which flows to the ones who have the heart to listen to it.
Let's see the real essence of poems with these best books of poetry. You are going to love this list of contemporary as well as some foundling roots of the poetry books.
1. Paradise Lost by John Milton
John Milton was a great poet and a man of his letters. Paradise Lost authored by him is an epic poem written in blank verse which was originally published in the year 1667.
And, even after 352 years of its publishing, the poem is still highly acclaimed till date and that is why I have included this book on the list of the best poetry book.
The poem of over 10,000 lines, is an imaginative and dramatic piece of art where Satan is rebelling against God. It also talks about Adam and Eve's eviction from Eden. The poem narrates the story of divine creation, human ambition and hopeless rebellion.
2. The Waste Land by T.S. Eliot

The Waste Land by T.S Eliot is a five-part poem book dedicated to the fellow poet Ezra Pound. It is said that he is the one who helped Eliot in condensing the original poem and made it half of its size.
The poem is mainly concerned about the disillusionment and disgust of the period after World War I. Initially, this poem had to face controversy but later it was praised for its Modernism.
It is one of the most influential poems of the 20th century and a great inspiration for the modernist poets.
3. Prophet by Kahlil Gibran
The Prophet is a 26 prose poetry fables book of poems. It is the best-known work of Kahlil Gibran, published in 1923.
These fictional prose are delivered as sermons by a wise man who is going to his home after living 12 years in exile on a fictional island. People ask for his wise words on the big questions of life: love, family, work and death.
During the early years of Gibran's poetry writing days, he was called as 'bubblehead' by the Western American Poets. But later on, his art of poetry made him the prominent Poet in the English Literature and vanished all criticism.
The powerful words of this poetry book also influenced the major political leaders like John F. Kennedy and Indira Gandhi.
4. Twenty Love Poems by Pablo Neruda
Pablo Neruda was a Nobel Prize-winning Chilean poet-diplomat and politician. He wrote The Twenty Love Poems And a Song of Despair in 1924 and it became one of the widely read collections of poetry written in Spanish.
These 20 love poems talk about the story of two women; a girl who is from the poet's native town and a classmate at the University of Santiago.
This collection of poems is intense, describes the sensual passion of lovers which ends in melancholy.
5. Ariel by Sylvia Plath
Ariel was published in 1965, two years after her death by suicide. It was the second poetry book by her and was one of the best poetry collection which gave her many followers and passionate readers more than in her lifetime.
This collection of poems tells about the happiness and the personal transformation that comes along on the path of life experiences. However, Ariel depicts a woman riding her horse in the countryside at dawn.
The simplicity and short length of the poem have given it the critical attention and the praise, making it count as one of the good poetry books among the readers.
6. The Dark Between Stars by Atticus Poetry
Like Rupi Kaur, Atticus is also a popular modern poet who became Instagram poetry sensation with 1.1m followers.
The Dark Between the Stars mainly deals with the extreme emotions of a human being related to love, relationships, heartbreaks and loneliness.
Yet again, this second modern poem book by Atticus with powerful words will definitely spur your mind.
7. The Universe of Us by Lang Leav
The Universe of Us was the second poem book of the modern poet, Lang Leav. It was published in 2017 and was nominated for Goodreads Choice Awards Best Poetry.
While reading this collection of modern poems you will feel like head over heels. If you ever been in the journey of being loved to heartbreak and then again finding yourself, then you can definitely connect with all the words in these poems.
8. The Poetry Pharmacy by William Sieghart
The founder of the Forward Prizes for Poetry published this little dose of a poetry book in 2017.
The Poetry Pharmacy includes the collection of poems with the words which can calm your mind, make butterflies go crazy in your belly and will surely make you connect with the poems.
It talks about the crucial phases of life; love, heartbreaks, hopelessness, lack of courage and the excess of ego.
9. When I Grow Up I Want to be a List of Further Possibilities by Chen Chen
This wonderful collection of poems was on The NPR's List of 'Poetry To Pay Attention To: 2017 Best Verse.
This poetry book is the debut of Chen Chen and no doubt every written word is worth reading and feeling.
In this book, he talks about the inherited love, mother and son relation, love, grief, separations, and queer perspective. It gives different viewpoints to the readers weaved in the form of poetry and overall make it an enjoyable read.
10. Don't Call Us Dead By Danez Smith
I found the cover of this amazing poetry book most appealing of all and it literally intrigued me to read it.
Don't Call us Dead is a collection of fictional poems. The book starts with the afterlife of a black man, shot by police. He is transited to a place where suspicion, violence, and grief are forgotten and replaced with the safety, love, and longevity they deserved here on earth.
Smith has evocatively put the words into poetry and had given us the powerful, affecting and one of the best poetry books.
11. If They Come for Us by Fatimah Asghar
Fatima Asghar is a Pakistani-Kashmiri-American poet who had written about her life experiences in her debut poetry book If They Came For Us. 
She writes about the constant nudging she has to face after her parents died, for being an outsider in the country. Filled with anger, confusion, joy and love these poems can make you peep into a not-so-easy life of a brown girl.
With such eloquence and ease of words, this book was one of the best poetry books in 2018.
12. Calling a Wolfa Wolf by Kaveh Akbar
It is beautiful to read the poems which portray the disasters of life in such aesthetic words that even pain feels good.
Kaveh Akbar has jotted down his journey from being an addict to recovering and living his life to the fullest. The poem is filled with the cravings, sobriety, shame, anger, resentment and sadness surrounding addiction.
You are going to love this great visionary poet and his art of poetry.
13. There Are More Beautiful Things Than Beyoncé by Morgan Parker
No! you cannot miss this book.
There Are More Beautiful Things Than Beyoncé is a TIME Magazine Best Paperback of 2017 and One of Oprah Magazine's "Ten Best Books of 2017". 
So, I think this is compelling enough to make you read this one of the top poetry books of recent times.
Morgan Parker tells about the 21st-century black womanhood and its complexities. She uses political and pop-culture references to depict feminism, cultural criticism, racism, isolation, and many other important issues.
14. When Rap Spoke Straight to God by Erica Dawson
Erica Dawson, the author of two award-winning poems and a professor has continued to write the best books of the 21st century.
When Rap Spoke Straight to God is about the beliefs, life of black people, boundaries of women even today and tragedies of trump. This poetry book gives you a clearer picture of reality.
You will have a great time reading this talented modern poetess whose long poems give an open ground to discuss politics and fills the cultural blanks.
15. Milk and Honey by Rupi Kaur
One of the most loved and read poems book, Milk and Honey by Rupi Kaur is #1 New York Times Bestseller book. You cannot resist reading this book and long after reading it, the powerful words will have an everlasting impact on you.
The book is divided into four parts and each part talks about a different kind of pain and heals it differently with the beauty of words. It talks about the sufferings and survival.
You are going to nod on every single word written and relish the essence of the poetry.
Must Read: Also check out my article 'Books Like Milk and Honey', and read aesthetic poetry books
16. Teaching My Mother How To Give Birth by Warsan Shire
The collection of poems in this book are as gripping as its title.
Teaching my Mother How to Give Birth will give you insights into an Islamic girl's life. Her thoughts, her learnings, her yearnings to self-identity and everything in between this journey.
Warsan Shire is not insulting or questioning her mother rather she hopes for finding a greater purpose within herself, describing that she is more than her religion or ethnicity says she is.
Once you will read this book you will understand the purpose and will definitely like its disturbing brilliance.
17. Devotions by Mary Oliver
Devotions is the handpicked collection of poems by Mary Oliver itself. The Pulitzer-prize winning poetess compiles her best work of over fifty decades in this spellbinding poem book.
There are 200 plus poems in it, right from the beginning of her career till her most recent collection, published in 2015. Each poem talks about her love for the natural world and was also crafted for love among the living beings.
18. Birthday Letters by Ted Hughes
This book is very special for all the Sylvia Plath fans. It talks about her; how she talked, looked, and moved and everything about her.
Birthday Letters is written by Ted Hughes, Sylvia Plath's husband. These are poems written for over twenty-five years. It starts with the first few years after her suicide and then it goes on to the love letters, some haunted memories and ruminations.
It is great to read this remarkable collection of poems on the most sensational event of history.
19. The Sun and Her Flowers by Rupi Kaur
The Sun and her Flowers is one of the best poetry books in 2017. Also, Rupi Kaur is one of the top ten Sunday Times bestselling authors and illustrator of two collections of poetry.
In her poems, she delves into the feelings including love, loss, trauma, healing, and femininity. She writes in a simple yet provocative way that the reader cries in pain and smiles in joy.
20. Dart by Alice Oswald
Dart by Alice Oswald is a 48-page long single poem.
To me, the most fascinating part of this poem book is the blend of different voices Alice introduces which for sure makes it more interesting.
The book tells about the history of a river named Dart and also fills the poem with the mythical references and deeper poetic dimensions.
Final Words
I have read these poetry books and now my heart fathoms and knows every emotional piece my heart feels. It feels like there are many people out there in this world with complicated feelings and I am not alone in it, not anymore.
This is what poetry does to you.
Out of all the above great poetry books, the most I loved is the poetry collection of Kahlil Gibran, Prophet and The Universe of Us by Lang Leav. You will learn, feel, and inspire from these books and they will stay with you for a long time.
P.S – It is hard to choose a single book from the list of all favorite poetry books.
Give yourself a rest from the long texted books and dive into this world of fewer words and an ocean of feelings.
How it feels to you when you read poetry? Which book is your best poetry book?