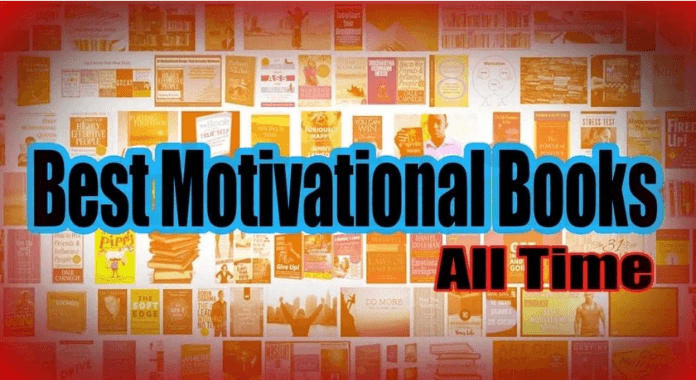 Whenever I feel a lack of some motivation to move forward, the first thing I do is read the motivational books. Those inspiring words fill me with self-faith and encourage me to try even harder to achieve my goals.
If you are also stuck in life or feel like giving up on your goals, then these best motivational books can lead up your way. I am sure these motivational stories will leave an everlasting impression on your life.
Read These Best Motivational Books of All Time
1. The 10X Rule by Grant Cardone
Every game requires a different kind of preparation and when you are all motivated to change your game plan for life then it has to be more precise and intense.
The 10X Rule is all about that intense approach to change your life. It says that massive actions cannot be accomplished with a mediocre mindset. One needs to learn the 'Estimation of Effort' calculation so that they can get massive success.
I bet you after reading this book you will regret not reading it earlier. (It is that good!)
2. Present Over Perfect by Shauna Niequist
This book will tell you how to untangle the messy threads of your life. In addition, you will also learn to achieve the possible goals which seem impossible now.
Shauna encourages her readers to give up on the pathetic life where you are just surviving and not living. She gives an honest account of how she restarted her life and left behind the pressure of being perfect all the time.
3. 7 Habits of Highly Effective People by Stephen R. Covey
This is one of the highly recommended self-motivational books of all time. The first book anyone would suggest you for motivation will be 7 Habits of Highly Effective People and believe me its worth it.
The book will guide you to work internally and put efforts on self-awareness. This bestseller motivational book will push you to take the steps towards success while the course of reading. It will make you proactive and lead you to change your attitude towards you and your life.
Must Read: Best Self-help books for personal development
4. Essentialism by Greg McKeown
Trust me, you need to read this motivational book!
Many times we find ourselves being busy but not being productive. We are just running in all directions which eventually lead us to failure and de-motivation.
This inspirational book will give you a new direction. It will teach you to do the right things which are absolutely necessary, in the right manner and at the right time.
5. Tuesdays With Morrie by Mitch Albom
Not to brag but this book is one of the top motivational books and the book with absolutely no haters. (I can bet on this!)
Morrie has been a teacher for his whole life and now when he is lying on the death bed he still continues to be the best. Mitch was one of his good student who had drifted his ways after college.
They both start meeting up every Tuesday and Morrie taught him the life lessons which will compel you to ponder over those wise words.
6. As a Man Thinketh by James Allen
The next book this one is for those who want to master their mind.
As a Man Thinketh is the top inspirational book one will ever come across. It is short and precise but the information it provides to its readers is more than any human can consume at a time.
The book tells how your thoughts play an important role in molding your personality. Therefore, how that personality drives you to take action and determines the type of action you will take.
7. The Art of Happiness by Dalai Lama
If you are in a constant quest of finding happiness and being a better version of yourself then this is a must-read motivational book for you.
The Dalai Lama, a man with a persistent smile and a magnificent aura which makes people happy around him. In this book, he unveils the secret of the happiness of life.
He had explored many phases of life including relationships, loss, and the pursuit of wealth. Also, the other day-to-day obstacles like anger, anxiety, and insecurity.
This is one of the inspiring books which can change your life and make it more beautiful.
8. Awaken the Giant Within by Tony Robbins
Awaken The Giant Within You is one of those inspirational books which will compel you to change your life and motivate you to become a better self.
The techniques and lessons by Tony Robbins are really helpful. They will definitely make a difference in your life as they did in mine. Also, his approach to run a business will make you an extraordinary entrepreneur.
Must Read: For more entrepreneurial books, go check out my article about the Best Books For Entrepreneurs
9. Wings of Fire by A.P.J. Abdul Kalam
What book can be better than the autobiography of a person who continues to inspire generations worldwide?
I highly recommend you to read Wings of Fire and understand this is what life inspiring books looks like. A.P.J. Abdul Kalam is one of the greatest men in the world who has inspired people to fight against the odds and make their dream a reality.
Must Read: Read the full review of Wings of Fire here
10. You Are a Badass by Jen Sincero
This one is a fun read and also falls in the category of best inspirational books.
Jen offers you 27 chapters full of inspiring stories which will make you smile and motivate you at the same time. In her motivation book, she makes sure that by the end reader knows why they are the way they are, how to love what you can't change, and how to change what you don't love.
You are going to have a good time while reading this personal motivation novel.
11. Man's Search for Meaning by Viktor Frankl
Most of the time we find our source of motivation from the ones who have already gone through a lot and still survived.
That's the kind of story which compels you to move forward with the same enthusiasm with which you had started.
Man's Search For Meaning is the story of a man who has survived the Holocaust. In this book, he narrates about the condition of the concentration camps where Jews were treated. In the second part, he describes the Logotherapy where the survivors of the concentration camps were sent.
At last, he talks about his search for the meaning of life. Every word of this book is so impactful and unique that you will definitely re-read this book.
Must Read: If you loved reading an autobiography then you should go and check out my article on Best Biography Books
12. Grit by Angela Duckworth
The most amazing and inspiring thing about this book is, Angela has picked out the real-life incidents and experience of people to motivate her readers.
The author says that the secret of exceptional achievement is not talent but an amalgamation of passion and perseverance which she calls, Grit. She claims that you need to have an extraordinary passion and long-term perseverance to be a genius in your field.
13. 5 AM Club by Robin Sharma
This book will motivate you to own your day and live it in the most productive way.
Robin Sharma had introduced this 5 AM concept twenty years ago. In this best motivational book 2018, he jots down all those tips and techniques of leadership applying these you can excel in your life.
The 5 AM Club offers you a simple transformational guide which is easy to follow and adapt.
Must Read: Read the full review of 5 AM Club by Robin Sharma 
14. The One Thing by Gary Keller And Jay Papasan
This book is a major motivation for success from building careers, strengthening finances, losing weight nurturing stronger marriages to personal relationships.
It is a non-fiction self-help book stating the value of simplifying the burden of work by focusing on one thing at a time. It says that the more distraction eventually leaves you with the second-rate work, smaller paychecks, and lots of stress.
These simple and life-changing ideas of the books are an eye-opener and immediately actionable.
15. Outliers by Malcolm Gladwell
This book is the last in the list. You will be entertained and motivated after reading this inspirational novel.
Outliers is about identifying the difference between successful and unsuccessful people. It tells us what hockey players, musicians, businessmen, and geniuses have in common. Malcolm first narrates an anecdote and then explains the misconception that people have.
This is an important book for all those who are seeking motivation to succeed and finding what is most meaningful for them.
Final Words
You have 15 inspiring books to read and motivation in heart to achieve your goal. So, what are you waiting for?
Pick up the one which suits best to your goal and extends your arm to catch your dreams.
My favorite from all these best motivational books is Tuesdays With Morrie by Mitch Albom. The reason behind I have included this book is I didn't find any other motivational book so easy, comprehensible, and life-changing.