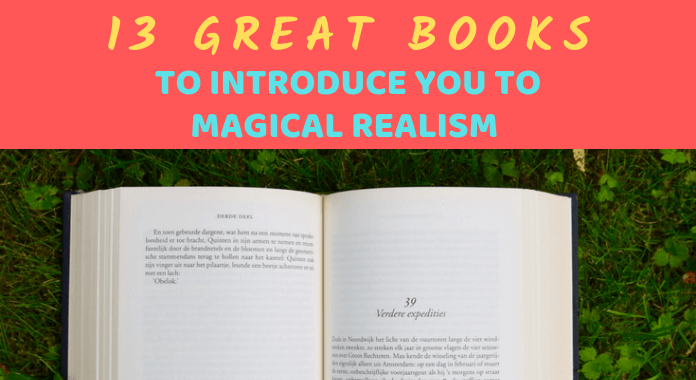 It's fascinating how words can make us believe in the world which actually doesn't exist.
That is why I love reading magical realism books. Today, I have handpicked these books of magical realist stories just for you.
Let's binge read these books that will make you believe in the magical world more than reality.
Suggestions For Best Magical Realism Books
Discover the magic in these handpicked recommendations for the magical realism books.
1. The Shape of Water by Daniel Kraus And Guillermo del Toro
Elisa Esposito who is mute and orphaned would have never made through in this life without her loving neighbor Giles and co-worker Zelda.
One day while working at the janitor, Elisa saw a magnificent creature in the water. He is an amphibious man and was destined to be dissected before Russians would steal it.
Over time, meetings of Elisa with the creature increased and she decides to protect her beloved. She puts everything at risk to save him and makes a plan with Zelda and Giles for escaping him.
This New York Times – bestselling must-read novel of 2018 has also won Academy Award's best picture of the year.
So, don't even think about dropping it!
2. Summer of Salt by Katrina Leno
I literally got carried away while reading Summer of Salt by Katrina Leo. You should definitely give it a try.
Magic has been passed onto every woman in Georgina's family for many generations. But she has never witnessed and is desperately waiting for her magic. On her eighteenth birthday, she almost thought that magic is never going to strike at her door.
But, after spending her last summer on the island, by-the-sea many mysteries were solved. A summer of storms, falling in love, and one rare three-hundred-year-old bird, Georgina witnesses the truth about magic in all forms.
This magical realist YA book is crafted with such easy topics like LGBTQ love story and sexual assault seems sophisticated as well as complex.
Another book Everything All At Once by Katrina Leno of the same genre is as terrific as this one.
3. Midnight's Children by Salman Rushdie
Moving on with the list of magical realism books, the next is, Midnight's Children by Salman Rushdie. 
1,001 kids were born at midnight in India on 15th August 1947 during independence and partition of India and Pakistan. Saleem Sinai is one of them. These kids were impregnated with some extraordinary telepathic powers which make it difficult for them to live an ordinary life.
Saleem tries to collect children like him and looks upon the issues like culture, linguistic, religion and political differences to shape the nation. This fascinating story is about the relation between father and son and two newly born nations.
You will be definitely hooked to the story of this magical realist book. Satanic Verses by Salman Rushdie is also counted in this genre and is considered as one of the great ones.
4. Immortalists by Chloe Benjamin

The Immortalists by Chloe Benjamin was added in my TBR list long before I knew that a genre like magical realism even exists. And when I got a chance to read it, I was so pissed on myself for not reading it earlier. (Its a great great book!)
When a mystical woman arrived on the Lower East side of New York City, the gold children couldn't resist themselves from seeing her. This psychic traveler claims to be able to tell people about their day of death.
The woman told them the prophecies of the next five decades of their respective lives and the story takes turns in unexpected ways.
This magical realism novel has been marked as "Best Book of the Year" by many reputed critics and thrilling compelling family drama.
5. One Thousand Years of Solitude by Gabriel Garcia Marquez
The French writer who started realism was Gabriel Garcia Marquez. He wrote One Hundred Years of Solitude in the year 1967 which is said to be first magical realism book and actually defined the term 'magical realism'.
The book chronicles the story of the fall and rise of the Buendia family. It is the multigenerational family saga who established the Mocando city after emigrating from Columbia. 
It is a story of irreconcilable conflict between the desire of being alone and the need for love. You can hardly resist the absolute masterpiece which had captured human history so beautifully.
You might also like other books written by this revolutionary writer as well. So also add another magic realism book, A Very Old Man With Enormous Wings by Gabriel Garcia Marquez in your reading list.
6. Kafka on The Shore by Haruki Murakami
Before reading Kafka on The Shore I have been to Murakami's fictional world. But it was my first time to witness his magical world.
Kafka Tamura runs away from his home in order to escape from his father's prophecy or maybe to search his long-lost mother and sister. On the other hand, Nakata who tracks lost cats and can talk to them, also leaves his home.
The story spices up when these two crosses each other's path. The unexpected things happen like fishes falling from the sky a ghost-like pimp deploys a Hegel-spouting girl of the night.
Murakami is an excellent storyteller and while reading this magical book I was transited to some other wonderful and magical world.
If you like reading this magical realist author (which I am sure you did) then read The Wind Up Bird Chronicle by Haruki Murakami.
7. Beloved by Toni Morrison
Further additions in the magical realism books list is Beloved by Toni Morrison. 
The story is set in the 1800s when slavery has come to an end at Sweet Home in Kentucky. Sethe who was a slave was all set to start her new life in Ohio with her children.
Physically, Sethe is no longer a slave but mentally she is not able to erase the memories of Sweet Home. She moved in with her eighteen-year-old daughter Denver, her mother-in-law, Baby Suggs, and her two sons to her new home in Ohio.
Sethe's new house is haunted by the ghosts of her baby who died eight years ago and whose tombstone is engraved with a single word; Beloved.
I know you will not be able to resist yourself from reading other great works by this magical realism author. In that case, Song of Solomon by Toni Morrison can be your next read.
8.  The House of The Spirits by Isabel Allende
House of Spirits is one of the best magical realism novels and the perfect example of the magical realism genre. It is a family saga with the triumphs and tragedies of three generations of the Trueba family.
You will be peeping into the history via Esteban Trueba who is the main narrator. The story describes the viewpoint of the old Chilean aristocracy. It is beautiful, compassionate, and magically written.
9. Like Water for Chocolate by Laura Esquivel
I absolutely enjoyed reading Like Water For Chocolate by Laura Esquirel. For me it gave me a perfect blend of love and magic.
Tita is the youngest child of the De la Garza family. She was born in the kitchen amidst the noodle soup and spices and since her childhood years, food became her way of life.
Like Water for Chocolate is a love story of Pedro and Tita. Because of a Mexican tradition which says that Tita needs to take care of her mother until she dies, they were condemned to get married.
With all the twists and turns in the story, you would be amazed to see the magic Tita pours in her food. Their love blooms even when Pedro marries her sister only to be close to Tita.
10. Bone Gap by Laura Ruby
Keep scrolling for these mystical magical realism books.
Bone Gap is a mysterious place where people would get lost and never be found again. When Rosa went missing, no one was surprised but Finn and Sean. Years ago, his mom was disappeared and now Rosa who was the only person he had.
Finn was sure that Rosa is kidnapped. He saw her going in an SUV with a man whose face he couldn't remember. After tremendous searches, he found nothing and no trace of Rosa.
This is the story of love and loss, magic and mystery, regret and forgiveness. The book is one of the good Magical realism books and is worth to read.
11. Their Eyes Were Watching God by Zora Neale Hurston
The story starts when Janie comes back to visit her childhood place, after 40 years. She is a black woman and has fought for justice and struggles to find her love of life. In search of love, Janie married three times and was finally put on trial for murdering her third husband.
It is the story about love and hate which takes you through the journey of a black woman, fiercely independent and the one who refuses to live in sorrow and bitterness.
Hurston was a woman ahead of her time who wrote this phenomenal book.
12. Ficciones by Jorge Luis Borges
There was a time when I wasn't a big fan of long fiction book. Then I found Ficciones by Jorge Luis Borges and I am glad I did.
Those who cannot keep up with the full-fledged 500 pages novel can choose Ficciones. It is the compilation of seventeen short magical realism stories which will definitely take you to some fantasy lands.
These stories are about diabolical tigers, imaginary encyclopedias, ontological detective stories, and scholarly commentaries on nonexistent books, and had clearly wiped off the prejudices about this genre.
13. The Ice Queen by Alice Hoffman
Last recommendation in this list of top magical realism books is The Ice Queen by Alice Hoffman.
A small-town woman who works as a librarian lives a quiet life without much excitement and keeps a distance from the people. One day she mumbles a wish and the next moment she had a frozen heart.
She goes in search of Lazarus Jones who had also suffered electric lightning like hers and now have a burning heart. These perfectly opposite people had a love affair between them. But, they both are hiding a secret about how they turned into this.
This book is going to stay with you long after reading it. It is amazing, compelling and magical in its own ways.
Final Words
As promised, after reading this list of novels you need not have to look for another list. This is the ultimate list of top magical realism examples with recent and classics of magical realism literature which will give you every reason to read them.
Out of these handpicked fantasy realism books, my favorite is Shape of Water. As it is the most recent one and I really like the blooming love between the creature and the mute girl.
Have you ever been to the magical world of books? Share your best magical realism book with us in the comment section below.