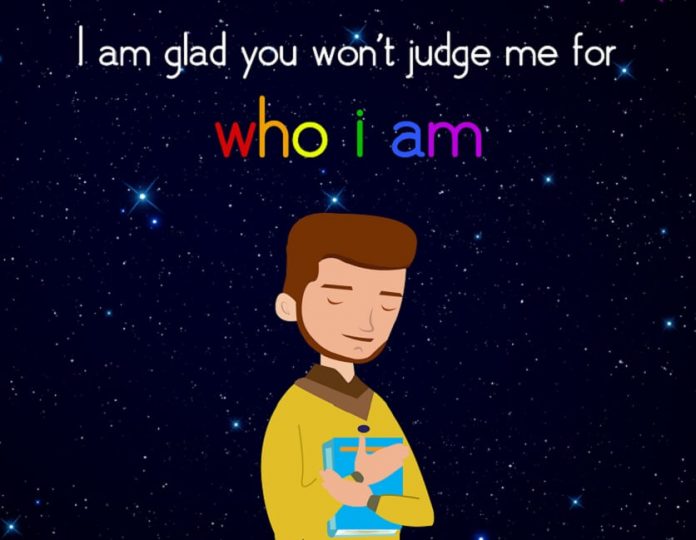 While the world is coming in support of the Pride community, LGBT books are also gaining popularity with authors putting out emotional stories through interesting fictional characters.
No doubt, after reading these LGBT books you might find yourself on the top of your voice, screaming against the system and supporting them.
Yelling in the rallies or fighting against the system is one way but reading LGBT books gives you a much deeper understanding of how it feels when the world finds you different despite the fact that no one is actually the same.
So, here are my recommendations for LGBT books that every young adult must read.
Fact – Bayard Taylor's Joseph and His Friend published in 1870 was the first U.S. novel to touch on the subject of homosexuality.
List of Best LGBT Books 2019
These handpicked LGBTQ books are the ones which portray the lives, journeys, difficulties, and victory of gender-neutral people. These are the best books for celebrating the pride month and to connect with them.
1. A Quick and Easy Guide to They/Them Pronouns by Archie Bongiovanni and Tristan Jimerson
While looking for the best LGBT Books, I came across A Quick and Easy Guide to They/Them Pronouns by Archie Bongiovanni and Tristan Jimerson. And, just like you right now, I also found myself completely intrigued by its title.
I must say that this comic introduction for using a correct pronoun is helpful for both; the ones who want to use it and the ones who want to learn more about people and gender-neutral pronouns.
It is freshly released teenage non-fiction is affable, funny, and resourceful to learn the gender-neutral language and to seek insight into the conversation who is living the reality.
2. Beyond Magenta by Susan Kulkin
To dig deeper into the lives of transgender, I chose Beyond Magenta as my next read. I guess the laurels added to this LGBT Book – 2015 Stonewall Honor Book and the critics claimed it to be the groundbreaking work of LGBT Literature all did make sense after reading it.
Susan Kuklin is an award-winning author and photographer. In this book, she met and interviewed six transgender people. She brilliantly and respectfully portrayed the journey of these gender-neutral young adults.
You will be reading the tidbit of their lives and witnessing the emotional as well as a physical odyssey of recognizing their true selves.
3. Ash by Malinda Lo
Ash is a fairytale but with a twist!
We all have read Cinderella's story about her dying father, cruel step-mother, and selfish step-sisters. Till now the characters of the story are the same. Malinda Lo has much more to tell with the twisted story.
Rereading the fairies tales once told by Ash's dead mother, the fairies steal her away in her dream. She meets a fairy Sidhean and she thinks he can fulfill her wishes. But the things got changed when Ash met Kaisa, King's Huntress. She discovered her new self and restored her faith in love in this delicate friendship with Kaisa.
Now Ash has to make a choice – whether she wants to go to Fairy tale lands with Sidhean or wants to stick with her true love for Kaisa.
4. Symptoms of Being Human by Jeff Garvin
Did you like or more precisely 'loved' reading Perks of Being a Wallflower? 
I can see you nodding. 😉
Symptoms of Being Human is perfect for the fans of LGBT YA book readers with all the elements of relationship, love, and struggles of teenage life.
It's hard for Riley Cavanaugh to lead a normal life. On some days he is identified as a boy and on the other days, he is a girl. And, with a new school and the re-elections of his congressman father, he starts an anonymous blog to vent out his feelings.
Nothing remains the same when the blog becomes viral and someone reveals the real identity of Riley. Now, either Riley can deny the truth or stand out and come up with everything on the stake of his newly settled life.
5. The Miseducation of Cameron Post by Emily M. Danforth
If you are craving to read LGBT fiction books, then you cannot miss reading this teen novel by Emily M. Danforth.
The Miseducation of Cameron Post is a story of a young girl who had kissed a girl in her prom. She feels a cringy relief from the fact that her parents will never get to know about this as they are dead in a car accident.
But her conservative grandmother and aunt Ruth decides to "fix" her and send her to a gay conversion therapy center.
This coming-of-age homosexual teen story has also been adapted to a Sundance Grand Jury Prize-winning movie in 2018.
6. If I Was Your Girl by Meredith Russo
If I Was Your Girl has won more than nine awards as a Book of the Year on different platforms.
Leaving behind her past and living a new life, Amanda Hardy wants to make friends and fit in her new school. She finds out easygoing and sweet guy Grant with whom she wants to share her secret from the past.
The secret is that Amanda used to be Andrew in her old school. She is afraid that if she would tell her secret to Grant he won't be able to see past it and she might lose him as her friend also.
This is a provocative YA Novel for teenagers guided by hope and overwhelming kindness.
7. Two Boys Kissing by David Levithan
You will be reading this based-on-true-story homosexual book which is open, frank and ultimately optimistic.
It is a story of two boys who are participating for a 32-hour marathon of kissing, to set a New Guinness World Records. When the event happens and the two boys are in the middle of the marathon – sleep deprived dried lips and dehydrated they become the prime focus of other teens.
But this book is a lot more than just kissing. It is about navigating gender identity, highs and lows of being young and gay, universal questions of love, and belonging.
8. Will Grayson, Will Grayson by John Green and David Levithan
This great blend of two all-time favorite authors is funny, rude, and original.
Two teens with the same name are living in almost completely different spheres of life. One is shy and other is depressed but things take epic-turns when their paths collide into each other.
I bet you cannot put this book down before it ends.
9. Boy Erased by Garrad Conley
Burying the past and moving on might be easy. But going back to the past and scratch those wounds to give voice to your story is heroic.
Boy Erased is a memoir of Garrard Conley who is an author and LGBTQ activist. He discovered his identity when he was 19-year-old. His parents gave him two choices, either he has to go to the church's conversion therapy or risk losing his family, friends and God.
Through his journey, Garrard found the strength to confront his true-self and make his own identity.
10. Simon Vs The Homosapiens Agenda by Becky Albert
Simon Vs The Homosapiens Agenda is now a major motion picture and like the novel, the movie was also praised by all.
A regular school-going boy, Simon is still looking for a good time to break out the news about him being gay. But definitely, school is the worst time to reveal this. Though, everything gets complicated when Simon's flirtatious email box with Blue is hacked.
Now, he needs to come out of his comfort zone without losing his friends and finding the adorable boy whom he hasn't met ever.
11. Fun Home by Alison Bechdel
Fun Home by Alison Bechdel is a quiet and dignified book about homosexuality talking everything aloud.
Alison Bechdel is an English teacher and the director of the town funeral room. This is the third generation in this business of decorating "fun room" as referred by Alsion's family.
During her college days, she came out as a lesbian and not long after that she discovers that her father was gay. Soon after this unveiling, her father was dead and she was left alone to resolve the legacy of mystery and finding the true-self.
12. Heather has Two Mommies by Lesléa Newman
This unconventional LGBT children's book was published in 1989 introducing the coming-age family diversity, is popular till date.
Heather has Two Mommies is a good LGBT book for kids who do not have a traditional family structure. Heather's favorite is number two, who has two pets, two arms, and two legs.
When one day the teacher asked for draws a family picture, Heather had a different drawing from the rest of the class.
13. Sissy by Jacob Tobia
Sissy is a groundbreaking latest LGBT book released in March 2019 and soon it became sensational.
Jacob Tobia writes in their memoir about the journey in the funniest and poignant way yet truthful. His childhood days when he was glitter-obsessed, sensitive, and creative. This gave him a label – "Sissy".
With this new generation queer book, Jacob has easily preached readers that people cannot only be categorized into 'men' and 'women'.
14. A Little Life by Hanya Yanagihara
This will not be an easy gay book to read. Little Life is 800 pages long and I bet you can finish this book without a wad of tissues.
It is the story of four best friends – JB, Malcolm, Willem, and Jude. Except for Judy, the other three are very ambitious and determined to make money and better living. Judy's leg does not function properly so three of them are the silent shoulder for him to lean on.
Despite being friends for years they barely know anything about Judy's childhood and life before university. This is one of the best LGBT books and will be going to stay with you for a long time.
15. Leah on the Offbeat by Becky Albertalli
Leah on the Offbeat by Becky Albertalli is the acclaimed sequel of the book Simon Vs The Homosapiens Agenda and won Goodreads 2018 Choice Award and other honors.
Leah-Burke is Simon's best friends and the only child of a single mother. She is always on the beat while drumming but her life isn't that synchronised. She is bisexual and her mother knows and accepts her.
But here the problem is her friends. Her group is falling apart and she might love one of them. It's going to be difficult for her to come out with her reality even when one of her friends is gay.
Final Words
It is not easy to accept and take a stand for yourself when everyone else is just pulling you down. It is an act of showcasing ultimate heroism. I think these LGBT stories are heroic in their own ways and the term 'Not all heroes wear capes' is true in all terms in these books.
While each one the LGBT books list is lovable in a different way, I found the most inspiring and helpful book to be the Boy Erased and the Simon vs Homosapiens Agenda.
Get inspired by these handpicked LGBTQ Books and if you are still in the closet, you can come out with your identity in front of the world. Support your friends and make them believe that you are in it with them.
Tell us about your favorite Pride Book that everyone should read.