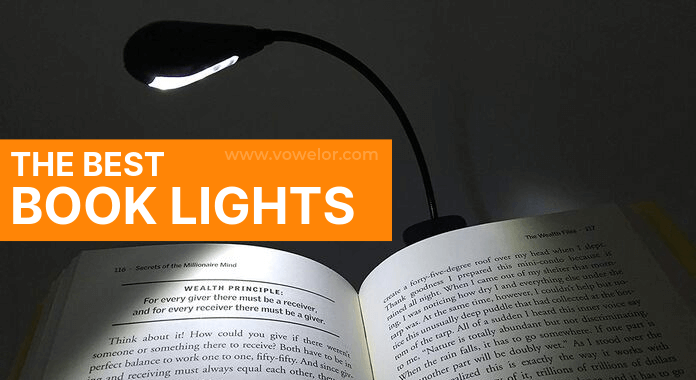 A good book light is one of the main book accessories that help in making your reading experience truly exceptional. Ferocious readers can read books all the time, even at night too. The love of books keeps them hooked till late night hours.
In such a scenario, having an instrument for personal lighting is necessary for these readers. Of course, you can't light up the whole room for reading books late night; especially if you have a roommate or partner.
So, reading lights provide the best solution to late-night readers. It also encourages people to read at any time by removing the barrier of darkness!
I know you must be wondering if there are any other benefits of book lights. Yes, it has more benefits; which is why you must have a book light.
Why you Need a Book Light?
Let's see why you should buy a reading light.
Book lights provide you with reading comfort by maintaining an ideal level of brightness.
Book light saves your eyes from many problems. For example, your eyes have to strain harder to read the words in dark; which can develop dry eyes or eye weakness.
Having a book light is also helpful for aged people because our vision power starts to deteriorate with age. So, aged people need more light to properly read anything.
Book lights also help musicians, people who do artwork or students who study at late night as all of these people need adequate lighting for performing their respective tasks.
Now I hope it's clear that book light is a worth-purchasing bookish accessory. So, let's move straight to the list of best reading lights to help you with the night reading.
5 All-time Best Books Lights For Reading At Night
1. Ecologic Mart's Eye Care Book Light – Ideal for Bedtime Readers
Read Review on Amazon    Buy This on Amazon
Bedtime readers need a light which provides proper brightness for reading but also don't kill their sleep by negatively affecting their sleeping hormones. That's why not every reading light can be perfect for night readers.
Ecologic Mart's Eye Care Book Light has a warm light which makes the night time reading experience cozy and comfortable. Read its features to know why it's best for bedtime reading.
Unique Features: 
With an illumination of 3000K, this light emits proper brightness for reading book.
It has 2 branches because of which two readers can also use it together. Otherwise, you can turn both the branches towards one book if you are reading a big book.
You can change the brightness of the light and set it as per your convenience by choosing from 8 different brightness levels, ranging from 5Lm to 40Lm.
This reading light contains 1000mAh batteries; which can be charged within one and half hour with a USB cord.
The battery lasts for a few days depending upon your usage. There are proper indicators that warn you about low battery. So, it won't be off suddenly while reading.
Limitations:
It is quite heavy to hold. So, you may find it difficult to hold it for long hours while reading at night.
2. Raniaco Daylight 12 LED Reading Light – Best Book Light of 2019
Read Review on Amazon    Buy This on Amazon
Raniaco Daylight 12 LED Reading Light is the bestselling #1 light on Amazon for now because it is perfect for various reading purposes. You can use this light while reading, crafting, sewing or even as a table lamp while studying.
Unique Features: 
This fashionable and sleek light is the sturdiest of all the reading lights.
It has a powerful brightness with 12 LED bulbs and 3 different brightness settings – soft, bright and strong.
It comes with 60 days money-back guarantee; which is a unique offer.
The built-in lithium battery is powerful enough to last up to 24 hours.
Its neck is flexible yet stable because of which you can easily move it for better focus.
The base of this light is a clip that looks like a big mouse. It can be opened up to 1.5 inches to hold any of your books in place.
This reading light can also work as a table lamp due to its brightness and sturdiness.
Limitations:
The base is too large. So, you may face difficulty while clipping smaller books in it.
3. MoKo Flexible Neck LED Clip-On Reading Light Lamp – Best Book Light for E-Readers
Read Review on Amazon    Buy This on Amazon
E-readers also need proper reading light because not every e-reading device comes with built-in LEDs. However, you can also purchase a good e-reading device that comes with adequate lighting.
But, if you already have a low-lighting e-reading device and you don't have the budget to buy a new one, then you can buy MoKo Flexible Neck LED Clip-On Reading Light Lamp. It will be a financially wise decision for you.
Unique Features: 
The design of this reading light is perfect for e-reading devices.
It has a clip with two parts. The upper one is smaller so that it won't shadow your device screen. The lower one is wide with a protective layer for proper grip and safeguarding your device from any scratches.
It consists of 3 warm LEDs with two adjustable brightness levels.
Its neck is highly long and flexible; designed for proper focus.
This book light can be folded, so it's portable.
Limitations: 
This reading light works on 3 AAA batteries; which are not rechargeable. It means you need to change the batteries within a few months.
The dim mode of this book light is not that much dim.
Price: This light is currently unavailable. However, you can check its price on Amazon once it will be back in the stock.
4. Mighty Bright 47012 – Best Travel Book Light
Read Review on Amazon    Buy This on Amazon
People who love reading while traveling also need a book light. Yes, because you can't be sure about the lighting on roads, the medium of transports, etc. on your journey. So, carrying your own reading light becomes mandatory.
Mighty Bright 47012 is ideal for travelers because it is portable, its battery is durable, and you can easily charge it anywhere.
Unique Features: 
Having 0.3-ounce weight and 1.2 x 3 x 5 inches dimensions, this book light is compact enough to fit in your suitcase, laptop bag or handbag. It is also light enough to be carried on any long trip.
It has a flexible neck and 2 brightness level which provides adequate brightness as you travel and read.
Its built-in battery is rechargeable and lasts for a few weeks. You can easily charge it anywhere with its standard USB cord.
It has a firm clip that can hold any book in place as you read.
It is also available in various colours.
Limitations: 
The holding clip can't clamp on very thick or hardcover books due to the small size of this book light.
5. CeSunlight Rechargeable LED Book Light – Best Hands-Free Book Light
Read Review on Amazon    Buy This on Amazon
I have added a lightweight hands-free book light for people who think that using a book light will increase the overall weight of the book. If you are in no mood to hold heavy stuff while reading, then you will surely love CeSunlight Rechargeable LED Book Light.
Unique Features: 
Its design is totally unique. It is like a U shaped band which you can hang around the back of your neck. At the end of this U shape, two lights are fitted that will face towards your book; when you will wear this reading light.
You can use it while walking or even doing other works with your hands.
The steel alloy arms make it sturdy. These arms are also flexible because of which you can direct the light anywhere.
The silicone cover of this band light gives a soft feel to your neck when you wear it.
Each of the two light can be on/off by buttons separately. You can control the brightness by opening floodlight, spotlight or both. Floodlight mode is perfect for bedtime reading, while spotlight mode is good for other tasks like knitting or jogging.
It has rechargeable batteries that can be charged with a USB cord and it lasts for 6-10 hours.
Limitations:
It can't work without a power source.
Things to Keep in Mind while Selecting your Book Light
You should always consider a few things before finalizing any reading light. These points of considerations are:
1. Brightness Modes
You must check how many brightness modes are available in any book light. More brightness levels equal to more personal freedom to adjust the light. It will allow you to adjust the light according to various reading occasions.
2. Individual Attention
A book light should provide individual attention and light. Book lights that have very bigger lights can disturb other people; which is not good quality. After all, the main purpose of buying a book light is to get personal light only for your book.
3. Flexible Neck
The neck of an ideal book light should be flexible so that you can adjust the focus as per your convenience. It shouldn't so lose that it can't stay in one place while reading; which will be really annoying.
4. Battery Type and Life
Reading light with rechargeable battery type will be best for modern readers. You can easily charge it like your phone anytime. Good battery life is yet another point which you should check. Longer battery life will allow you to use it for a longer period without worrying about charging.
Final Words
So, that was all. I believe this post must be helpful for selecting the best book light for you. My personal recommendation would be Ecologic Mart's Eye Care Book Light.
Before you choose yours, just analyze your personal needs and choose a reading light from the list accordingly. Don't forget to read their unique features that I have mentioned to be sure about your choice.
Ask me in comments, if you have any queries. I will be more than happy to help!