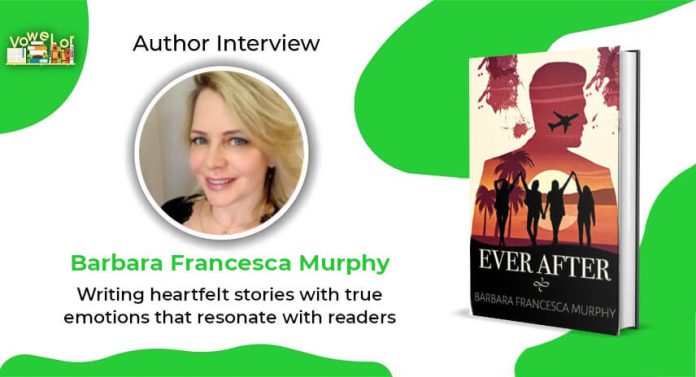 One of the most simple ways to get readers attached to a story or characters is to pour deep human emotions like love, loss, and pain into the words. There are a handful of authors who have mastered this art and Barbara Francesca Murphy is one such author.
After the launch of her latest book 'Ever After', Barbara Murphy gave a candid interview to Vowelor where she discussed her books, her writing journey, her future plans, her reading taste, and more.
But, before we dive into this interesting conversation, let us first know a little more about the author.
About the Author: Barbara Francesca Murphy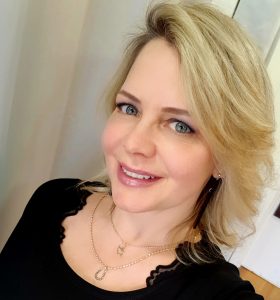 Barbara Francesca Murphy is an author born in Austria in the 1970s. She loved writing from a young age. Her dad was an author of educational books, who became her inspiration and she believes her love for writing comes from him. Both, her mom and dad were avid readers and introduced her to books at an early age.
She traveled a lot as a child and teenager, visiting different countries and cultures, which ignited her imagination. She wrote short stories for her family and friends and continued to pursue her passion for writing as she grew older.
After completing high school in America, Barbara studied tourism and management in Austria. She then moved to Ireland, where she has been living ever since.
Barbara has self-published three books – "Ever After," "Second Chances," and "Lucina's Letters." Her writing focuses on themes such as love, loss, and second chances, which resonate with readers. Barbara's writing style is emotionally engaging, and her stories reflect her passion for storytelling.
Further, author Barbara Murphy shared about her childhood, her writing journey, inspirations, and more interesting things about herself. Let's check out her interesting answers.
What were you like at school? Any childhood memory you would like to share.
I wouldn't say that I really applied myself at school, as I was only interested in a few subjects. Generally speaking, the school felt too restrictive to me. I loved the social aspect though, hanging out with my friends, etc. I enjoyed high school in the States much more than school in Austria.
What are your educational/professional qualifications?
After high school, I studied Tourism and Hotel Management.
What is your biggest achievement till today?
My biggest achievement will always be raising my family. Of course, I am also proud that I wrote three books. And who knows what will happen in the future.
Which writers inspire you?
I really love John Grisham as an author. I like his writing style and the plots of his books. I have read most of his novels, my favorite being "A Painted House".
Writing is stressful at times. How do you relax your mind?
Nature relaxes me. Going out for a walk. Silence.
What is your favorite motivational phrase?
Don't overthink, just do it. I feel that most people's stumbling block is fear.
What advice would you give to your younger self?
Don't sweat the small stuff.
What books do you like to read personally? What are you reading currently?
I love reading crime novels. I also quite like biographies. I just finished Michelle Obama's biography.
If you could have been the original author of any book, what would it have been and why?
I will have to go with any of the John Grisham books again. Just because they are so engaging.
What made you decide to sit down and actually start writing?
I always enjoyed writing. I wrote all through my childhood and teenage years. Mostly short stories. But after my father passed away, I got serious about it. It was time to write an actual book.
Do you have a special time to write or how is your day structured?
I write best in the morning time. As long as I have quietness around me, I can put my thoughts down.
What is the reason you write for; is it for the readers or your own self or some
other thing?
I write because I like to write. It can be quite therapeutic. People enjoying my books is the icing on the cake.
About your Book: Ever After
Ever After is a book about family, friendship, love, and betrayal. The story mainly showcases the life of four ladies, best friends since childhood, each struggling with their own issues in their personal lives.
Despite their differing opinions and conflicts, the girls remain loyal and strive to maintain their bond. They embark on a trip to Florida, hoping to find solace and clarity, but little did they know that a life-changing tragedy was waiting for them which turns their worlds upside-down and ruins their friendship.
Read Full Review of Ever After by Barbara Murphy
What genre is your book? What draws you to this genre?
I write fiction. I love making up stories, that is why I like writing fictional novels.
What was the inspiration behind the four characters? Is it from any one of your
own friends?
This is a question I get asked all the time. People see themselves in fictional characters. The truth is, that yes you take snippets from real life, people, and situations. But really my characters are purely made up. I create them because I find them interesting.
What makes 'Ever After' stand out in this genre?
Ever After does not only explore friendship, it goes deeper than that. The story is about secrets, past lives, and conflict. No one is just good or bad. There are a lot of grey areas.
What should a reader expect from 'Ever After'?
A page-turner, a twisted plot, and surprises.
Ever After is a twisted story, full of drama and mystery. What was the hardest &
the easiest thing to write such an amazing story?
The easiest were the characters as I have a lot of fun making them up. The hardest, I suppose, is to put it all together so that the story makes sense to the reader.
Any special experience about 'Ever After' that you would like to share?
Just that I enjoyed the process and that working with my publisher and editor was a great experience.
Future plans
What are your ambitions for your writing career?
I write because I enjoy it. I will see where it takes me next.
Are you working on your new project? What will your next book be about?
At the moment I am not working on a book. Once I have a new idea, I will write again. I would love to write a crime novel next.
What does success mean to you as an Author?
Success means that you choose not to worry about the outcome. You just do it.
What are your views on the publishing process and its nuances?
I was with a very big publisher for my first two books and found them very hard to deal with and not very professional. After I switched to a much smaller publisher for my third book, I found the process enjoyable. The fine-editing is always quite tiring, but it's an important part.
One piece of advice that you'd like to pass on to young debut authors.
Do what makes you happy. Give writing a go!
Your opinion about Vowelor
So far so good. I like the personal touch.
 Are you also an author? Get your book featured on Vowelor now!