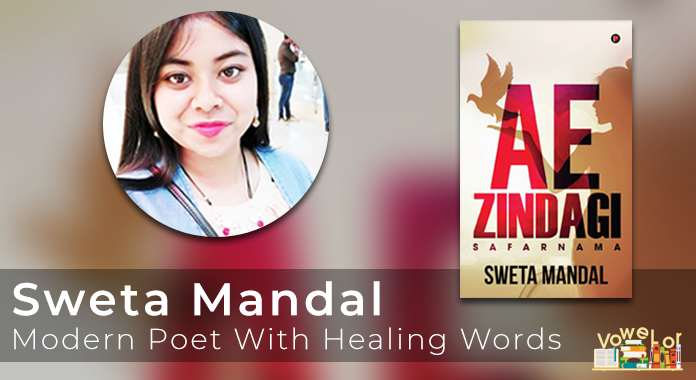 In this era of modern poets, it's very rare to find the one who touches the right chords of your heart through their words. They weave the words in a way that their composition reflects your life story and you read the emotions of writers as of your own.
So, here I am talking about one of such writers, Sweta Mandal, the author of Ae Zindagi (Safarnama). I had the pleasure of meeting and talking with the writer of the amazing book, Ae Zindagi, who finds solace in writing.
So, just be part of our conversation and know; the journey of Sweta Mandal who passed her agony and became a master in her passion.
Author Sweta Mandal's Life in a Nutshell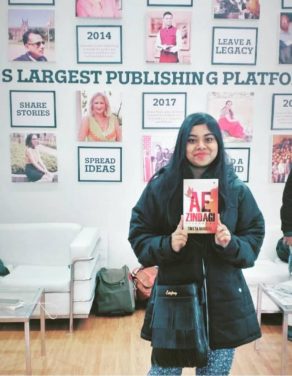 When I first saw Sweta, I was amazed by the fact that this young girl with such a cute smile conceals so much wisdom in her words. But, as I started to know her it seems that life has taught her many things and now she just forms her words around her life experiences.
Born and brought up in a close-knit family of Bokaro Steel City, Jharkhand, Sweta is the only child of her parents. She says her mother tongue is Bengali but its hard to believe once you read her fluency with the Urdu words. (I was literally quite impressed with her usage of Urdu in her book, Ae Zindagi.)
Sweta's dad was an IITian and it's been two years since he died. "Whatever I am today, would not be possible without him. My mom has been there by me through thick and thin and I will always be grateful to her" she said with teary eyes and a proud smile.
Besides writing, Sweta Mandal is pursuing management and law aspiring to be a big-shot lawyer working at MNCs. When I asked her about her childhood, she took me down the memory lane and told this; "I was introvert but a notorious child in my childhood. When I was about 3 years old, I drank the whole 2 L sprite bottle and vehemently denied when asked. Of course, I got caught later, and was beaten up."
I started talking to Sweta about her biggest achievement. I thought like any other girl of her age she might talk about her awards and prizes as a milestone. Instead, these were her exact words,
My biggest achievement was when I started writing and people could relate to it. The feeling that I am not alone. I still remember that day when I was scribbling something on paper. I was completely numb and did not know how to process my emotions. I wanted to vent it out. It was killing me from inside. I wanted to laugh, cry, smile, and shout as all do. I knew if this continues, I will lose myself completely. To overcome this situation is my biggest achievement.
And, by now I became sure of the fact that this brave soul has conquered many fights and is a true warrior.
Now she proudly says that whenever she encounters herself in the mirror, she is satisfied with who she has become. She thinks she turned out to be magnificent, more powerful than she could have ever imagined herself to be.
I needed a minute to gulp down such courage and depth of thoughts. So the next thing I found myself asking was, "what kept you moving throughout the hardships?" And I got the answer in her style. (one of the most beautiful way)
Kiski justajoo me lage ho sahab…
tumhara ikhtiyaar tumhaare haathon me hi h
(Justajoo means search, Ikhtiyaar means authority/power)
And, these lines by her said it all.
Contrary to her writing style, Sweta Mandal likes reading mystery novels and is currently reading The Lost Symbol by Dan Brown. She says that she reads a single book many times and loves to delve into the characters.
Furthermore, we talked about her book Ae Zindagi (Safarnama). Keep reading to know what she has to say about her book.
Ae Zindagi (Safarama) by Sweta Mandal
The debut book, Ae Zindagi by Sweta Mandal is a nostalgic and subtle observation of self musings. It is a book on quotes and Shayari. The book mainly emphasizes on the cruelty of loved ones, weaving melancholy with words, on the chaos of looking for love, and in search of peace amongst the chaos.
If you have read and loved books like Milk and Honey, then I am sure Ae Zindagi will give you similar vibes.
This book is for the ones who had experienced the love that was never meant to be, reminiscing innocent joys of childhood, realizing the unbearable burden of life, being confounded by life, on still taking chances despite it all, on finding "the one" and being proved wrong and so on.
She says,
Every word I scribbled in the book has come from my very own experiences in life. Writing for me is a very personal thing. It is when you decide that your opinions, your experiences are worth turning into words on a page.
Sweta was completely clueless that she can be an author or even had a thing for writing. To this, I became curious to know what made her decide to sit down and actually start writing something?
Then, she revealed what made her write.
I lost my dad and was numb for about a year. I did not respond to anything normally. I learned that the weaker I felt, the stronger I became. The closer I felt, the further I pulled away. The writing was the only way to let it go, let the phase pass. That was my way of venting out.
And, when it comes to writing every writer is conscious about giving their best. Sweta says she is her biggest critic and would edit any piece of writing again and again until it seems perfect. She also acknowledges the support her Instagram family gives her. "They have encouraged me to up my game, and refine my poetry."
Have a glimpse of her Instagram page.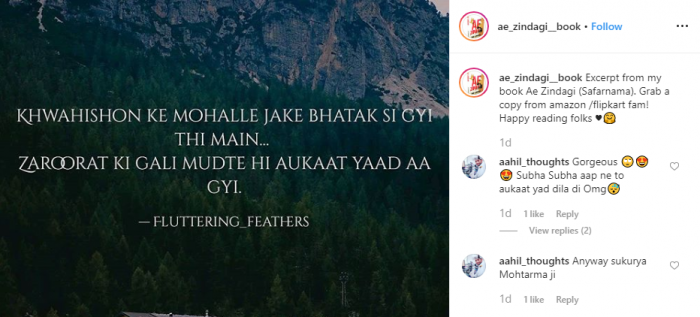 For the author of Ae Zindagi, the writing was something that makes her close to herself. She said,
I have started believing in myself more often. I believe I am the force I seek. Each time I fell, I stood alone in this close-fisted world and I am not sorry about it. That is how life is…isn't it? 
Though, I could only nod my head with the amazement of her understanding.
Every book has its own essence and a differential element which makes it stand out in the market. Despite having so many books of the same genre each book serves different expectations of readers. Keeping all this in mind I asked Sweta what should a reader expect from her book, Ae Zindagi.
Ae Zindagi will take you down to the memory lane and will make you stronger to overcome any sort of suffering or pain. The words are woven in such a way that you can embrace your past, love your future and deal with the present.
The readers can expect the truth about life, nothing but the truth. It is a promising journey and the quotes and shayaris will definitely pave a way for healing.
Imagine if the author has such clarity in her thoughts, then what treasure her book might be!
Know What Sweta Mandal Plans for Her Future
Inspired by Javed Akhtar, Sweta is already working on her next book with more refined Urdu in it. She says she will definitely try out writing books on other genres as well.
Seeing the uncertainty of her life she says out loud about his next five years' plans.
My life has been really uncertain. But if life for a change, goes according to my plan, probably a corporate lawyer, writing books and staying the same happy-go-lucky person.
I think an individual's definition of success tells a lot about them. So, I asked Sweta what does success mean to you as a Writer? No doubt, I was pretty impressed with her answer.
For me, it means the world to me when people say they are really inspired by me and have started writing as well. The thing that they relate to whatever I write melts my heart. If that is what one calls success, that's it.
I know by now you might be eager to read the book Ae Zindagi (Safarnama) by Sweta Mandal and see what it holds for you. I was also very eager to read her book after this interview. And, believe me, I felt so happy that I had a chance of reading her words. (Literally, she is so good!)
Follow her on the book's Instagram page and her personal account to get the daily dose of her Shayari.
Lastly, I asked her opinion for Vowelor,
Vowelor has been really a platform, I was willing to be part of. It is a great way to connect with readers and join book communities across the world. I am grateful to them for being this kind and taking out their precious time and being there. Thanks a lot guys…
And, on this happy note and a big smile on my face, I ended this little chitchat with the author of Ae Zindagi, Sweta Mandal.
Are you also an author? Get your book featured on Vowelor now!