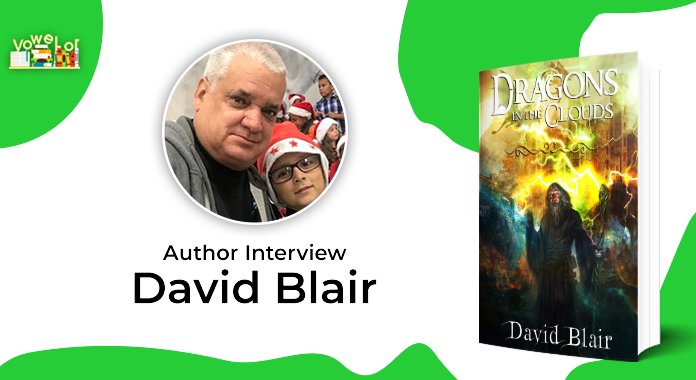 No matter if you're a kid or an adult, good fantasy books are always a great pleasure to read. Authors such as J.K. Rowling and Percy Jackson have already set the bar of fantasy genre so much higher, it is not easy for other authors to match up.
But, today, I am introducing you to David Blair – an American author who has brilliantly created an adventurous fantasy world with magical elements (and fierce dragons too!) and it deserves to reach more readers.
About the Author: David Blair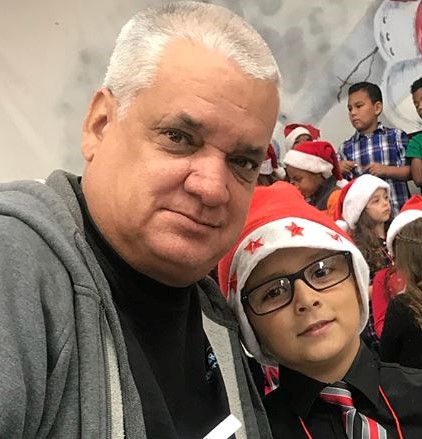 David Blair was born in 1959 in Arizona in the town of Morenci (which no longer exists). He spent his early childhood in La Puente, California, a suburb of Los Angeles.
David was trained in screenwriting and have optioned a screenplay called "The Adventures of Captain Sea" for EnterAktion Studios. He also worked as a production supervisor on a CGI film called "Dwegons and Leprechauns".
Both his parents are from twin mining towns in eastern Arizona. One is named Morenci and the other is Clifton. His father served in WW2 in the pacific campaign against Japan. He then used his GI Bill and went to ASU and became a school teacher. He passed away 9 years ago.
His mother, aged 94, is simply amazing and David feels blessed to take care of her. She retired from working on the line making toys for Mattel.
We had a candid conversation with David Blair where he shared a lot about himself and his debut book the Dragons in the Clouds. Read his interesting answers below.
What were you like at school? Any childhood memory you would like to share.
I was a creative kid. I was known for drawing dinosaurs. I would be hired out to other classrooms to draw dinosaur murals on the classroom walls. In the 8th grade, I starred, wrote and directed a student film called "Destination Destiny".
What is your biggest achievement till today?
Coming in under budget on the film "Dwegons and Leprechauns". As the production supervisor that was very satisfying. Then of course publishing "Dragons in the Clouds" is a tremendous achievement for me personally.
Which writers inspire you?
Rod Sterling is a big influence on my writing. His television show "The Twilight Zone" captured my imagination. Also, Charles Dicken's A Christmas Carol, to this day, has a place in my heart. And Dean Koontz's books are fabulous. Gotta love them.
Writing is stressful at times. How do you relax your mind?
I do not ever consider writing stressful. If you are talking about "writer's block", I simply put down the story and carry on with other things while constantly thinking about what needs to be done to make the story better.
Sometimes a great arch or element will come to me and I have no problem, changing or adding to the story. The story is what matters not me.
What is your favorite motivational phrase?
"When the going gets tough, the tough get going" (I know, what a nerd)
What advice would you give to your younger self?
Trust in your own abilities more, to always work hard. Also to trust your instincts more. Intuition is very powerful and accurate. Believe it or not.
What books do you like to read personally?
For entertainment I like adventure books, paranormal books are fun.
What are you reading currently?
Currently, I am reading self-help, writing improvement tools, and motivational books
If you could have been the original author of any book, what would it have been and why?
Charles Dickens "Great Expectations" I would like to rewrite the ending.
What made you decide to sit down and actually start writing something?
I have always had a creative side, and I thought I could write better endings to movies I watched.
Do you have a special time to write or how is your day structured?
I like writing at night, in midnight hour. When things are quiet. I begin with treatment. A 20-page summary. This is where I work out a plot and main characters.
What is the hardest & the easiest thing about writing?
I would have to say original ideas and then plot. Coming up with original ideas that people haven't seen a dozen times already is the most difficult part of writing.
What is the reason you write for; is it for the readers or your own self or some other thing?
I feel I have stories that are original and compelling. Stories people will relate to and enjoy.
Dragons in the Clouds by David Blair
Dragons in the Clouds is an adventurous fantasy story primarily for meant for 8 to 12-year-old kids. But, the story is finely crafted to keep the reader engaged no matter the age.
The story is set in a fantasy Kingdom of Aliban where there are dragons, magic, and a lot of action going on. The King orders to kill all the dragons before they kill the people of the kingdom. But, a wizard helps dragons to escape above the clouds.
The protagonist is a young boy who befriends a dragon and finds himself caught between the King's order and the battle between two species of dragons.
Coming Soon: Full Review of Dragons in the Clouds by David Blair.
Now, its time to know about David's debut book as he shares his experience while coming up the idea as well as his future plans.
What draws you to the Fantasy Fiction genre?
The broad world of imagination. You can make anything possible. In the beginning development of "Dragons in the Clouds", I was working on a story based on "Puff the Magic Dragon". As my story evolved, a unique original element came to me. Changing the entire concept of my dragon story.
What should a reader expect from this book?
They can expect the ride of their life. There are Dragons, a lot of action, magic, hope, battles, villian, hero's and so much more.
In what ways do you think 'Dragon in the Clouds' would be loved by children?
A relationship between a young boy and a young dragon. Much like a boy and his dog is the main driving point of the story. They communicate through a rough type of sign language. Also, I bring the excite of lightning and thunder. Lightning strikes are actually dragons blowing fire. And thunder is a dragon's roar… How exciting is that!!
How difficult is it to write a grappling fantasy story for younger kids?
Keeping in mind that the story had to remain age-appropriate and at the same time keeping it exciting for the older crowd was like walking a tight rope.
Any special experience about this book that you would like to share.
"Dragons in the Clouds" originally started out as a story about the song "Puff the Magic Dragon". I had always loved that song and I thought it would make a great story.
As I was creating the story based on "Puff".
I had lunch with the hairstylist for the movie producer Kathleen Kennedy. We talked about my dragon project. Then about a week later, I read in the industry magazine "Variety" that Kathleen Kennedy had brought the rights to "Puff the Magic Dragon".
So there I was with a concept with nowhere to go. Then one day in a store with crystals and incense and such. I picked up a pewter statue of a Dragon.
And with minutes the entire bases for "Dragons in the Clouds" came to me almost like magic.
Future Plans
What are your ambitions for your writing career?
I have other finished stories I would love to publish. I am just as proud of them as I am of my Dragon story. Hopefully "Dragons in the Clouds" put me on the map. My ultimate ambition is to make a living with my writing.
Are you working on your new project?
Currently, my focus is on marketing "Dragons in the Clouds". Getting the word out is all that matters right now.
What will be your next book about?
I have a contemporary crime called "Meaner than the Devil" I am hoping to publish in 2020.
What does success mean to you as an Author?
Honestly, paying the bills, maybe a vacation here or there. Maybe seeing your book on the silver screen would be a true success. But right now, the results I am experiencing on is success enough. 5-star reviews are inspiring to continue and to see what happens.
Where can you see yourself in 5 years' time?
We will have to see. I will keep pushing forward no matter what happens. Stay tuned in.
Your opinion about Vowelor.
I think they are professional and very thorough. I look forward to big things and am very positive and upbeat about getting involved with the company.
Are you also an author? Get your book featured on Vowelor now!