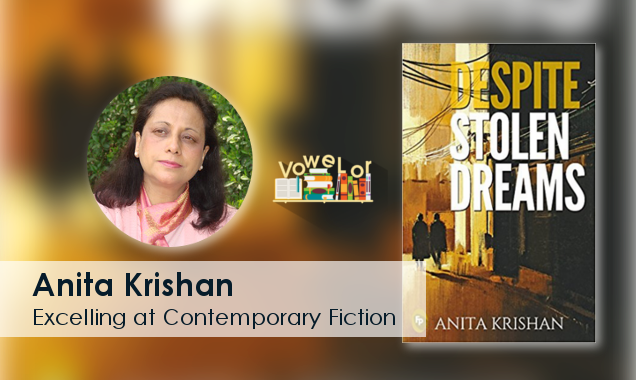 Authors make a world between the pages of a novel. And when that world gives you a reality check on how life is being in that world, it makes up for an excellent contemporary fiction. In past, Indian authors like Arundhati Roy and Salman Rushdie have penned down such marvels.
Today, we are introducing an author who is excelling at contemporary fiction. She is Anita Krishan, a 60-year-old author from the beautiful valley of Shimla. Anita has written four novels and has made a mark among the readers as well.
About Anita Krishan
Anita Krishan was born in 1955, in the pristine hill station of Shimla, written and pronounced as Simla those days. She stayed there for the next 23 years of my life, attending school, college, and university… until she got married.
As the youngest of her parents' four children, born in an era not yet invaded by electronic gizmos, her childhood memories are of a simple, secure and blissful life under the guidance of my doting parents.
Without further ado, let us take you to the candid conversation we had with Anita Krishan and know more about her as a person and her books.
What were you like at school? Any childhood memory you would like to share.
I was a lot into reading; in fact I devoted more time to my fiction books than to my course books. But then, unlike present-day schooling, the study pressure was missing, so, I did pretty well in school.
I loved exploring the oak and pine forests of those silent hills that surrounded my house, trying to find adventures akin to the characters of my mystery books. I didn't solve any mysteries, but did encounter adventures, which are now, along with my other cherished memories, stored in my book 'Fluffy and Me'.
I also fondly remember the winter holidays, with the landscape outside covered with a thick blanket of snow, as we would sit around the fire listening to my parents narrating us tales from their lives' experiences. My flair for storytelling perhaps developed from there.
What are your Qualifications?
I graduated in pure sciences and moved on to complete my postgraduate studies in English literature.
What is the biggest achievement till today?
To have held my first published work, like I once held my newborns in my arms and felt so blessed. Both the times, it felt like miracles.
Which writers inspire you?
Ruskin Bond, Somerset Maugham, Irving Stone, Amitav Ghosh . . . to name a few. There may be much more who might have influenced me without me consciously realizing it.
Writing is stressful at times. How do you relax your mind?
On the contrary, writing is relaxing for my mind. Workload as a teacher was, at times, stressful.
What is your favorite motivational phrase?
Know your worth through your heart, not through what others have to say about you.
What advice would you give to your younger self?
Life is like an obstacle race, and to win it, tackle the obstacles like in a game! So relax! For, tension and pressure suppress the best in you.
What books do you like to read personally? What are you reading currently?
Fantasy and crime do not interest me. Simple plausible stories of life, depicting courage, weaknesses, qualms, misgivings that we often face or deal with as part of our lives and easily relate to, are my cup of tea.
Presently I'm exploring more about contemporary Indian writings; reading the latest books by Chitra Banerjee Devakaruni & Jhumpa Lahiri.
If you could have been the original author of any book, what would it have been and why?Perhaps 'The Agony and the Ecstasy' by Irving Stone. A well-researched and beautifully written book, which I've read twice.
Those were some of the interesting insights about Anita and her personal life. Now, let's have a sneak peek at her new book – Despite Stolen Dreams.
Despite Stolen Dreams by Anita Krishan
Despite Stolen Dreams is written by Anita Krishan and it is her third book. The story is an impeccable journey of tragedy, loss, fear, courage, friendship and most importantly humanity. Anita Krishan is brilliant with the narrative and successful in the hooking the reader to the pages. Read more about Despite Stolen Dreams.
We also asked Anita about her journey while writing this book. Read our conversation with the author herself talking about her book and future plans.
What made you decide to sit down and actually start something?
My first book titled 'Running up the Hill' was a simple attempt at penning down the memories of a beautiful life I had left behind on the mountains. These memoirs are now preserved in a new edition titled 'Fluffy and Me'.
Though the initiation of my writing career had begun well after I had crossed half a century of my life, thereafter, writing became a possession. I have two more books, 'Tears of Jhelum' and 'Despite Stolen Dreams', to my credit.
Do you have a special time to write or how is your day structured?
I write on an impulse. When an idea begins to hover in my mind, I rush to weave it into my story, otherwise chances are that it might fade away and be lost forever.
At my age, I have stopped adhering to a strict routine, have had enough of it. Life is now about watching the beauty of the sunrise, the twittering birds, the rustling leaves, enjoying the pleasant breeze of memories brush past, letting the mind wander in the world of imagination, and sharing my thoughts with the world.
What genre is your book? What draws you to this genre?
My books are fictional/non-fictional literary novels. I like to write about people, their courage, their resilience in the face of hardships, their struggles in the strife-torn world, and the burgeoning problems in our so-called modern world…
What is the hardest & the easiest thing about writing?
The hardest thing is to fish out a relevant idea from the ocean of my imagination to weave my story around. Once the idea takes shape, writing gets easy and smooth.
What is the reason you write for; is it for the readers or your own
self or some other thing?
Writing is a hobby for me. Also, it's about sharing and dispersing my beliefs and thoughts – leaving a legacy behind, and, an effort to bring about a change in the world that's being slowly torn apart by fundamentalism.
What makes 'Despite Stolen Dreams' to stand out? What should a
reader expect from it?
'Despite Stolen Dreams' is not only about depicting hardships the common man faces, but more about the strength in him to move on despite the tragedies of life. It's about seeking the bright light of positivity when darkness of negativity has engulfed it all, a ray of hope when despair has gripped life in its murky cocoon.
You have written two books set in the Kashmir Valley. Any special
reason behind it?
I grew up listening to stories of the times when Kashmir was facing worst kind of religious intolerance during the Afghan, Ahmed Shah Abdali's rule. My ancestors braved the rough mountainous terrain and harsh weather to escape the barbaric atrocities and execution, to migrate to a safe haven, the valley of Chamba, which was an independent kingdom then. This was almost two hundred years ago.
In 1989, the history was repeating itself. Kashmiri Pandits were once again the target of insurgency in the valley. The mass exodus of more than three lakh Kashmiri Pandits and their transition from riches to rags overnight was a matter of grave concern. I began to wonder why this beautiful land was being repeatedly soaked in blood!
There was the usual media hoo-ha, but some victims went unnoticed by the most . . . those Kashmiri Muslims who had dared to raise their voice against the injustice. Many fell victims to the merciless guns of the terrorists. It was then that I decided to give them a voice. The result was the published novel, 'Tears of Jhelum', the prequel to 'Despite Stolen Dreams'.
Any special experience about this book that you would like to
share with the readers.
In 2004, when the rudiment idea was floating in my mind, I visited Kashmir with my husband. The outward calm rendered us daring and we explored lonely areas absorbing the beauty of the paradise. A day later, a young engineer helping to lay Srinagar – Baramulla railway line, and his 18 years brother visiting him, were abducted from near the same area and beheaded.
This incident, apart from shaking me, increased my resolve to represent the tragedy of Kashmir.
Future Plans
What are your ambitions for your writing career?
To reach my voice to the maximum number of people.
Are you working on your new project? What will be your next
book about?
Shimla has always been rife with spooky tales. The lonely mountains, deserted forest paths, dark shadows, may set any mind to run into imagination, or hallucination. But, many people I have known personally, claim their experiences with the supernatural to
be true. That's the aspect I am exploring in my next book.
What does success mean to you as a Writer?
At the initial stage of my writing, I began to daydream about winning laurels and awards. But as time passed I realized how difficult it is to even get your book noticed. It's not about writing a good book; it's about proper marketing that involves a lot of money, the skill and means that most writers lack. As a result many good books get buried into obscurity.
So, I think, to have your book noted and appreciated by a large number of serious books lovers mean success.
Where can you see yourself in 5 years' time?
Happy, contented, peaceful!
Your opinion about Vowelor.
A wonderful platform to exchange ideas & dialogues between the
writers and readers.
Where can the readers connect with you directly?
You can Anita Krishan and connect with her on Facebook, Twitter, and Linkedin. Also follow the official page of the book Despite Stolen Dreams.