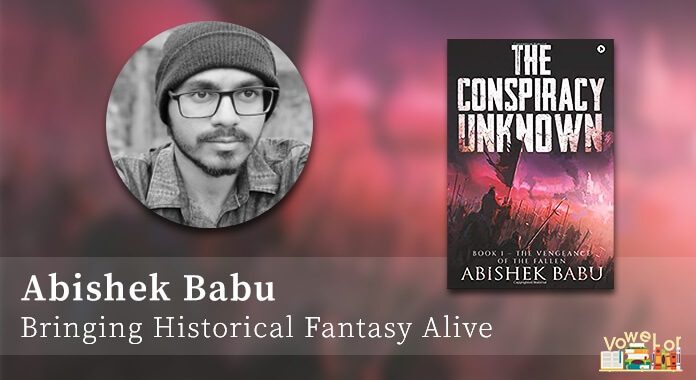 Every book lover is in a quest of books which transit them to some other world. And, I think fantasy fiction is all you need! It is one of the most loved genres which lets you escape reality and you find a little abode in the world which never existed yet so real.
Introducing you to one of the creators of such interesting fantasy tales, Abishek Babu, the author of The Vengeance of the Fallen.
Here is the glimpse of my candid chit chat with him about his debut novel and the first book of the series The Conspiracy Unknown.
Author Abishek Babu's life and his thoughts on Writing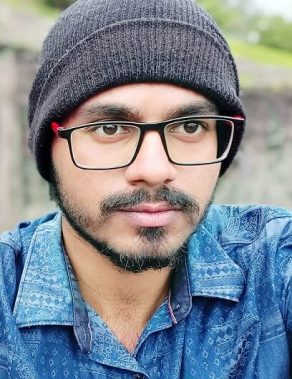 Born and brought up in the typical Indian family from Sivakasi, Tamil Nadu, Abishek is a 24-year-old certified civil engineer turned author who is quite enthusiastic with his book debut.
The Vengeance of the Fallen by Abishek Babu was recently launched and made its way to the TBR list of many book lovers.
To begin with this interview, Abishek told me about his childhood. He said, "I am a silent kid. I observe everything and everyone and I keep silent!".
And now when I ask him to give advice to his younger self; very naturally these sentences flowed out of his mouth.
Hang in there buddy! Life will be hard. But still, you gotta hang in there. It ain't gonna become easy and all good all of a sudden.
You face and solve one problem just to give birth to another. You'll be making a lot of mistakes. I regret some. But you gotta survive those moments. Those moments will shape the person who you'll become in the future.
I think you'll hate me. Yeah, you will. But here's a secret, future is something that you make. Choose whatever path you want to take. Do as many mistakes as you can. But learn from it!
When we asked him how he managed to take time out for writing, he said, "Every available free time was a special time to write. I had my college classes in the morning (I would sit in the last desk and write this story) and I would write at night till 1:30 or 2:00 am."
It is rare to find an author who thinks writing is the easy part. Believe me, my eyes were wide open on this.
I asked him what is the hardest part of writing for him?

The hard part is editing, finding a publisher (accept rejections), marketing the book which comes afterward.
His answer was approved by my subconscious nodding.
It took 2 years for Abishek to write The Vengeance of the Fallen, so it was mandatory to ask him about his techniques to overcome writer's block.
Author Abishek's tip for overcoming Writer's Block
"I write well for 2 days and I get stuck for 7 days. It would be hard and I would start to feel guilty for not writing. But over the course of time, I've learned to accept it! I would use those times thinking about further storylines and plots. I would read books, watch TV series or movies during this time!"
Writing a book is no cakewalk. So, I asked him what do you do when writing itself seems stressful? He replied with his bright shiny eyes, "Music! Nothing relaxes me like my playlist. I have a variety of songs in all genres and in all languages."
Also, we have discovered another talent of the author.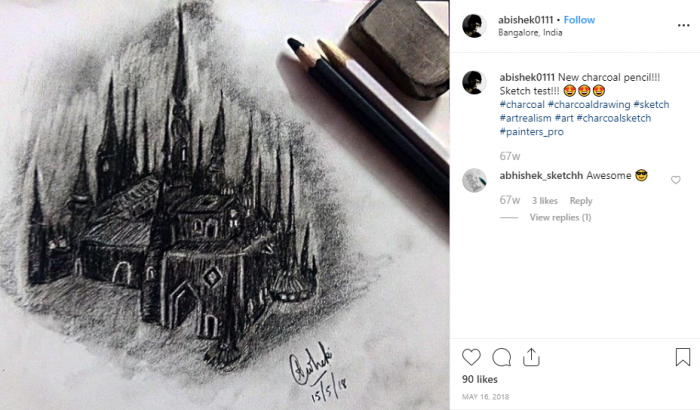 There are many more sketches by Abishek on his Instagram profile. You can go and check his more amazing sketch images.
Inspired by writers like JK Rowling, JRR Tolkien, Stephen King, George RR Martin, and Amish Tripathi, our young author Abishek Babu believes that his biggest achievement to date is publishing The Vengeance of the Fallen.
I asked him what kept him motivated throughout this journey of writing a book. In reply to it, he told me a quote
"Not all who wanders are lost!".
This is what kept him moving and eventually led him to the successful publishing of the first book of The Conspiracy Unknown.
It's every writer's wish to re-write the original story. Actually, if you are a writer you can't help it and think about how you would have made the story more compelling for readers.
Abishek Babu says, "I wanna be the author of 'A song of ice and fire'! God, I would at least release a book for every 3 years so that D&D wouldn't get a chance to spoil it as they did."
The Vengeance of the Fallen by Abishek Babu
Here is a blurb of the book for you.
The Vengeance of the Fallen is about the battles between the Anndas and group of revolutionaries. This battle was fought fifteen eons ago resulting in the victory of revolutionaries, who then chose Ragupta Moriya as their king.
After the defeat, Anndas were forced to find shelter in the forest and lived like nomads.
But after fifteen years, another battle a plot was made to overthrow the rule of Ragupta Moriya. Dr. Sebastian Stein finds himself in danger after 2300 eons. He was pursued by a mysterious man but was saved by his father's old friend.
Read this book to know who is pursuing Sebastian? What did actually happened when Annadas attacked last time on Ragupta Moriya?
Know what Abishek has to say about his debut novel
The Vengeance of the Fallen is fantasy fiction. Despite being a debut book, this epic gives many good fantasy novels a run for their money.
Abishek loves the idea of story creation and finds it amazing to see characters grow in the created fantasy world.
The author says that he treats his first book like his first child and like all parents, he wishes to see it grow and be successful.
When I asked him what makes his book stand out and what readers can expect from it, he was all excited to answer it.
He said,
"People who love complicated stories and complex characters would enjoy my book! "The Conspiracy Unknown Book 1: The Vengeance of the Fallen" is the first installment of a huge fantasy epic."
He thinks people love reading about otherworldly conflicts. And, the living proofs to this are Star Wars, Lord of the rings, Marvel cinematic universe, The Game of Thrones.
Readers can expect a great story! I have inserted a lot of real-life incidents in my book. So the readers can expect a lot of Easter eggs hidden in the story! he adds.
You know, success has different meanings for different people. As I talked to this young author, I found how success can be measured in such a kind and loving gesture.
Abishek Babu believes that success to him is when a stranger messages you out of nowhere, on Facebook or Instagram or through any means of communication, appreciating the story of your novel then that moment can be celebrated as a success to him.
The author plans to write and complete the full series in the next 10 years. But currently, he is more focused on the marketing of The Vengeance of the Fallen.
He assures that he will start his next book by the month of November. Though, in the next 5 years, he will become a full-time writer who would tell the story to school kids.
With these admiral plans, we ended our conversation on a happy note. You can reach out to the author on Facebook, Twitter or Instagram and discuss his book and sketching. (he will love it)
Here is what Abishek Babu has to say about Vowelor.
I've known Vowelor since the day I started writing. And for a record, I found so many nice people and friends from this group. For that, I'm thankful!
Are you also an author? Get your book featured on Vowelor now!