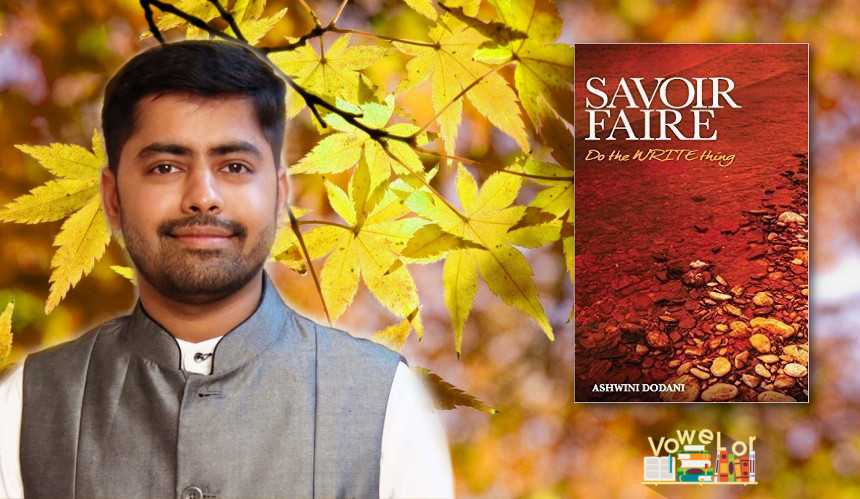 Fiction has been a major in the world of literature since the beginning. While others forms are no less, but poetry is something that is actually a whole novel condensed to one page. Most authors believe that poetry is the hardest yet most joyous form of literature. In Indian landscape, we rarely find poets getting published and today we are featuring one such poet, Ashwini Dodani, the author of Savoir Faire, under our ambitious campaign Vowelor Featured Author Program.
Savoir Faire by Ashwini Dodani is a collection of forty poems expanding from the small moments and experiences that the author has over the period of more than half a decade. Ashwini Dodani opened his heart and talked to us about almost everything he has to share. Before you jump on to the honest conversation, let's know about Ashwini a little more.
About Ashwini Dodani
Ashwini, 27-year-old Mechanical Engineer turned Poet, was born in Ahmedabad, Gujrat in a usual middle-class family. From the childhood days, Ashwini was imparted upon with moral principles of being kind, helpful and honest. His father runs a small business of clothing in Ahmedabad, and his mother is a happy and loving housewife. He has an elder sister who is married since 8 years now and works as a Team leader in a leading software firm.
Ashwini Dodani is an MBA by qualification, Social Media and Branding guy by profession and an optimist with a liking for words. As a professional in digital and social media, He has constantly observed, handled and created content for brands across categories. When he's not creating awesome content for the internet, you can find him usually reading non-fiction books, learning guitar, exploring newer music artists or penning down his thoughts.
Quite an interesting personality. Now let's move right to the conversation we had with Ashwin Dodani where he uncovers his personal life, his love for poetry and most importantly his experience on publishing his debut collection, Savoir-Faire.
What were you like at school? Any childhood memory you would like to share.
I was that silent kid in the school, doing his study and homework. Not having too many friends as a group, I used to have one or two close friends but no meaningless or only hanging out with group of friends. My childhood was a very basic one, school to home to tuitions to a little time spent playing games on the society ground like football or cricket.
What are your Qualifications and where have you studied?
I am a B.E Mechanical from Gujarat University and PGDM – Marketing from Shanti Business School, Ahmedabad.
What is your biggest achievement till today?
I strive to do a lot of things at once, at some, I fail and at others I keep getting further direction. I think writing and getting published has been the biggest till now.
Which writers/poets inspire you?
I love poetry so my favourite authors consist of Rumi, Pablo Neruda, Shakespeare. One of my favourite writers is Robin Sharma, his book Who will cry when you will die? Changed my life.
Writing is stressful at times. How do you relax your mind?
I have always taken writing as a release. We all do face a writer's block at times but it has never been stressful to me. It has always helped me. It is one thing which relaxes my mind after music.
What is your favourite motivational phrase?
I write my own motivational phrases 😉
"Ink helps you float when emotions drown you."

~ Ashwini Dodani
"The right time always comes with a lot of time spent being patient."

~ Ashwini Dodani
"Save yourself. Be your own friend. Love your family. Take support. Extend help. Be calm. Exercise humility."

~ Ashwini Dodani
What advice would you give to your younger self?
For all the times you freaked out, just take it easy, it is all for your own betterment.
What books do you like to read personally? What are you reading currently?
Non-fiction and poetry takes up all my time. I am currently reading "Selected poems by Sylvia Plath"
If you could have been the original author of any book, what would it have been and why?
It would be "Who Will Cry When You Will Die?" because I resonate so much with the philosophy it communicates and the recommendations it lends to our generation.
What made you decide to sit down and actually start something?
I have been writing for 6 years now and I have been getting a lot of praise, suggestions and encouragement to write my own book. I think it was high time to compile my poetry over years and get published.
Savoir Faire by Ashwini Dodani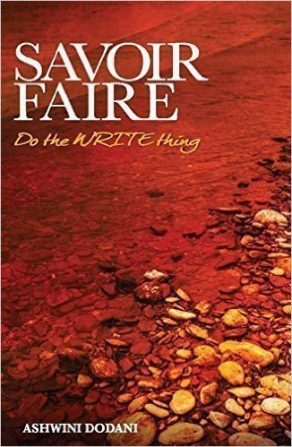 Savoir Faire by Ashwini Dodani is the first collection of poems by the author which consists forty poems embracing into various situations of life. Each poem has a small story to tell and the best part is when you can relate to almost each one. There are a lot of instances where the reader would feel so personal and so home.
In his debut book, Savoir Faire, Ashwini has compiled this collection over half a decade of his writings. This not only makes it special but also makes is diverse. The poems featured in Savoir Faire encompass from love and beauty to destiny and loss. Not only that, there are poems written in abstract mood that will show you a different perspective of things happening around one in day to day basis.
Do you have a special time to write or how is your day structured?
Not really. It just has to strike my mind. It is my personal experiences most of the times and sometimes it is all abstract, say writing about a dustbin to clouds to hills to just a small girl dancing.
What genre is your book? What draws you to this genre?
Poetry. I am a diehard fan of poetry since the time I remember writing my first poem, like a try on getting to write a poem. The mere sound of the flow of the emotions in a poem draws me to the same. People say that only sad people write poetry and my destination is to break this myth. It's not true. People who actually love to express what they feel are poets. People who can articulate their deepest experiences are poets.
What is the hardest & the easiest thing about writing especially poetry?
Hardest – You need to get over rhyming. It's not necessary. Poetry is beyond rhymes.
Easiest – It's about how you feel, you can write pages at once about what you have gone through so the ink just flows.
What is the reason you write for; is it for the readers or your own self or some other thing?
I write to express myself and my experiences. Some can relate to the core of it while others clap at the sound of it. Never have been confined to the reader's perception. I be myself and others just relate.
What makes 'Savoir Faire' to stand out? What should a reader expect from it?
Savoir Faire is purely human. It is a compilation of emotions which we all go through at different stages of life. As you turn the pages of this book, you will see a mirror, you will see your own story too. You can expect a plethora of instances of your own life through these verses. That should make you feel home.
Any special experience about Savoir Faire that you would like to share.
It is my first published book as an author, it is very special to me. Every page of it is my experience. When I was compiling these poems, there was this butterfly in my stomach to just think about how it will look on the pages of a published book.
When I received the first fresh prints of the book, I was alone at my home. When I touched them for the first time, I danced, I cried, I kissed the book.
It is not just a book, it is a collection of heartfelt experiences. It is beyond rhymes. It is beyond poetry. It is beyond story of a normal human being. It is love. It is life. It is an emotional journey.
What are your ambitions for your writing career?
While I am at poetry, I want to go beyond and make a collection of my thoughts, short writing. Like tweets. Tweets come out very upfront and on the go. It describes your state of mind. I want to make a collection of such thoughts and experiences.
Are you working on your new project? What will be your next book about?
Not as of now but always thinking about it. Next book or any other number of books I write, will always have emotions and experiences.
What does success mean to you as a Writer/ Poet?
Success to me as a Writer/Poet is being able to touch human lives and make them feel home. Even if 10 people come back to me and say, this made me feel I was you, my mission is accomplished.
Where can you see yourself in 5 years' time?
Probably checking out my e-mail from a lot of publishers approaching me to write for them. Not being over proud. 😉
Your opinion about Vowelor.
I think it's a beautiful platform for literature lovers to connect, meet and share their opinions on reading, writing and expressing. A lot of writers need such platforms to come showcase their talent and Vowelor is one of them. Good Luck.