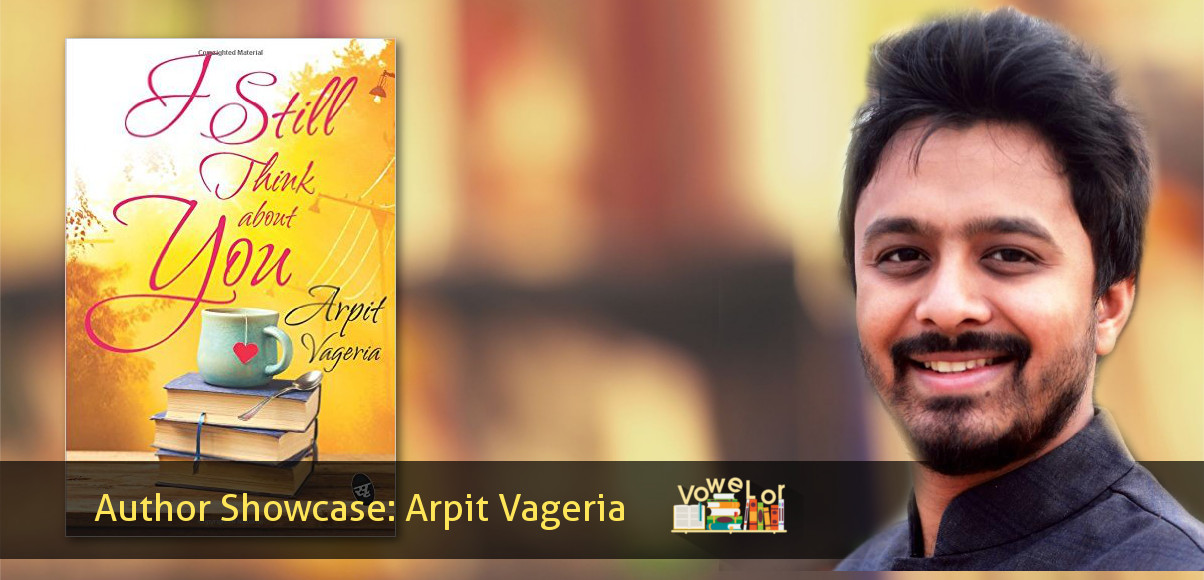 Guess whom we have featured on this week's Author Showcase? Its Arpit Vageria himself, the author of bestseller novel 'Chockolate Sauce – Smooth, Dark, Sinful'. And now he's back with yet another love story – I Still Think About You.
Excited? Yes we are too.
For those who haven't heard of him (where were you?  Moon?), Arpit Vageria is an applauded author from Indore, now living in Mumbai, who wrote his first novel in 2012. After getting into CA and MBA, he found his passion in the magic of words. His debut novel '
His debut novel 'Chockolate Sauce – Dark. Smooth. Sinful' became a sensational hit, especially among the youth. After four years, he has brewed another love story – I Still think about You –  with lot different elements for every kind of reader. His third novel is already in the pipeline which is going to be about a writer's life and struggle.
We had a tell-all chat with Arpit where he revealed a lot about himself, his latest novel – I Still think about You and his future plans. Get to know him and his stories to the core as he answered our questions candidly.
Please introduce Arpit Vageria to your first-time readers.
Arpit Vageria is a dreamer, I came from a small city, I mean not small but also not as big as Mumbai. I am from Indore then I spent a part of my life in Pune and then eventually I came down to Mumbai. I am someone who dreams a lot; So I am someone who came from different backgrounds and after trying my luck in CA and MBA, I finally decided to write. Now, I write books, Television shows and Award functions.
I am someone who is trying to live his own dream.
From CA & MBA, a turn towards writing? How did this wonder happen?
From the moment I started my preparations for CA, I always wanted to fail in the same. Yes, It sounds weird and fanatic but trust me, I knew that I am not made for this. Later on, I did MBA and realised that I want neither of the jobs that are offered to MBA student. Reading & writing was going parallel with each other and it is only when my first novel Chockolate Sauce-Smooth.Dark.Sinful released I realised I should explore more forms of writing and that's how I started writing more novels, television shows and award functions as well.
After Chockolate Sauce, what should we expect from I Still think about You?
I Still Think About You is not only a love story, It is a sacrifice story, romance, brotherhood and a question that stays in your mind throughout the entire story is- How far would you go to win back your lost love?
Many times we forget about other important relationships of life while writing a story and I have tried my best to cover the bonds I think are important
Let your readers know more about 'I Still think about You'.
Aamir has never met anyone who understands him better than Anvi. But her passion for investigative journalism scares him no end. She is calling while reporting from a crime scene and promising to switch to anchoring when he hears a gunshot. Will she be able to fulfil her promise? Dhruv can do anything to please Vratika, for he seems bound to her for life.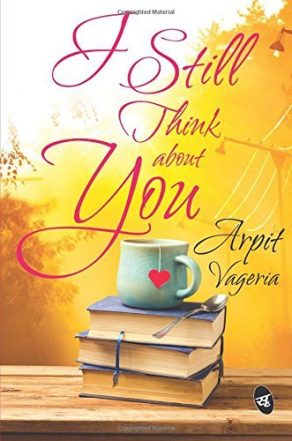 They have been going steady for a while, and he feels she brings smiles and light to his life like no other. Can one misunderstanding, in a moment of anger, finish it all? For Aamir, little Dhruv is the best gift life has given him. More than just brothers, they are the beginning and end of their family. After years, struggles and pain are slowly fading away in the face of happier times.  But one phone call changes their entire life.
Life throws Aamir and Dhruv in a vortex of pain, loss and guilt. While Dhruv wanders for redemption, he meets Sachi. She reads his heart, soothes his soul and brings him face to face with his real self.  I Still Think About You is a story of love, brotherhood, passion, dedication, pain, and the depths to which a heart can go to win back lost love.
You took 4 years to get your second novel in the market. Any particular reason to make your readers wait?
I was writing many stories in the meanwhile but I wasn't publishing it because I wanted to be sure of what I was publishing, I Still Think About You took me about 2 years and as I finally edited it myself, I knew that this is going to be my Second Novel. As a writer, you need to get those vibes and I got it through ISTAY.
Do you think reading is a necessity for Writers? Which book / eBook are you reading currently?
Its very important. Its like net practice before the World Cup Final. The more you read, the more you're informed and well versed with different genres and world. Currently, I am reading short stories by ROALD DAHL.
What advice would you give to your younger self as a writer today?
Write daily, Make it a target. Trust me, Youll eventually write better than the previous day.
What / Who has been holding your hand in this journey of being a published author?
My family, friends & of course my readers. They've the rope of my journey in their hands. It is important that I keep pleasing them with my work so that they never throw me down in the valley of mediocrity.
Do you ever have a Writers Block? What motivates you to get out of it?
Like many writers, I too sometimes just stare at my laptop and feel bad that I am not able to do anything about it. When I am not able to write, I read books, watch movies and travel. Take a break completely and I am lucky enough to get back on track mostly within 5-7 days.
Do you work to an outline or plot or do you prefer just to see where an idea takes you?
I decide the story plot and its end first. It helps me to not get distracted. Many times you get distracted because you love a character more than other ones and you somehow wants to brighten that character even more which might or might not be in sync with your storyline.
You've been writing for long. What is the one thing you want to write next?
I have already started working on it, Everyone asked me- How does it feel to be an author of two bestselling novels and I thought of writing a novel upon a writer's life.
And let the world know that how different a life of a writer is from everyone's imagination. That's going to be my third novel.
If you could a chance to rewrite any book by other authors, which would it have been and why?
I would love to re-write The Fault in Our Stars by John green. That's one of my favourite novels and giving it a country touch will be fun to read.
Which actor/actress would you like to see playing the lead character from your most recent book?
Dhruv- Ranbir Kapoor
Aamir- Fawad Khan
Sachi- Shraddha Kapoor
Anvi- Tapsee Punnu
A tip to budding authors from Arpit Vageria himself.
Do not get fascinated by fan following of existing writers because somehow it will harm you in the quality of your writing. You should start writing only if you have that love and passion for writing. You cannot just come and write down your thoughts on a daily basis because sometimes it gets too tidy and you start hating yourself.
So, you should read a lot, make yourself more educated and if you have that feeling in yourself, write it down and be patient.
Your opinion about Vowelor.
Your website looks exciting, Very interesting content. I wish Vowelor to be one of the big things to come in near future. Best wishes!
Readers… thats a lot for you… What are you waiting for? Grab your copy of I Still Think about You today!