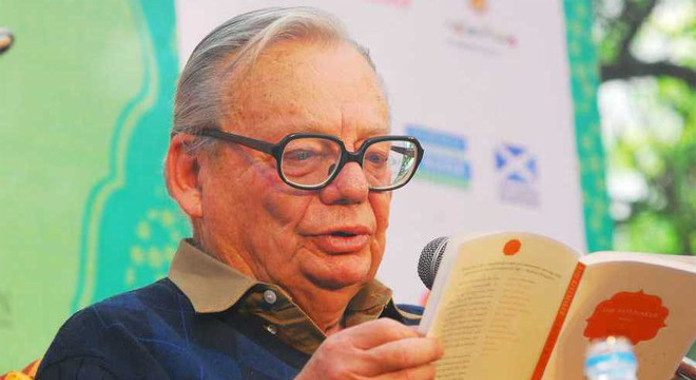 Ruskin Bond books, as we all know, mostly feature stories drawn from his childhood Indian background which are easily relatable to Indian readers. Being an English by origin, Ruskin Bond has been one of the most favorite and celebrated authors whose works have stood testament beyond time.
Ruskin Bond's list of books and short stories have never failed to make an entry in Indian prose lessons. Most of the books written by Ruskin Bond are bestsellers, some of them have won prestigious awards and many more are adapted to short films, TV series and full-length feature films.
In this article, we will have an overview of the famous books of Ruskin Bond, thereby revisiting some of our school day prose memories.
For More Information on Ruskin Bond please look into Wikipedia.
List of books by Ruskin Bond & Short Stories
Here's the list of all books written by Ruskin Bond along with his popular short stories that you cannot miss reading.
Last update on 2020-03-20 / Affiliate links / Images from Amazon Product Advertising API
1. The Room on the Roof
Room on the Roof is the first book by Ruskin Bond. It features a young and lonely English boy, Rusty, who boldly abandons the clutches of his stern guardian and goes on to live his life with his gang of friends.
All through this book, we see India, its customs and its diverse culture from Rusty's narrative.
This novel revolves around Rusty in the ever misty Dehradun backdrop. With the help of his friend, Rusty lands in an English teaching job in exchange for food and a 'Room on the Roof', where he falls in love with the young and beautiful Meena who is his student's mother.
Meena loses her life in a car accident and our lonely Rusty resolves to go back to Britain, however, the novel ends with an unexpected but happy ending where the student and teacher reunite and return home.
Why you should read this book: This Ruskin Bond book explains complexities of relationships in such a simple and easy way and justifies the benign love and affection bondages which is true to the soul of every human.
2. The Blue Umbrella
This novel revolves around Biniya who lives with her mother and brother in a small hamlet in Himachal Pradesh.
Biniya gains possession of an admirable Blue Umbrella from Japanese tourists in exchange for her bear claw necklace which is considered as an auspicious mascot against ill luck. Through this exchange, Biniya gains the wrath of her mother and jealousy of the villagers who are astounded by the exquisiteness of this umbrella.
Among the villagers is the cunning shopkeeper Khatri who wants to possess this umbrella by all means and seeks the help of his worker Rajaram in exchange for his of an increment of salary.
They succeed in the act and Biniya is found heartbroken to have lost her umbrella. Biniya alleges Khatri for stealing the umbrella and Khatri vehemently opposes the blame and challenges to own a similar Umbrella soon.
How Biniya proves Khatri of the stealth and whether she regains possession of the Umbrella is the remaining plot of the story.
Why you should read this book: Though it's all just about an "Umbrella" never once while reading it we feel the same. The Umbrella becomes as important to us as to everyone in the village.
3. Delhi is not Far
The third one in the Ruskin Bond books list is Delhi is Not Far. It is based in a small village called Pipal Nagar and the story revolves around the lives and complexities of youngsters in this village, each of whom is on their individual struggle for sustainment.
Arun, a careworn small writer, is the protagonist in this story and he writes Urdu thrillers. Arun sequentially falls in love with Kamala who is a prostitute and is married to a man much older than her.
Being a writer Arun always dreams about his breakthrough and foresees a blockbuster through his writing. Along with Arun lives Suraj who is a homeless orphan and often lighted as Arun's pal. This story showcases how relationships become the basic necessity for survival leaving behind every other need.
Why you should read this book: Intricacies in small lives are engaged in detail making us move through the story and emote for each character.
4. Rusty: The Boy from the Hills
This book takes us through the adventures of Rusty, who lives with his grandparents in Dehradun. Ruskin's narrative through Rusty captivates us and makes us visualize the surroundings and explorations of this imaginative young boy. This book passes through Rusty's growing up years in Dehradun with a casual allusion and citations of Dehradun's naturist beauty and seasonal changes here and there.
Why you should read this book: When we read this book by Ruskin Bond we can only see Rusty as the younger Ruskin who has actually lived through these ordeals.
5. Time Stops at Shamli and Other Stories
Time Stops at Shamli and Other Stories is a delightful compilation of short stories by Ruskin Bond. With a tinge of nostalgia, these stories each have a strong aura and are self-narrative. This book is light-hearted read with assorted stories which give utmost importance to what we may think are some insignificant things in life.
The title story being the best amongst the rest in the book forgetfully catches us and makes us travel with Ruskin Bond in his journey.
Human emotions are twined beautifully along with nature in every story and that's the simplistic beauty of this compilation, well it could even be the tagline for this book.
Falling in love with one story after another, we quickly realize how much the author himself would have admired and absorbed mother nature to present each and every aspect of her so beautifully.
Why you should read this book: The assortment comprising of a mixed bag of genres such as romance, horror, mystery, nature, and faith is an easy read with Bond's ever loved simple writing.
6. Roads to Mussoorie
Roads to Mussoorie is another Ruskin bond book where he recollects all his memories of his most favorite home Mussoorie.
Over the forty years of him knowing Mussoorie, this book describes all his journeys towards Mussoorie, and this is what makes us feel that wherever the author trails his heart falls back to this home.
As always, his simple writing style and his close association with nature are followed in this book as well. However, what's different is it's his own memoir packed with anecdotes and his endearing experiences.
Why you should read this book: Colossally nostalgic and vastly funny and enjoyable with Bond's perspective of all details on life.
7. Our Trees Still Grow in Dehra
Another popular Ruskin Bond short stories book is Our Trees Still Grow In Dehra. For this book, Ruskin Bond got his Sahitya Academy Award.
Being a compilation of 16 short stories spanning over 100 pages seems like a quick read in the forefront. However, each story inside the book has a complex emotion as the reigning backdrop.
Emotions such as loneliness, friendship, remembrances are all dealt with Ruskin Bond's writing style which as always never misses out on combining emotions with ever lovable nature.
This book I would say is the maestro's masterpiece irrespective of its size and length.
Why you should read this book: This book is worth every penny spent on it and Bond here touches our heart with his magic wand of timeless writing by showcasing small things that all make up life.
8. The Night Train at Deoli and Other Stories
The Night Train at Deoli and Other Stories is an assortment of 30 odd striking short stories by Ruskin Bond. This compilation of stories is guileless, gratifying and very emotional which directly transports us to lands of Dehradun and Mussoorie.
The title story, 'The Night Train at Deoli' is the about a boy who falls in love with a girl at first sight on the platform of Deoli station. His impulsive quest for her narrates the remaining plot of the story.
'A Guardian Angel' tells the story of a boy whose mother is a prostitute and how she means a world to him and becomes his 'guardian angel. 'The Monkey' is a distinctive Ruskin Bond classic which leaves the readers laughing at split ends of horror.
This collection of heart touching stories again about small people in small towns living their small lives but each having an intricate story of their own.
Why you should read this book: Another cozy bunch of Ruskin bond stories each with a different genre but on the whole a promising entertaining and easy read on any holiday.
9. Rains in the mountains: Notes from the Himalayas
Rains in the Mountains is a mixed bag from Ruskin Bond with some of his essays, poems, stories and fragments of experiences all based on his familiarity with the Himalayas and his life there.
In this book again Ruskin Bond creates the magic, however now more strongly and converts all of us into deep nature lovers. We tend to celebrate every minute detail of nature explained by him and along with him.
The warmth he shows towards nature in his writing clings onto us that wherever we are, we celebrate the Himalayas and try relating our surrounding to the Himalayan beauty.
Why you should read this book: The stories and snippets are not far from being amusing, however, what's even more amusing is the Ruskin Bond poems which are so treatable and breezy to read.
10. A Book of Simple Living
A Book of Simple Living by Ruskin Bond is a compilation of his diary entries in which the author archives all his lively experiences with nature, his friends and all strangers who come by his life and make an impact.
We get to know Ruskin Bond more closely and enjoy his personal anecdotes. All the notes in the diary are simple and timeless and true to the title denote the simple life of our timeless author.
This book again has many experiences of Ruskin Bond's life on the hills and the readers can be assured that this is one timeless storyteller who always writes about nature and every time we read his work we rediscover the beauty of nature in a completely different way.
As we travel through the notes in this book with the author himself we realize that true to his title, through this book he tries to tell us what is necessary to live a content life. We forget our day to day busy lives and stroll in the mountains along with him.
Why you should read this book: A Personal diary of Ruskin Bond published with his personal snippets of prose and poems, again not missing out the battling of a butterfly, rustling of leaves and the song of hill birds, well what more do we need on a rainy day for a cozy read.
11. Maharani
The story of a young, beautiful and widowed Maharani, who lives with her dogs in a sprawling house in Mussoorie.
In this book, Ruskin Bond narrates how "Her Highness" who happens to be our author's friend is utterly spoilt and careless. She has a string of relationships with men all of which she is extremely unconcerned about.
Her habits don't change and her life goes sardonic, however, our Maharani doesn't miss out on her lifestyle and sticks onto relentlessly.
Why you should read this book: An enjoyable and a cynical narration of the Maharani, who in contrast to our author doesn't believe in simple content living.
12. Angry River
This is a gripping book by Ruskin Bond where the protagonist Sita lives in the middle of a river in a tiny island.
Sita's only possessions are her three goats and a tiny hut which she shares with her grandparents. Her ordeals, worries, and reservations narrated by the author, makes us feel for Sita entirely and this is where we wonder how our bare necessities are uppermost of luxury for a lot of people living in our country.
Why you should read this book: This book stands as the best example of Bond's narration, which is known to be simple, moving and most importantly encompassing.
13. Sussana's Seven Husbands
Next one is another famous story by Ruskin Bond which was adapted as a film "7 Khoon Maaf" by Vishal Bharadwaj, this story is a thought-provoking read on how a woman who 'has it all' searches for love but ends up in pain as every man who approaches her has interests only on her wealth.
Why you should read this book: This book's narrative on our Protagonist Sussana is a contrary combination of being bold and beautiful yet going wrong not once but seven times in search of love.
14. Vagrants in the Valley
This book is our author's sequel to "A room on the roof", where the author takes Rusty and his student friend Kishen back into the plot and makes them go through a series of ordeals and adventures, out of which both grow up to become more matured and accountable.
Why You should read this book: Our worries for Rusty and Kishen from the prequel are answered in this book and now we know they are there alive and kicking in the sequel with many new friends.
15. Lone Fox Dancing
Lone Fox Dancing is the autobiography of Ruskin Bond where he takes us back to his roots, his childhood, his schooling, the time spent with his parents, his career and everything we love to know about him and in his own facile writing style.
The choices he made in life are justified with quotable strong memoirs which make us think that definitely, he is 'a man of his word', and presumably a strong one.
Why you should read this book: A memoir of his life and a 'never miss, out for all Ruskin Bond book lovers.
16. Looking For the Rainbow: My years with Daddy
This Ruskin Bond book takes the readers back to his childhood days where he escapes his boarding and comes to live with his father. This story narrates the routines and delights of a lovely young boy who lives with his father only to be tragically separated later.
In this book, the author takes us through his memoirs of initial phases of reading and all the amusing conversations with his father which gave him a delightfully new perspective on details all of which he recollects with a sense of yearning.
Why you should read this book: This is one book where our author vividly and emotionally recollects his memories of his father.
17. Getting Granny's Glasses
Getting Granny's glasses is all about Mani's love and affection for his grandmother who despite her age tends to him and his father.
This book mainly showcases the mutual love between Mani and his grandmother and despite their paucity how the boy ventures to get his grandmother a new pair of glasses.
Why you should read this book: Again a small book about small lives in an appealing narrative which makes us travel along to get granny her glasses.
18. Dust on the Mountain
Dust on the Mountain is one of the latest novels of Ruskin Bond. It is about Bisnu who is forced to leave his village and farm and enter the town in search of a livelihood. This story inches Bisnu's life and adventures in the city, where he meets different people, misses his home, toils with work all the while trying to keep up and earn for his family.
Why you should read this book: Another empathizing narrative by Ruskin Bond on young Bisnu and his ordeals.
What's so different about Ruskin Bond Books?
In his own words Ruskin Bond says "When I sit down to write, I write to enjoy myself. I write what interests me or what is personal to me. I write to inform and educate the readers. Whatever I write, I want to keep it simple, adopting a simple style so that readers could relate to my writing and enjoy the experience."
"I find most people interesting, the dull ones are those whose lives are too orderly or those who are forever boasting of the ease with which they have succeeded in life. Live close to nature and your spirit will not be easily broken, for you learn something of patience and resilience".
True to his words Ruskin Bond's books closely place us to nature and his description and writing style help us envisage the story mentally.
Ruskin Bond's books and works have been part of English prose lessons over many decades we all as the students have had no complaints and probably wished for only more of Ruskin Bond.
While reading a Ruskin Bond book with the story unfolding with every page turned, we are enthralled, captivated and magnetized all at the same time!
Do You also love Ruskin Bond Books? Which one is your favorite? Let us know in the comments section below!