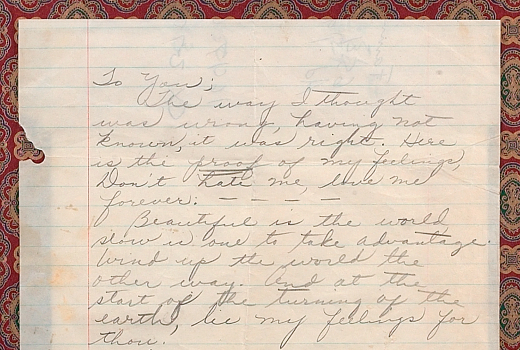 The idea of Love Letters may sound alien to the iPad generation of 21st Century, but, little do they know about the magic of blood ink on the scented paper that has made a million fall in the emotion called LOVE.
Every one of us has their share of beautiful love letters hidden in the old books with a red rose that still reminds you of those days. Haven't you? Don't be shy to say yes.
No Love Letter is ordinary but what it would be like to read the love letters of those who have enthralled us with their romance novels and the poems dipped in pink. Yeah, that will super awesome!
Wait no more. We dug deep and found these love letters from famous authors just for you. After all, we love you too.
9 Most Beautifully Touching Love Letters from Famous Authors
1. Allen Ginsburg to poet Peter Orlovsky:
Dear Petey:

O Heart O Love everything is suddenly turned to gold! Don't be afraid don't worry the most astounding beautiful thing has happened here! I don't know where to begin but the most important. When Bill [ed: William S. Burroughs] came I, we, thought it was the same old Bill mad, but something had happened to Bill in the meantime since we last saw him…but last night finally Bill and I sat down facing each other across the kitchen table and looked eye to eye and talked, and I confessed all my doubt and misery — and in front of my eyes he turned into an Angel!

What happened to him in Tangiers this last few months? It seems he stopped writing and sat on his bed all afternoons thinking and meditating alone & stopped drinking — and finally dawned on his consciousness, slowly and repeatedly, every day, for several months — awareness of "a benevolent sentient (feeling) center to the whole Creation" — he had apparently, in his own way, what I have been so hung up in myself and you, a vision of big peaceful Lovebrain…

I woke up this morning with great bliss of freedom & joy in my heart, Bill's saved, I'm saved, you're saved, we're all saved, everything has been all rapturous ever since — I only feel sad that perhaps you left as worried when we waved goodby and kissed so awkwardly — I wish I could have that over to say goodby to you happier & without the worries and doubts I had that dusty dusk when you left… — Bill is changed nature, I even feel much changed, great clouds rolled away, as I feel when you and I were in rapport, well, our rapport has remained in me, with me, rather than losing it, I'm feeling to everyone, something of the same as between us.
2. Oscar Wilde to Lord Alred "Bosie" Douglas
My Own Boy,

Your sonnet is quite lovely, and it is a marvel that those red rose-leaf lips of yours should be made no less for the madness of music and song than for the madness of kissing. Your slim gilt soul walks between passion and poetry. I know Hyacinthus, whom Apollo loved so madly, was you in Greek days.

Why are you alone in London, and when do you go to Salisbury? Do go there to cool your hands in the grey twilight of Gothic things, and come here whenever you like. It is a lovely place and lacks only you; but go to Salisbury first.

Always, with undying love, yours,
Oscar
3. Charlie Parker To Chan Woods
Above love letter from famous writer, Charlie Parker, reads as follows.
To you;

The way I thought was wrong, having not known, it was right. Here is the proof of my feelings, Don't hate me, love me forever: — — — —

Beautiful is the world, slow is one to take advantage. Wind up the world the other way. And at the start of the turning of the earth, lie my feelings for thou.

To you
Shame on me.
I love you.
4. Emma Darwin to Charles Darwin
I cannot tell you the compassion I have felt for all your sufferings for these weeks past that you have had so many drawbacks. Nor the gratitude I have felt for the cheerful & affectionate looks you have given me when I know you have been miserably uncomfortable.

My heart has often been too full to speak or take any notice I am sure you know I love you well enough to believe that I mind your sufferings nearly as much as I should my own & I find the only relief to my own mind is to take it as from God's hand, & to try to believe that all suffering & illness is meant to help us to exalt our minds & to look forward with hope to a future state. When I see your patience, deep compassion for others self command & above all gratitude for the smallest thing done to help you I cannot help longing that these precious feelings should be offered to Heaven for the sake of your daily happiness. But I find it difficult enough in my own case. I often think of the words "Thou shalt keep him in perfect peace whose mind is stayed on thee." It is feeling & not reasoning that drives one to prayer. I feel presumptuous in writing thus to you.

I feel in my inmost heart your admirable qualities & feelings & all I would hope is that you might direct them upwards, as well as to one who values them above every thing in the world. I shall keep this by me till I feel cheerful & comfortable again about you but it has passed through my mind often lately so I thought I would write it partly to relieve my own mind.
5. Napoleon Bonaparte to Joséphine de Beauharnais
I am going to bed with my heart full of your adorable image… I cannot wait to give you proofs of my ardent love… How happy I would be if I could assist you at your undressing, the little firm white breast, the adorable face, the hair tied up in a scarf a la creole. You know that I will never forget the little visits, you know, the little black forest… I kiss it a thousand times and wait impatiently for the moment I will be in it. To live within Josephine is to live in the Elysian fields. Kisses on your mouth, your eyes, your breast, everywhere, everywhere.
6. English poet Vita Sackville-West to Virginia Woolf:
…I am reduced to a thing that wants Virginia. I composed a beautiful letter to you in the sleepless nightmare hours of the night, and it has all gone: I just miss you, in a quite simple desperate human way. You, with all your undumb letters, would never write so elementary a phrase as that; perhaps you wouldn't even feel it. And yet I believe you'll be sensible of a little gap. But you'd clothe it in so exquisite a phrase that it should lose a little of its reality. Whereas with me it is quite stark: I miss you even more than I could have believed; and I was prepared to miss you a good deal. So this letter is really just a squeal of pain. It is incredible how essential to me you have become. I suppose you are accustomed to people saying these things. Damn you, spoilt creature; I shan't make you love me any more by giving myself away like this — But oh my dear, I can't be clever and stand-offish with you: I love you too much for that. Too truly. You have no idea how stand-offish I can be with people I don't love. I have brought it to a fine art. But you have broken down my defenses. And I don't really resent it.
7. Jimi Hendrix to a Girlfriend he called "Little Girl"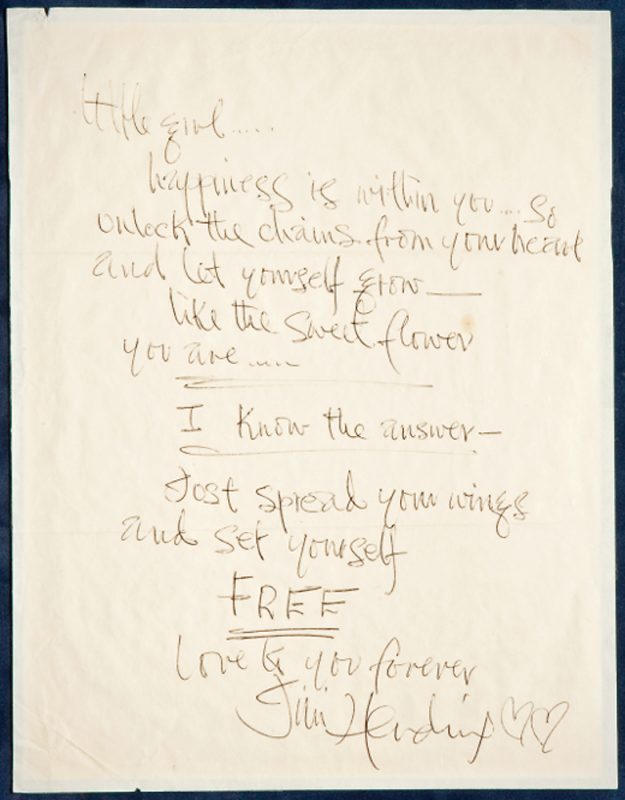 Above love letter from famous author, Jimi Hendrix, reads as follows
little girl…

happiness is within you….so unlock the chains from your heart and let yourself grow—
like the sweet flower you are…
I know the answer—
Just spread your wings and set yourself
FREE

Love to you forever

Jimi Hendrix
8. Leo Tolstoy to Valeria Arsenev
I already love in you your beauty, but I am only beginning to love in you that which is eternal and ever previous – your heat, your soul. Beauty one could get to know and fall in love with in one hour and cease to love it as speedily; but the soul one must learn to know. Believe me, nothing on earth is given without labour, even love, the most beautiful and natural of feelings.
9. John Keats to Fanny Brawne
My sweet love, I shall wait patiently till tomorrow before I see you, and in the mean time, if there is any need of such a thing, assure you by your Beauty, that whenever I have at any time written on a certain unpleasant subject, it has been with your welfare impress'd upon my mind. How hurt I should have been had you ever acceded to what is, notwithstanding, very reasonable! How much the more do I love you from the general result! In my present state of Health I feel too much separated from you and could almost speak to you in the words of Lorenzo's Ghost to Isabella

'Your Beauty grows upon me and I feel
A greater love through all my essence steal.'

My greatest torment since I have known you has been the fear of you being a little inclined to the Cressid; but that suspicion I dismiss utterly and remain happy in the surety of your Love, which I assure you is as much a wonder to me as a delight. Send me the words 'Good night' to put under my pillow.

Dearest Fanny,
Your affectionate
J.K.
Ohh… so much of love in the so small pieces. Share this post with your loved ones to let them know how much you care about them. 😀