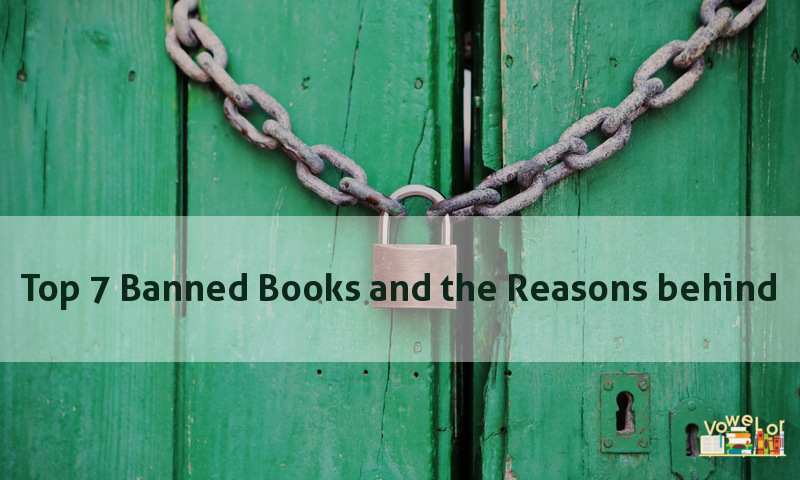 Every now and then there have been controversies around the famous writers and their books. And at times many books are being banned on different grounds. Some of these banned books are really really sensitive and talk about the realities prevailing in the world.
Counting all the controversial books would take days but you should definitely know about these top banned books and the reasons behind them being banned.
7 Top Banned Books and the Reasons behind
#1. The Satanic Verses by Salman Rushdie
In his book The Satanic Verses, Rushdie portrayed a story of an emigre from India who lives in modern day England. Gibreel Farishta, a Bollywood superstar survives an airplane crash along with an immigrant Saladin Chamcha. The story is about struggles and the aftermath.
On account of alleged blasphemy in this book, the Ayatollah Ruhollah Khomeini of Iran issued a fatwa ordering Muslims to kill Rushdie. Many attempts were made by Muslims to kill Rushdie.
In Venezuela, you would be imprisoned for 15 months if caught reading the book, while Japan issued fines for people who sold the English-language edition.
#2. Memoirs of a Woman of Pleasure by John Cleland
Another book that was banned by the government is this sexually explicit novel by John Cleland. It is often called the first erotic novel written in English and also famous commonly know as Fanny Hill.
It was First printed in 1748, this book has been banned on and off for over a quarter of a century in various countries around the world. In fact, it was illegal to publish it in the United States until 1966.
#3. The Chocolate War by Robert Cormier
Robert Cormier published this one in 1974 specifically targeting the teenagers and young adults . The Chocolate War includes violence, over 200 swear words and a masturbation scene and when the  parents got know about content, there were protests to have it banned. It is still banned in libraries and shops around the world to this day, and you won't find it in schools anymore either!
It is still banned in libraries and shops around the world to this day, and you won't find it in schools anymore either! A film with the same name was released in 1988 starring John Glover.
#4. The Absolutely True Diary of a Part-Time Indian by Sherman Alexie
Another YA novel/comic book which is written as the personal narrative of Native American teenager, Arnold Spirit Jr. It talks about a secret high school society using intimidation to enforce the cultural norms of the school. It became the most challenged book of 2014.
The book was recently banned from schools in Idaho for "filthy words and anti-Christian content." It has also been criticized for featuring issues of substance abuse, gambling, and violence.
#5. I Know Why the Caged Bird Sings by Maya Angelou
Maya Angelou wrote this autobiography about her childhood in 1969. In the course of Caged Bird, Maya transforms from a victim of racism with an inferiority complex into a self-possessed, dignified young woman capable of responding to prejudice.
This book is banned often in various countries because of the transformative power literature has, particularly in responding to injustice. One or the other time, Maya Angelou has been counted as the most banned author of United States.
#6. The Catcher in The Rye by JD Salinger
This novel was topping the New York Times best-seller list almost immediately upon release in 1951. Described by many as one of the greatest novels ever written and included in Time Magazine's list of the 100 best English-language novels The Catcher in the Rye is still not short of its controversy and critics.
Originally intended for an adult readership, many teenagers enjoyed the novel (and still do) as the rebellious central character is Holden Caulfield. Tackling themes such as confusion, angst, sexuality, alienation, and rebellion many teens related to Caulfield's issues. The book gained several controversies for several reasons, such as the portrayal of sexuality and teenage angst, the use of profanity, the anti-white sentiment, and the excessive violence. Holden Caulfield, the protagonist, became an icon for defiance and rebellion.
#7. The American Psycho by Bret Easton Ellis
Last but not the least, American Psycho, published in 1991, is the most famous banned book in the United States. It is a story of a serial killer and a known businessman, Patrick Bateman. A movie adaption was also released in the year 2000.
In Germany, the book was deemed "harmful to minors", and its sales and marketing severely restricted from 1995 to 2000. In Australia, the book is sold shrink-wrapped and is classified "R18" under national censorship legislation. The book may not be sold to those under 18 years of age.
Do you know of some more controversially banned books that we could include? Drop in comments!