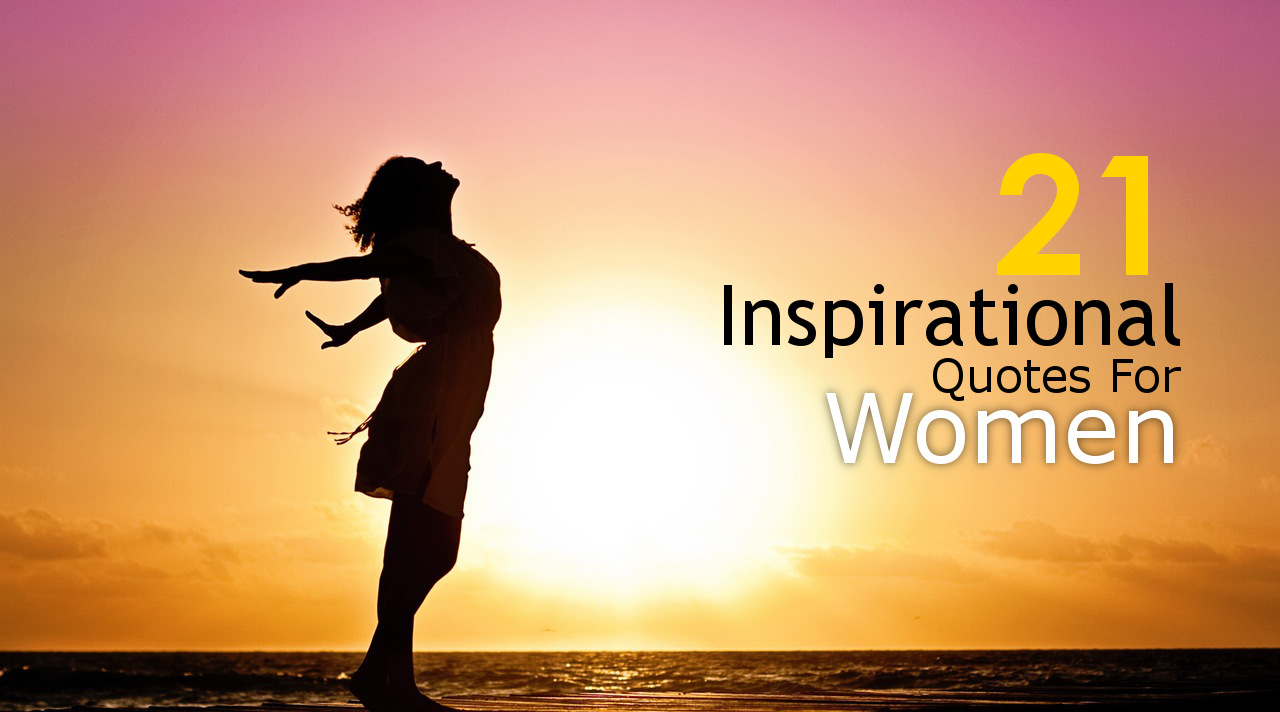 Every 8 March is globally celebrated as International Women's Day. On this Women's day, what can be more motivating than some of the most inspirational quotes for women that will motivate every female; be it a working women, a housewife or school-going girl.
There are many females who have set examples to inspire women. With their powerful words and inspirational quotes, many strong women in the history, who aimed to motivate females across the countries. Let us read some of those motivational quotes for women to inspire you to live the way you want.
21 Inspirational Quotes for Women
Here's the list of inspirational quotes for women by some of the strongest ladies in history that will inspire and empower you.
 "No one can make you feel inferior without your consent."

~ Eleanor Roosevelt
"When you lose a couple of times, it makes you realize how difficult it is to win."

~ Steffi Graff
"Love is anterior to Life, Posterior to Death, Initial of Creation, and The Exponent of Earth."

~ Emily Dickinson
"The question isn't who's going to let me; it's who is going to stop me."

~ Ayn Rand
"It took me quite a long time to develop a voice, and now that I have it, I am not going to be silent."

~ Madeleine Albright
"People think at the end of the day that a man is the only answer [to fulfillment]. Actually a job is better for me."

~ Princess Diana
"You are more powerful than you know; you are beautiful just as you are."

~ Melissa Etheridge
"It's possible to climb to the top without stomping on other people."

~ Taylor Swift
"If you want something said, ask a man; if you want something done, ask a woman."

~ Margaret Thatcher
"The most effective way to do it, is to do it."

~ Amelia Earhart
"Forget about the fast lane. If you really want to fly, just harness your power to your passion"

~ Oprah Winfrey
"Life is not measured by the number of breaths we take, but by the moments that take our breath away."

~ Maya Angelou
"If you obey all the rules, you miss all the fun."

~ Katharine Hepburn
"I can't think of any better representation of beauty than someone who is unafraid to be herself."

~ Emma Stone
"Success is getting what you want, happiness is wanting what you get."

~ Ingrid Bergman
"Power is not given to you. You have to take it."

~ Beyonce Knowles
"No matter what you look like or think you look like you're special and loved and perfect just the way you are."

~ Ariel Winter
"If you look at what you have in life, you'll always have more. If you look at what you don't have in life, you'll never have enough."

~ Oprah Winfrey
"Don't be the girl who fell. Be the girl who got back up."

~ Jenette Stanley
"Destiny is a name often given in retrospect to choices that had dramatic consequences."
"Yes, I'm a feminist, because I see all women as smart, gifted, and tough."

~ Zaha Hadid
A lady may never get tired of hearing such inspirational quotes for women as they stir the motivating feeling in their heart and soul. An inspired and dedicated woman can do wonders that even men can think of. And these powerful quotes about women prove that they are,  if not better, but absolutely equal to men.
Do you have more inspirational quotes for women that you think every female should read? Don't sit back. Comment your inspiring quotes by females and we will add them into our list of inspirational quotes for Women. #HappyWomensDay
Also Read : 25 The Fault In Our Stars Quotes You Can Cherish With Your True Lover