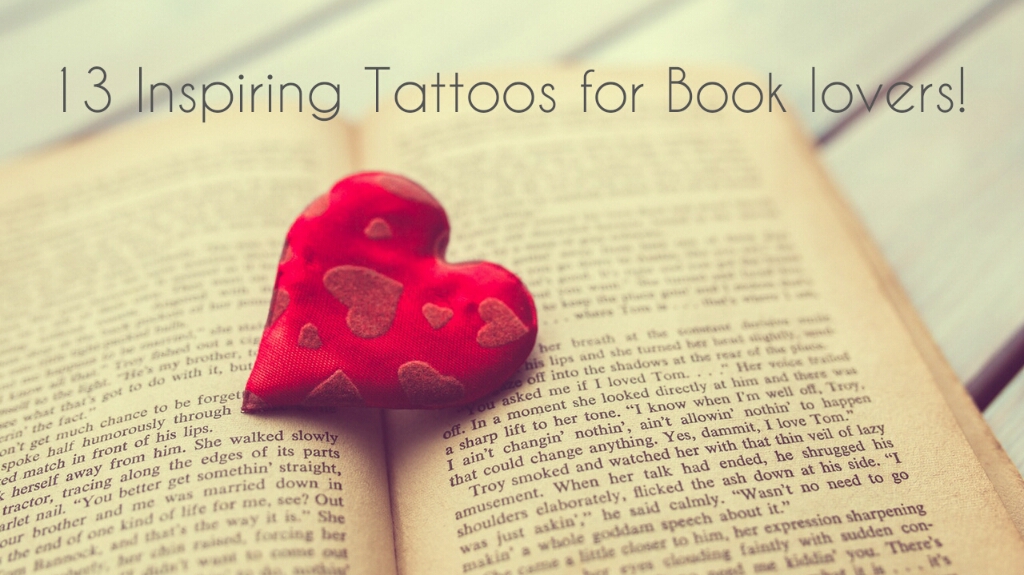 Tattoos are to flaunt your passion on your body. And when it comes to Book lovers, they are impossibly passionate about what else – Books! Believe me, every book nerd has a secret desire of having a book inspired tattoo to stand out from the crowd of non-readers.
How cool is that to make everyone know you can't live without books? Well, Pretty much!
How could I stay behind? I got an urge for having some inspiring tattoos for the book lover in me. So, I jumped onto Instagram (Yes! we're on insta) to find some utterly inspiring tattoos for book lovers. Wanna see the awesome things we found?
For all the readers, here's the best 11 inspiring tattoos for book lovers!
1. The Deathly Hallows!
For all Harry Potter fans (who's not?), this is more than just a geometrical figure. And it also makes up for a minimal yet strong wrist tattoo!
2. Books, Coffee and Camera!
Now these are the three things that a book lover surely cant live without. I already feel so caffeinated seeing it!!
De ontem ? Um cafezinho, uns livros e umas fotos pra recordar #raqueltattoo #tatuagem #tattoo #coffee #coffeetattoo #livros #livrostatuagem #book #booktattoo #tattoobook #camera #cameratattoo @raqueltattoo @tattoo2me

A photo posted by Billy Oliveira (@billy.oliveira36) on
3. Quote by Anaïs Nin
"We don't see things as they are, we see things as we are." You must have heard of this qoute but many don't know it has been taken from Anaïs Nin's autobiography, Seduction of the Minotaur. So gorgeous to see that on her shoulder!
Another view of my #anaïsnin #tattoo. SO pleased with it. #tattooedgirl #literarytattoo #anaisnin #quote
4. Cover of The Great Gatsby
This creative tattoo actually blends the beginning (the book cover) and the end (the closing lines) of The Great Gatsby. Every book lover would love this tattoo! Do you?
5. Cute Li'l Book with heart
This one literally defines a book lover. A cute little book with a red heart. What adds to the cuteness is that It's an Ankle tattoo!
Happy birthday to me!! #ankletattoo #booktattoo #birthdaypresentfromme #lovetolearn
6. An Open Book Tattoo
Every book lover wants to have book in his hands wherever he/she goes. With this tattoo you can actually open a book everytime you join hands! Lucky Enough.
Done and yessss! @xbustabustx #readingrainbownorainbow #booknerdtattoos #booktattoo #ftp

A photo posted by Stephani Pimentel (@pink_cigarette) on
7. Birds from a Book tattoo
Books are freedom weaved into the pages. It sets you free. This tattoo actually explains it a lot better.
First tattoo in NZ, she wanted a sharpie style drawing to represent her love of reading 🙂 I love hearing people's stories!
8. Tattoo of Little Wizard Harry
Those who grew up reading Harry Potter would actually die for this tattoo! This little Harry on the broom with the wand just took many hearts away.
#Repost @blugorillagoosecreek with @repostapp. ・・・ YOURE A WIZARD HARRY! Done by @tattoosbybrad #harrypotter #tattoo #jkrowling #harrypottertattoo #booktattoo #blugorillagoosecreek #blugorilla #cute #cutetattoo

A photo posted by @dreamingofink on
9. Tattoo from To kill a Mockingbird
Inspiring. Amazing. Creative. All one could say about this one. More than ready to have this one on my arm.
10. Quote by J.D Salinger
This quote from The Catcher in the Rye actually defines Poetry to the next level. If you've read the book, you can wait to have it tattooed. Looks amusingly elegant on the foot.
A photo posted by Gigi Suleiman (@lucyintheskywalker) on
11. Quote by Maya Angelou
This one is taken from the Maya Angelou's poetry. This one is the most inspiring tattoo for book lovers.
"I rise I rise I rise" #StillIRise #MayaAngelou #Literary #tattoo #tattoos #literaryTattoos #Bookworm #Poetry #WristTattoos
12. Game of Thrones Tattoo
A fan of Game of Thrones? No other words, Just get this tattoo done right away!
A photo posted by Meg (@geekerett) on
13. Quote from Lollita
"Rest is rust and the stardust…" taken from much famous Lollita which was later banned. This quote actually has much deeper meaning than it looks like.
~i will always love this tattoo~ #lolita #vladamirnabokov #rustandstardust #livelokai #thepastisthepast #newbeginnings #pale #pastel #grunge #rookie #abeautifulmess
Want more awesome stuff for the book lover in you? Follow us.