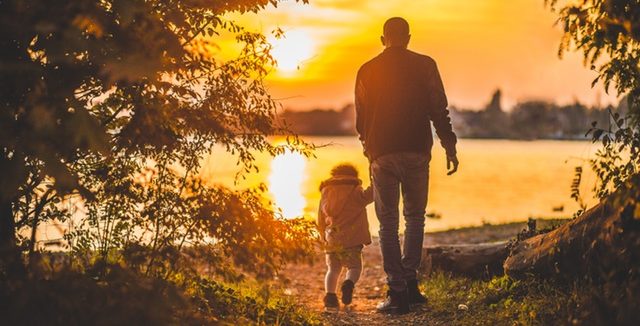 Vowelor has started a weekly creative writing prompt for all the writer's community where wordsmiths cleverly weave tales around an image given to them.
There is so much to live, and there is so much to give. Life in itself is full of happiness and beautiful moments. The joy of being together with the ones you love is the most precious gift once can extract from this life. We often share the footsteps with our closed ones, and some night turn into "A Walk to Remember".
Read the amazing writing pieces telling the tale of the 'The Walk to Remember' in the photograph featured above.
"Can we feed the ducks Daddy?" she asks, looking up at me with shining eyes and dimpled cheeks, soft blonde curls bouncing gently as she jogs on the spot in excitement. I ruffle her hair and tell her it is too late for ducks, they will all be tucked up in their beds as the sun is going down. She sighs and casts her eyes downwards trying to hide her disappointment. I take her small hand in mine and tell her we will go to the lake to watch the may flies dance on the water and we will look for the faeries in the old oak tree and make wishes when we find the faerie rings….. I tell her we will watch the sun swap places with the moon and we will send happy thoughts on the moonbeams to our loved ones in Heaven. She dances along by my side and looks up at me with shining eyes once more. "I will send happy thoughts to Mummy in Heaven!" she smiles. My heart lurches and we walk down to the lake hand in hand.
Creative Writing Prompt Winning Entry
2.
The setting sun lit a path toward the shore; I held my breath and aimed my camera towards the shore when the wind shifted and the sound of a little girl's laughter echoed through my mind. I turned to find her.

She was young, with a head full of tight brown curls and her companion an older man.

I hadn't noticed them before; they were alone. She took two steps, pause and waited for him. When she found a fallen log, she gestured for him to sit. She ran to the shoreline and returned with a handful of pebbles – small, round, grey ones and laid them beside each other into thin little lines.

He waved at me and I found myself waving back at an image of my past. The wind shifted and the sun faded and they were gone. I still find myself straightening things, moving objects into rows, aligning them along an edge just so.
Creative Writing Prompt Entry
by Kim Killian
3.
The late afternoon sun, bright yellow in the sky reflects itself in the lake. Above, it is a big yellow ball. Below it is streaks of light in many shades of gold. It is peaceful. Her tiny hand squeezes mine as she walk-runs alongside me through the tree-lined pathway toward the water's edge. She is out of breath as she points to the water, "look daddy. Ducks."
It tugs at my heart when she calls me 'daddy.' I look down at the innocent face, not yet old enough to understand the ways of the world yet so trusting of me. I squeeze her hand in return and think, someday, I'm gonna have to tell her that her mother and I adopted her from an orphanage. Quickly I tuck those thoughts away.
Right now, at this moment in time, I just love being her daddy.
Creative Writing Prompt Entry
4.
As we stroll in silence, I glance at the sunset but admire the precious beauty at my side. I watch her eye filled with amazement, of the scene before her. Though my mind races with stories I can create, with her as the star. My thoughts are lost, as I start to feel the grip of little hand tighten as it begins to shakes overcome with joy. As her innocents, allows her mind to runs free with excitement as her imagination, bring to life the fairy tale of the bedtime story. I stare at her with tear filled eyes as the soft glow of the setting sun shines in her eyes. My mind starts wonder of the world around which she will one day see is not always filled with beautiful sunsets. The weights heavy on heart as the tears of joy mix with tears of sadness for the pain my princess will have to endure, for the world is cruel. At the sound of a nearby duck splashing in the sun kissed lake. I am brought back from my trance. Snapped to reality, I turn to see the happiness dance across my little girls face. And think I wishing this moment will never end.
Creative Writing Prompt Entry
5.
–This is beautiful, abba! So, this is
the reason you take me here instead of going to the amusement park?
— Yes sweetheart (smiles).
— You know how much I love you?
–(smiles)..
— We have been walking for about half an hour and I was getting bored…but now I think I'm loving it…I love to walk with you.
— I will walk with you for the rest of my life. Will you?
— Yes, I will, I pro…
–(Covering his child's mouth with his hand) Don't make a promise. You'll may have to break it…
— No…why?
–(Laughs) Look, when you will grow up, a prince will come and will take you away..
— But why should I go? I'm not gonna leave you.
— You have to.
— If it is, I'll take you with me too…
— Only if your Prince permits.
–What! I'll not listen to him if he doesn't.
— Will you? Your mother too left her King in order to live with me. She left everything for you..
— Is it not possible to live with both, abba?
–(Smiles)…..
Creative Writing Prompt Entry
6.
The sun set on the perfect day, a soft halo of firelight kissing the dark silhouettes of my favorite people in the whole world. A smile tugged at my lips when I heard, "hurry up, bapa, you're going to slow. Nana is going to finish counting soon!"
"Hold your horses, darlin," my husband drawled. "Nana won't be finding us anytime soon. I hid her shoes," he whispered conspiratorially.
I dropped my gaze and continued counting while scouring the leafy ground. No shoes. The scoundrel had actually hidden them. After thirty years of marriage he was still up to his old tricks. I lifted my eyes, and scowled at his back as he turned and winked at me. The devilish twinkle in his eyes melted my frown, replacing it with a grin. Some things never change, I could never stay mad at him for long.
Creative Writing Prompt Entry
by Frost Kay
7.
While sitting on the couch under a thick throw in front of the crackling fire, I sipped cocoa and sorted through the box of pictures hidden in the attic for years. Picture after picture held memories of happy times. Than, I pick out a picture I haven't seen in years. A photo of Dad and me.
Dad and I were always best friends. He took me to stores and we had dates with fish sandwiches and milkshakes- just the two of us. We splashed in the beach and sandy shores as well as rode roller coasters and other rides together.
Of all the fun times we had, this picture reminded me of our best times. We had a cabin by the lake. We walked in the woods hand in hand for hours. His big gentle had wrapped around my tiny fingers. The cool air around us and the crunching of leaves beneath our feet made the jaunt through the woods fun and exciting.
As the glow of the setting sun lit our path, we continued on toward the lake – toward the cabin. The birds sang along with Dad and he stopped only to share stories of him and mom and days gone by. I listened and remember every word. When we neared the lake, fish jumped here and there disturbing the serene surface of the water.
The sound of quiet and like all the world stood still as Dad and I spent time. Soft breezes shook the branches of the trees all around welcoming us in the woods.
A tear slides down my cheek as I replace the old photo. Dad- another word for Hero, Saint,Protector, Guide, Encourager, Provider, Friend. I miss him.
Creative Writing Prompt Entry
8.
At first it had been fun walking through the woods and listening to the crunch of broken branches under my feet but now I was getting tired. The man had smiled when I pointed out the rabbits scuttling through the undergrowth, and laughed at a squirrel running up a tree when he heard us coming. I wish I could climb like that. Once I had played on the climbing frame in the park but I fell and grazed my knees. It was alright though because Mummy had cuddled me and kissed it better.

When I tripped over a loose stone and fell over the man hadn't been nice. He had just dragged me up and taken my hand to pull me along with him. He had long legs so he could walk much faster than me. I started to cry but he just shouted at me to hurry up. The only time Daddy had raised his voice was when I ran into the road chasing my ball and a car came very close and nearly hit me.

Although Daddy was upset he told me he had only shouted because he was scared I would get hurt and have to go to the hospital. After that I always remembered to look left, then right, then left again as he taught me. I liked to sleep in my own bed and teddy would be lonely without me.

I told the man I wanted to go home now because teddy would be missing me and I was hungry but he said it was only a little bit further. The lake was lovely but it was getting dark and there weren't any ducks or swans as he promised. He was hurting my hand and I was scared.

I want my Mummy.
Creative Writing Prompt Entry
by Val Portelli
9.
It was difficult to figure who was following whom. For one of them it was his first visit to this place whereas the other knew every nook of it.

The 52 year old feet and the 10 year old feet could barely keep up pace with each other. Dad's excitement was driving his feet faster and son was charged up by his dad's excitement. The dad son duo were giggling as nostalgia and curiosity tickled each respectively, this place had heard similar giggles years back.

It had been too long a drive for the little boy but, as soon as they got out of their car in front of a borrow path leading to lake, they began sprinting – sprinting on the same path on which 'she' had walked on 22 years ago, blushing with confident steps, turning once in a while to make sure he was mesmerized enough to follow her naughty glances.

He stopped suddenly, making his son lose slight balance, exactly at the same spot he had stood once watching her rest against the wall that marked the entry to the well hidden intimate garden at the back of the otherwise bustling picnic spot, with one feet lifted up resting on the wall showing off her slender curvy frame in her short red dress, as she invitingly stared back at him.

His son's eyes were questioning him but he waited to catch his breath for a while, just like he had when he stood in front of her and she had tenderly pulled him by his collar towards her.

Then he told his son in a voice that carried;
— the same deliberate softness, that had once alerted his senses when she had whispered her name into his ears.

— the same shyness, with which she had pushed him aside, when he had leaned in to kiss her, before she got lost in the crowd of people down for walks and playing kids.

— the same bitterness and lump in his throat, which he had felt when, just a few minutes after that one intimate moment that they shared, he had seen her being claimed by another man by her waist, leaving her shocked, uncomfortable and ashamed and with eyes that searched him, pleading something.

— also the same confidence, that the words had in the note, which she had left for him before vanishing with her husband towards their car. 'Fight for us, I know we will be worth it.' the note had said.

and with the same determined smile, with which he had left from this place that night 22 years ago, he told his son,

"Armaan, this is where I met your mother for the very first time. That day she was close to me but wasn't mine, but today she is very far from us, but she is only mine."
Creative Writing Prompt Entry
Feeling overwhelmed? Want to tell us your tale about this striking photograph?
Here's your chance. Put down your thoughts on this photograph in comments and show off your creative writing skills.
If you want to be part of the weekly Creative Writing Prompt by Vowelor, Join the most happening writer's community on Facebook and participate in writing prompts, competition and much more.
#BeAVowelor #HappyWriting
Read our previous Creative Writing Prompt "An Old Angel"