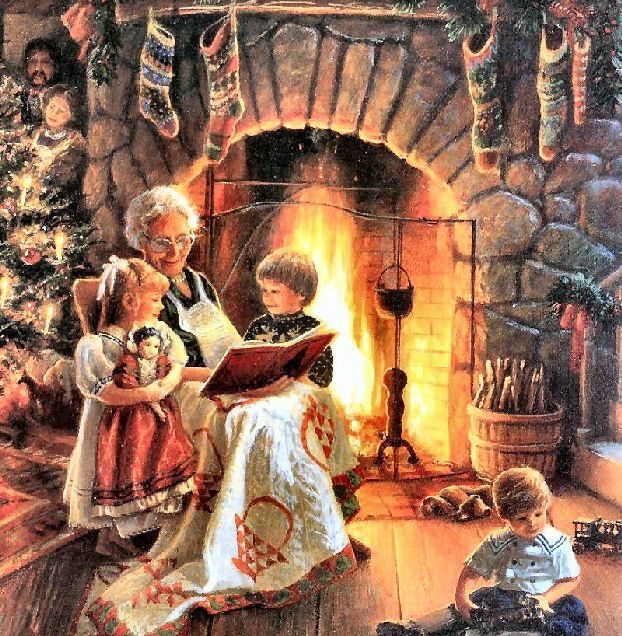 The cold of winter is in full flow, snow started to fall. The music of carols occupied the entire world, children started to enchant the spell of "Jingle bell". The Christmas Celebration  can be seen in every house to welcome the real spirit of Christmas.  Happy Christmas.
Vowelor has started a weekly creative writing prompt for all the writer's community where wordsmiths cleverly weave tales around an image given to them.
Read the amazing writing pieces telling the unique way of  'The Celebration Of Christmas' in the photograph featured above.
1.
Gather children young and old and hear a story seldom told. For the season all along was more than shopping, greed and wrong.

There was a time, so long ago, when one would struggle to find refuge from the ice and snow. When nights grew long and the cold did creep many found not but eternal sleep but in the darkness a light was found when loved ones gathered all around. The warmth it spread was aided still by breaking bread that each may have their fill. With bellies full they'd gather close for stories to keep out the ghost of winters howl from outside the walls that keep us safe in decked out halls.
Gifts given in thanks and hearts lifted in song would keep spirits up the whole night long and in the morning the sun would rise on yet another fine surprise. For with gifts they each would say "I love you all" on Christmas Day.
Creative Writing Prompt Winning Entry
2.
In years gone by my Grandmother put a great deal of effort into Christmas. Her home had the warmest welcome, the biggest tree and the brightest decorations. Or so it seemed to me. She made the tastiest Christmas cake too. My cousins and I loved to hear Grandmother read to us.
She had a wonderful sing-song voice and could bring the stories to life. We loved her cozy fireplace, decked with holly and pine branches and bright decorations shimmering in the firelight and the sweet smell of mince pies in the oven.
On those cozy evenings we sometimes thought we heard the tinkle of sleigh bells and we would whisper excitedly to each other, eyes shining in delight. Grandmother had a very special place in our hearts. We would all sing Christmas carols and eat candy. But sometimes we would see a tear roll down Grandmothers cheek. She told us she was simply crying with joy. But we knew she was crying because Granddad was gone and she wished he could be here with us. Granddad never came back from the war.
Creative Writing Prompt Entry
3.
With my smoke goggles in place, I lean over the edge of the chimney; flames arch toward me as the heat pierce my mask. I double-check the paper work to make sure the address was right and wonder if the kids are asleep?

The Fire Blaster registers a level 4. I slide the bar to the right, with an extra dose of Winter Freeze the fire drifts back and dies.

I pump sleep-eeze into the air and hear the sound of snoring. I inhale and count backwards from 14 and down the chimney I go. Just as I hit the floor, I kneel and pull the prize bag behind me.

I wonder how far ahead I was of the other chimney jumpers.

A growl permeates the air.

I pause mid-stride and crouch low. Darn it, I didn't use enough sleep-eeze – this is definitely a surprise, there wasn't suppose to be a dog.

I toss a beef bone and hear a crunch – I should be good for another 5 minutes.

The tree stands in the far corner near the front door. I place the presents under the tree and turn for a final check.

With only 238 more houses to go, I follow my steps back to the chimney and count to 14.
Creative Writing Prompt Entry
by Kim Killian
4.
The young child sat cross-legged looking up to her grandma,
In a puzzled voice she said, "Tell me what you know of life so far?"

The old lady paused briefly and with a smile uttered these words,

"Life my darling starts way up in the sky, above the soaring birds.

Love and dreams are combined at the one moment that's right,

To create a raindrop of life that shines and glimmers in the light".

The young child looked upwards with puzzlement and tilted her head,

"If I am that raindrop what becomes of me then?" she slowly said.

The old lady held her arm out and fluttered her wizened old hand,

"With guidance and hope you gently glide down to the land,
As you grow stronger and discover curiosity you start on your way,

Trickling around the rocks of parenthood that guide you each day".

The young child swayed her body with the journey she saw in her mind,

Then she said "How will I know which way to go and what will I find?"

The old lady considered the question with a frown but not for too long,

"Our paths will be decided by what we believe to be right and wrong.

Others will join and become the unstoppable rivers of teenage years,

Carving through life noisily, fast flowing, undaunted by fears".

The young child looked down pulling at tufts of rug upon the floor,

"But Grandma" she said "I don't want to leave you for a river that will roar"

The old lady laughed and moved her hand through the young child's hair,

"Although you may not see us your family and I will always be there.
We will form the banks that caress you and stop you going astray,

As you get wiser we will give you the freedom and move further away".

The young child held the hand that comforted her close to her cheek,

"What will happen when the river ends" she said mild and meek.

The old lady looked into herself with a tear that welled in her eye,

"Rivers do not end my dear; they do not grow old or fade and die,

They will join all those they have ever loved or lost just like you and me,

And till the end of time we will be together in a never-ending sea".
Creative Writing Prompt Entry
by Mark Roope
5.
It was again the Christmas eve. The day she lost her grandchildren in a car accident. That horrible day when she was no longer a grandmother. The old lady woke up with tear in his eyes and knelt in front of Jesus..o almighty !just for one day I again want to be a grandmother. I want to feel their warmth and sing carols to them as Christmas is with family . And without my kids there is no longer any happiness. A strange whisper in her ears, who says they are away. Go and invite the little poor kids in the street who are shivering in cold and hungry. Help them and your wish of a happy Christmas will come true.. she thought how nice.

The old lady gathered her all energy and invited few children to the lonely home. She fed them the Christmas cake, dressed them up in warm clothes. After it they all started decorating the home for the brightest Christmas eve. The house was decorated in all colors.

Everywhere there were vibrant streaks. After it the kids and the old lady put up their Christmas tree. It was sparkling with colorful lights and glittery balls were hanging on it..they placed it at the corner and gazed at it for several minutes. After it they put some socks out after all Santa was going to bless them with nice gifts. Soon long colorful socks were dangling here and there. It made the old lady nostalgic how here grandchildren always were making plans for Santa's gift. She helped the children with chores. Finally the home was filled with love and laughter. It was full of the spirit of Christmas.

Finally the children demanded to listen the lovely Christmas carols. So the lady lifted two kids in her arms and set them on her lap . Then she started singing to them.. The children were so happy to hear them.

It was the best Christmas for all of them. And the amazing thing was everyone's Christmas wish was fulfilled this year..those children always wanted to have a splendid Christmas and they celebrated one. And for the lady her wish to again be a grandmother was fulfilled.
Creative Writing Prompt Entry
by Arun Dahiya
6.
In the early 19th century when Europe was at caught in the blitz of Wars and Revolution, it was a fine Christmas evening for Daniel Trevor and his family. It has been a tough time for the Trevor family. His wife's mother Muriel has come to visit their Stone-clad villa located at Plaghmoth, Austria for Christmas. She lived in London and inherited a Scottish ancestry. She orchestrated a perfect fusion of several cultures and heritage. Her steak of golden-white hair echoed her Scandinavian connections, her witty eyes and soft spoken manner reflected how well a Londoner she was and her modest and simple dressing style showered her Irish Scottish origin.

Daniel was half Irish and half Austrian unlike his wife Mary whose father, Charles was a British trader based in China.

Few months ago while his visit to India for his business Charles came across Miss Florentine, a Victorian doll at an auction in Calcutta which resembled to his mother, arbitrarily.

Muriel was surprised to find the beautiful doll and immediately without waiting for her husband's consent packed it in the bags for her granddaughter, Isabelle. She was travelling to her daughter next week via Vienna and the trip would take her six weeks.

She was very eager for the trip and has been planning what to give to whom for quite a bit of time. For his eldest grandson, John who loved to travel she has bought a sailor's uniform and small models of train and car. For her younger grandson, Henry who loved to write it was a Book called Magic of Christmas tales that she had bought as a gift.

Today morning was not as good as Daniel has anticipated. There has been floating news of an upcoming war up in the North and Trevor owned a bunch of factories there. On top of that Mary had a small argument in the brink of breakfast. She wants Daniel to sell his factories and start afresh in Asia since her father is willing to help them settle there. But Daniel doesn't want to leave his homeland, his soil. He shares boxes and chests of memories which render warmth and happiness which are essential ingredients to life.

The children have also been fighting for silly things like toys and gifts when the Daniel feels doubtful if this is their last peace raven Christmas before the Devil is let loose from the North. He felt tired and needed to escape these worries. So, he stepped out. Time ticked on, and before he would realize it was already ten past four in the afternoon. Daniel headed back with a red rose hidden under his big cloak, a gift for Mary, his love.

Flaunting a jumper inscribed with Moose and flaky snow all over the place, Henry paced towards her Granny with his big book of Delight. It was around five in the evening as Mary was busy in the kitchen preparing a massive dinner for the family. "Danny is late for dinner." Mary signed and kept on going with her usual cooking chores in the kitchen. The kids have gathered around Muriel shrouded by the warmth of a blinking fire place.

Snow has started to clutter at the door step when Daniel returned to his house with a late gift for Mary. He quietly entered through the rear door and tiptoed to the kitchen. Barney, their dog raised a lazy head to check the familiar smell and returned his daily schedule of two hours nap in the evening. And today it was warmer, the people and the scintillating warmth from the burning hearth made him lazy for even to bark at Daniel. But something else was churning in the room. A pair of curious eyes has been staring at the three children and their old baby-sitter for a couple of moments.

Daniel felt glad to witness the scene. His children, who would usually quarrel for toys, food and many silly tantrums, today looked quite curious, happy and lost in their worlds of imagination under the care of their grandmother. He had never witness John to be so much involved while playing with his toys or Henry intently grasping every word Muriel was uttering. Isabelle was smiling with delight clasping to her grandmother's gift with care.

Daniel had to chuckle and he slowly edged towards the kitchen and tapped Mary's shoulder silently. As Mary turned in response, Daniel launched a soft smooch to her lips and handed her the rose while planting a soft kiss on her palish fingers. Mary had already forgiven but still she loved Daniel for his comforting gestures like these. They had been married for over nine years but Daniel has not stopped to delight and surprise her even still.

Daniel signaled Mary to follow him towards the Hallway which sported a massive Fir tree. Mary frowned for a while but didn't deter to her husband's wish. After entering the room, she gasped in delight. Her three devils were quietly busy in their own lands of curious hymns. Mary almost cried in delight and thanked her mother for this feat. It was definitely a Christmas to remember.

P.S. The war soon broke out in Europe and the Trevor family had to move to US where their extended families are settled.
Creative Writing Prompt Entry
Feeling overwhelmed being a part of Chrsitmas Celebration?  Want to tell us your tale about this striking photograph?
Here's your chance. Put down your thoughts on this photograph in comments and show off your creative writing skills.
If you want to be part of the weekly Creative Writing Prompt by Vowelor, Join the most happening writer's community on Facebook and participate in writing prompts, competition and much more.
#BeAVowelor #HappyWriting